---
Jessica Cejnar / Thursday, Sept. 10 @ 8:31 a.m.
Slater Fire Grows to 120,000 Acres and is Zero Percent Contained; Gasquet Evacuation Orders Still In Effect
---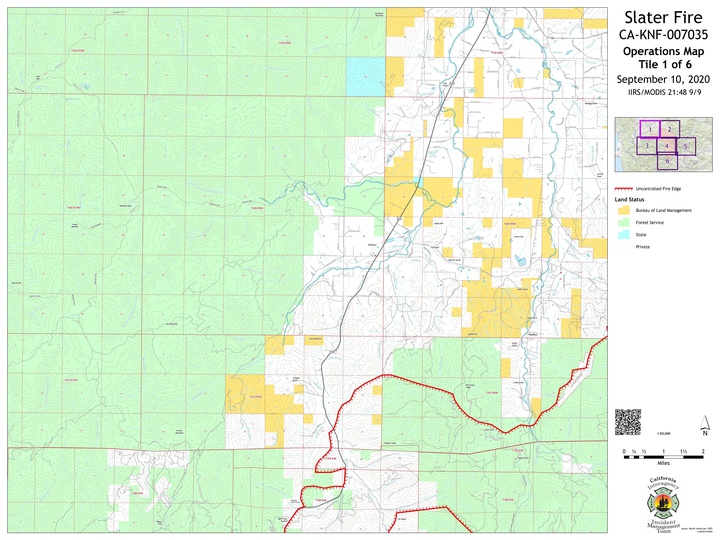 Evacuation orders for Gasquet residents remain in effect as of 9 a.m. Thursday morning as the Slater Fire continues to burn near Oregon Mountain Road and U.S. 199 on the south side of Collier Tunnel.
Emergency officials will continue to re-evaluate that evacuation order for Gasquet throughout the morning and early afternoon, Del Norte Office of Emergency Services spokesman Bill Steven told the Wild Rivers Outpost.
The Slater Fire, which started in Happy Camp on Tuesday and spread into Del Norte County on Wednesday, has grown to 120,000 acres and is 0 percent contained as of 7 a.m., according to an InciWeb update.
Because resources continue to be strained due to multiple blazes in the region, emergency personnel are still trying to determine the Slater Fire's scope, Steven said.
"Resources are so strained that there was some data collecting measures that were supposed to be done during the night that were canceled either from smoke or from lack of resources," he said. "We're still trying (to determine) what direction it's headed, how big it is, how much of a threat it is to Gasquet and/or to other communities on 199. We haven't heard any of that."
Steven did address complaints that the decision to evacuate Gasquet on Wednesday may have been premature. One-hundred and fifty homes in the Happy Camp area have been destroyed, he said. There was also at least one fatality and "maybe more," he said.
"The speed at which the fire grew and traveled, we were going to err on the side of caution and not put people's lives at risk," Steven said. "We'd do that at any time in the future also."
The Slater Fire is also threatening homes in Josephine County, Oregon, according to InciWeb.
Red Cross volunteers are still at the Del Norte County Fairgrounds as of Thursday morning, according to a Del Norte Office of Emergency Services post on Facebook at about 8:30 a.m. Thursday.
Steven will provide an update on KCRE 94.3 FM and KPOD 97.9 FM at noon today.
For more information, visit Prepare Del Norte or call (707) 464-0911.
---
SHARE →