---
Jessica Cejnar / Wednesday, Sept. 9, 2020 @ 10:23 a.m. / Emergencies, Fire
Gasquet Residents Evacuate to Fairgrounds; DNOES Will Offer Live Updates at Noon on KCRE, KPOD
---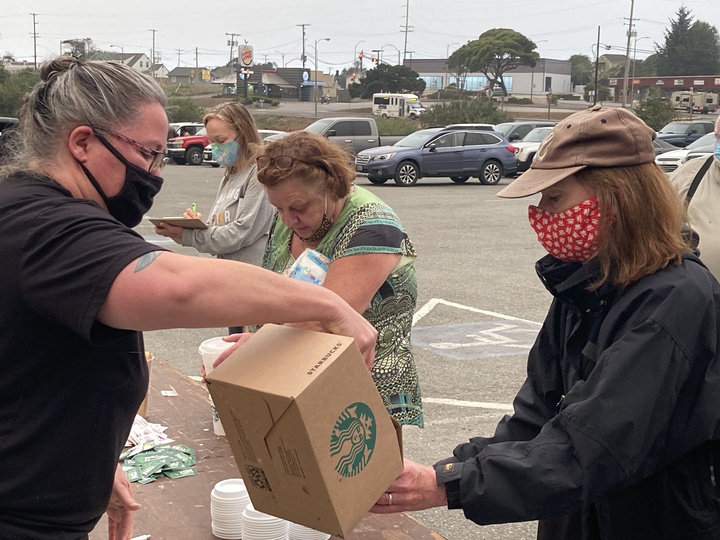 Janice Theuerkauf evacuated from her Gasquet home Wednesday morning with a couple changes of clothes, her dog and some dog food.
At about 8:30 a.m., a fresh cup of coffee in her hand courtesy of local Community Emergency Response Team volunteers, she was at the Del Norte County Fairgrounds wondering what to do next.
"My daughter called from Grants Pass at 6 p.m. and said you're on a Code 3. I have family in O'Brien and Cave Junction and they're evacuating to my daughter's house in Grants Pass," Theuerkauf said. "What are we supposed to do if we can't get back? I thought I was safe in Gasquet."
About 600 Gasquet residents received a notice from the Del Norte Office of Emergency Services at about 6 a.m. Wednesday to evacuate, according to Emergency Services Manager Kymmie Scott. The fairgrounds had been set up as a temporary evacuation point, but due to COVID-19 safety concerns residents were told to shelter in their cars if another option wasn't available.
This new fire — not the Slater Fire near Happy Camp — had over taken the agriculture station and Oregon Mountain Road at about 7 a.m., Scott said. Because of the number of fires in the area, including Medford, Oregon, firefighters are engaged in life and property preservation only, she said.
"They don't have the capacity to do wildfire engagement at the moment," Scott said. "There are just so many fires — resources are deployed."
Updates will be broadcast live at noon at KCRE 94.3 and KPOD 97.9.
Though rumors are going around that Pacific Power may shut off the power, OES spokesman Bill Steven said people should be prepared for that possibility. He noted that not only could fire affect utility equipment, the company could decide to shut off the electricity as a precaution.
According to Steven, one challenge the Office of Emergency Services is dealing with because of COVID-19 is though the fairgrounds is an evacuation point, due to the pandemic it can't offer shelter. There are hotel rooms available, he said, but only for "extreme cases," he said.
At the fairgrounds, volunteers with CERT and the local American Red Cross chapter disseminated information, snacks, water and masks with their fresh coffee. Local Red Cross coordinator Mary Dorman said she got the request to set up at the fairgrounds at about 6:30 a.m. Wednesday.
"It is a safe place for people to come use the bathroom and get accurate information," Dorman said of the fairgrounds.
The Del Norte County Fairgrounds was also providing accommodation for large animals, Dorman said. Most residents were hanging out until they could find out what's happening next, she said.
Natalia and Ken Smith left Gasquet with their 17-year-old dog BB and their cat Noodle. Hunkering down at the fairgrounds, Ken Smith said they were looking around for motel rooms, but they're full.
"One person said they could put us up at their house, but we're waiting to hear what's going on up there," he said. "Hopefully they'll get this over with so we can be able to go home."
---
SHARE →