---
Jessica Cejnar / Friday, Sept. 18 @ 9:48 a.m.
Crews Work to Halt Slater Fire's Spread West of U.S. 199; Gasquet Residents Invited To Afternoon Meeting
---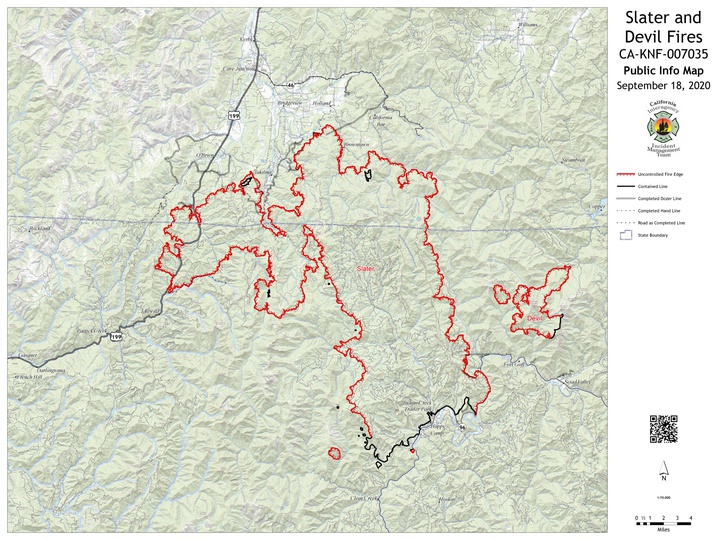 Crews working the Slater Fire are trying to halt its encroachment further west of U.S. 199 and the road continues to be blocked on both sides to allow for firefighter and public safety.
At an update on Friday, Mike Granger, operations section chief for Northern Rockies Incident Management Team 2, said firefighters are using indirect control line incorporating bulldozers to manage the blaze near U.S. 199.
"A direct control line is when we have firefighters right on that fire and digging line right on that fire," Granger said. "Indirect control line buys us time, it allows buys us time and allows us to put in those lines. It's a monumental task we're undertaking and the firefighters are doing a fantastic job."
The Slater Fire has grown to an estimated 146,698 acres and is 10 percent contained as of Friday morning, according to an update on the Del Norte Office of Emergency Services Facebook page. The Devil Fire is 7,144 acres and 7 percent contained.
Eighteen crews, 123 engines, 31 bulldozers, 28 water tenders, eight helicopters and 1,161 personnel are battling the blaze.
A community meeting will be held at 5 p.m. today at the Gasquet Ranger Station, 10600 U.S. 199. This will give residents a chance to meet incident management team members and other fire officials.
The fire grew about 3,000 acres on Thursday, mostly in its northern section, Granger said.
On Thursday, crews focused on structure protection between the Knopki Creek area and Gasquet, according to DNOES. Work includes completing dozer line from Monkey Ridge to U.S. 199.
"Our hopes are to get 199 open as quickly as possible," Granger said Friday.
North of the state line, crews are trying to stop the blaze from moving into Bureau of Land Management lands in the Takilma area, Granger said. This includes adding 100 acres of "burn out" on Thursday and adding more containment lines to ensure Takilma is safe.
The Gasquet Ranger District's Smith River Hotshots are working along Oregon State Route 46, which leads to Oregon Caves National Monument and Preserve, Granger said. That's an area with active fire and crews are putting in control lines and dozer lines to protect "high value" structures inside the monument, he said.
The northern edge of the Slater Fire has retreated to roughly 2.2 miles southwest of the park's boundary and 3.2 miles southwest of the monument's national historic district as of about 5 p.m. Thursday. Outdoor sprinkler systems are still trained on the Oregon Caves Chateau and Chalet to guard against embers and other fire threats, according to a monument Facebook post.
Access to the national monument is closed due to the Slater Fire. For current information, call the Illinois Valley Visitor Center at (541) 592-4076 from 8 a.m.-6 p.m. through Saturday.
Though the fire is still 10 percent contained, Granger said fire crews added more containment lines in the Happy Camp area.
The Slater Fire started in the Happy Camp area on Sept. 8. On Sept. 9 Gasquet residents were evacuated.
Evacuation orders have been reduced, though Gasquet and Big Flat residents remain at Level 1 "Be Ready," according to DNOES. Residents between Pioneer Road and the Oregon state line are at Level 2 "Be Set" evacuation orders.
Hiouchi residents are no longer under evacuation warnings, according to DNOES. For more fire information in Del Norte County, call (707) 464-0911 from 8 a.m.-6 p.m.
---
SHARE →