---
Jessica Cejnar / Thursday, Sept. 17 @ 11:29 a.m. / COVID-19, Emergencies, Fire
New Incident Command Team Takes Over DN Portion of Slater Fire; Rain Predicted For The Area
---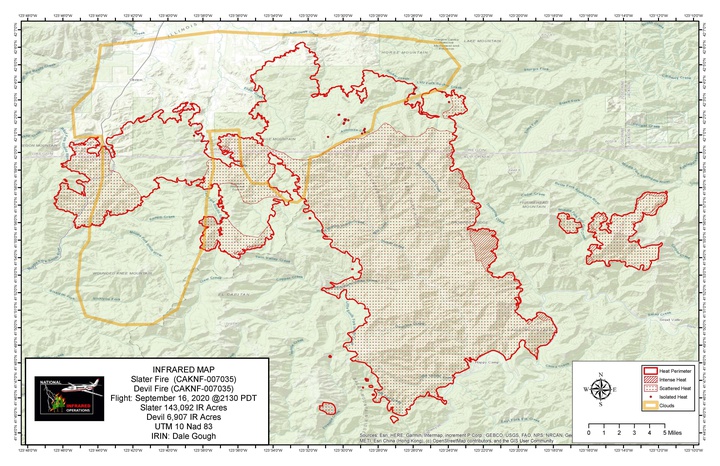 (Updated at 9:07 a.m. Friday to correct Operations Section Chief Mike Granger's name.)
A new incident command team from the Northern Rocky Mountains has taken over managing the area of the Slater Fire near Gasquet and the Illinois Valley area.
Fire crews with the Northern Rockies Management Team 2 have been working to prevent the fire from spreading north and west of U.S. 199, Operations Section Chief Mike Granger said in a brief update on Wednesday. Crews are also establishing dozer lines in the Takilma area, he said.
Firelines continue to hold along Knopki Road and crews are using bulldozers to build control lines along Monkey Ridge to keep the fire from crossing U.S. 199, according to a morning update on InciWeb Thursday.
Though progress has been made clearing hazardous trees and debris from the California side of the highway, there is still no estimated time for reopening the road, according to Caltrans District 1 spokesman Myles Cochrane. The agency is coordinating with their counterparts in the Oregon Department of Transportation as they continue to work to reopen the road, he said Thursday.
In a Facebook post Thursday, Del Norte Emergency Services Manager Kymmie Scott reported that the area may be in for wetting rain, citing the National Weather Service's Eureka office.
Scott also urged people to check on their neighbors.
"Ensure that they are signed up for Community Alerts at preparedelnorte.com and that they have transportation available to evacuate if need be," she said.
The Slater Fire has burned an estimated 143,092 acres, while the Devil Fire in Seiad Valley near Happy Camp is 6,907 acres. The Slater Fire is 10 percent contained, according to InciWeb, and the Devil Fire is 0 percent contained.
According to Ranger, both the Northern Rockies Management Team 2 and California Interagency Management Team 10 are managing the Devil Fire.
"Our portion is the area of the Devil Fire north of the Pacific Crest Trail," Granger said. "Right now we're just scouting and figuring out what access we have to that area adn what are the capabilities to put in any type of control lines."
Meanwhile, air quality and smoky conditions have improved along the coast, aided by a low pressure system that continues to move onshore, providing lift and an influx of moist air, according to a U.S. Forest Service news release.
Air quality in Crescent City and Brookings is generally good, according to the update. Gasquet is experiencing overall moderate air quality conditions with periodic conditions that are unsafe for people within sensitive groups.
Air quality in Grants Pass is unhealthy overall, according to the update, though conditions are expected to improve in the evening.
Though air quality and smoky conditions have improved on the coast, Del Norte County Public Health Officer Dr. Warren Rehwaldt issued a release about how to distinguish smoke exposure symptoms from those of COVID-19.
"If someone has had unavoidable smoke exposure and is feeling symptoms, the symptoms are usually fairly short term once a person can stop the exposure," Rehwaldt wrote. "The toehr main differences are fever and body aches, as these are more typical of an infection and are probably more suggestive of an infection rather than the smoke exposure."
Wildfire smoke can cause coughing, trouble breathing, stinging eyes, a scratchy throat, headaches, chest pain, tiredness, irritated sinuses, a fast heartbeat and a runny nose, according to the Centers for Disease Control and Prevention.
Rehwaldt urged Del Norters to remain indoors and keep doors and windows closed. He directed people to the North Coast Unified Air Quality Management District for more air quality information.
Rehwaldt also addressed COVID-19 in Del Norte County, saying there has been a steady trickle of cases and we are "skating on the edge in terms of a tier change." However, as of Wednesday, Del Norte County is still in Tier 3, or moderate, on California's Blueprint for a Safer Economy, Rehwaldt said.
Under this status, most businesses can operate with modifications such as at 50 percent capacity for restaurants offering indoor dining and 50 percent capacity for indoor places of worship, according to the California Blueprint for a Safer Economy.
"Our next round of testing and data reporting may change this and we will plead our case to the state, given the fact that so little else has changed in the county, if that becomes necessary," Rehwaldt said.
There are currently six active COVID-19 cases in Del Norte County, according to the Public Health Branch's COVID-19 Information Hub.
---
SHARE →