---
Jessica Cejnar / Monday, Sept. 14, 2020 @ 12:29 p.m. / Emergencies, Infrastructure
Hazardous Trees, Low Visibility Due to Slater Fire Hinder Efforts to Reopen U.S. 199; Evacuation Orders Eased for Gasquet, Big Flat Residents
---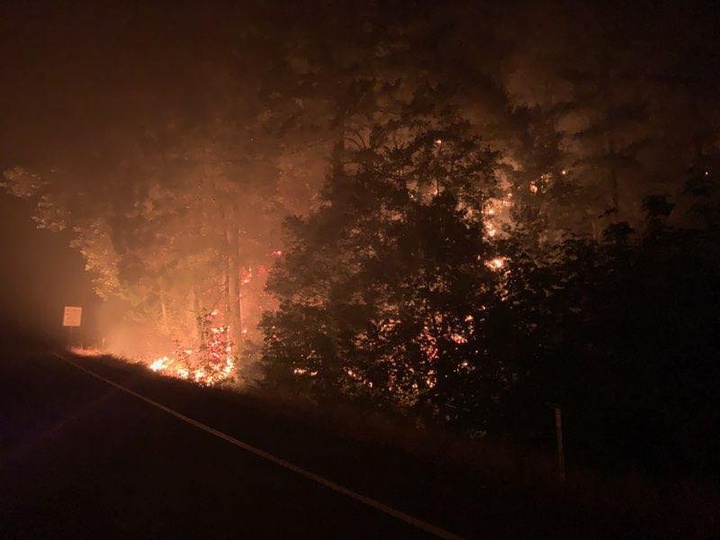 Hazardous trees, terrible air quality and unpredictable fire activity are hindering efforts to reopen U.S. 199, which has been closed at Pioneer Road since Thursday due to the Slater Fire.
Caltrans doesn't have estimated time of reopening the highway that links Del Norte County with Cave Junction and Grants Pass, according to Myles Cochrane, public information officer for Caltrans District 1. The agency is working closely with the Oregon Department of Transportation to reopen the road at the same time when conditions are safe, he said.
"At this point, we have to remove a number of hazardous trees in order to reopen the highway," Cochrane said. "And because the air quality is so bad, it's impacting how quickly we're able to do that due to visibility and, of course the fire conditions are slowing us down a little bit."
Caltrans District 1 will be updating its Facebook and Twitter pages with further information about U.S. 199, Cochrane said.
The Slater Fire started on Sept. 8 near Happy Camp, has since grown to 131,601 acres and is 5 percent contained, according to a Monday update from the U.S. Forest Service. The Devil Fire burning in the nearby Seiad Valley area is at 4,429 acres.
In Del Norte County, fire crews are focusing on structure protection southwest along Knopki Creek, according to a Klamath National Forest news release. They also worked to strengthen control lines along Monkey Ridge and Oregon Mountain Road to halt the fire's spread west, according to the U.S. Forest Service news release.
Though U.S. 199 is closed, evacuation orders for residents between Pioneer Road and the Oregon border has been down graded from a Level 3 "Go" to a Level 2 "Be Set," Del Norte Office of Emergency Services Public Information Officer Bill Steven told the Wild Rivers Outpost.
Evacuation orders have been downgraded from Level 2 "Be Set" to Level 1 "Get Ready" for Gasquet and Big Flat residents, Steven said. The Level 1 "Get Ready" order for Hiouchi has been lifted, he said.
However hazardous conditions continue, especially near the Collier Tunnel Rest Area, Steven told the Outpost.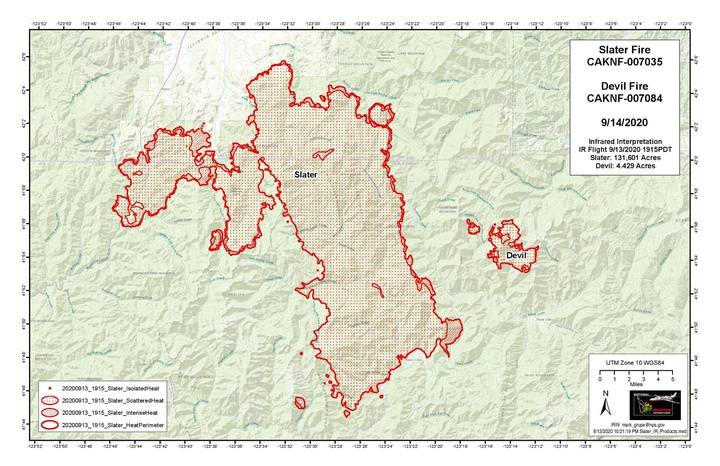 "If you go by the tunnel, just before you get to the rest stop, those are pretty steep hillsides (that) go down into a pretty deep canyon. The fire's down there," he told the Outpost. "But it hasn't raced up that hillside yet. There are several places like that."
The area between Collier Tunnel and the agricultural inspection station on U.S. 199 has also burned extensively, Steven said. Trees are unstable and have fallen or could potentially fall, he said.
"Between the fire coming up those canyons and catching some of those areas and trees that are unstable and have fallen onto the highway, they're not opening that yet," Steven said. "The biggest issue right now is the highway. There are a lot of people that go over for doctors appointments in the Grants Pass and Medford area. I talked to a couple people who were disappointed at having to make the run to Bandon and over to I-5 and I spoke to at least one person who had to fly out this week on business. Between doctors appointments and air travel, it's caused quite an issue."
According to the Klamath National Forest's update, fire activity has been moderate in areas under a smoke inversion layer, but has picked up in places where that layer has lifted, primarily in Oregon. Fire suppression is focusing on protecting structures in the Cedar Creek, Dwight Creek and Elk Creek areas of the Illinois Valley, according to the update.
Winds out of the east has blown smoke from the Slater and Devil fires to the coast, creating unhealthy conditions in Crescent City and Klamath and unhealthy to very unhealthy conditions in Gasquet, according to the North Coast Air Quality Management District.
The NCAQMD has issued an air quality advisory on Monday for the next 24 hours. Those with respiratory diseases, heart disease, young children and older adults should stay indoors and avoid prolonged activity. Others should limit prolonged activity and time spent outdoors.
For more information about the Slater and Devil fires, visit its Facebook page. For more information about emergencies impacting Del Norte County, visit Prepare Del Norte.
---
SHARE →