---
Jessica Cejnar / Thursday, Oct. 29 @ 6 p.m.
Del Norte, Curry Art Scene: Taj Mahal Livestream Concert, Call For Artists, Grant Opportunities
---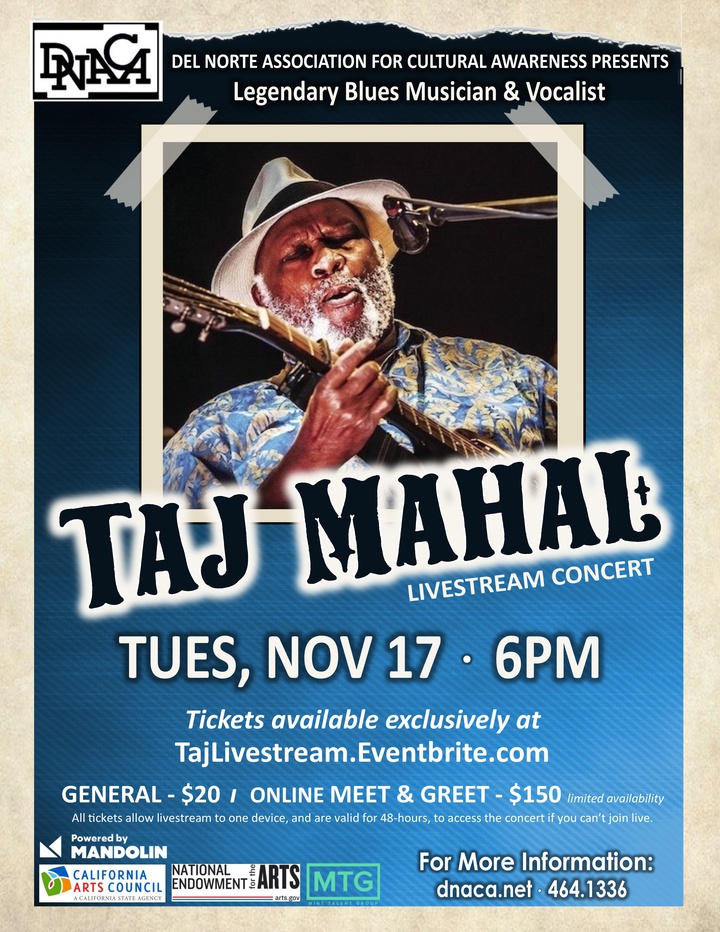 Grammy-award winner Taj Mahal and the Del Norte Association for Cultural Awareness will host a livestream performance next month.
There have also been a few changes to a DNACA grant program and a regional art program focusing on resiliency. Also, there's a spooky film festival in Gold Beach benefitting the Ellensburg Theater Company.
From DNACA's Art Notes:
DNACA Grant Opportunity Deadline Looms
The deadline for a DNACA grant serving communities of color is today. DNACA is awarding more than $12,000 to local arts and cultural organizations or groups serving people of color, including black, indigenous, Hispanic, Hmong and others. The money can be used for general operational support and is provided through the Coronavirus Aid, Relief and Economic Securities (CARES) Act through the National Endowment for the Arts and the California Arts Council. To submit an application, visit dnaca.net/grant.

Funds for Artists' Resilience Call for Artists
The deadline for submitting applications to the Funds for Artists' Resilience program has been extended to Saturday. FAR seeks local artists of all types interested in creating new public works focusing on "Reslience." Individual projects will be funded up to $1,000 and collaborations could receive up to $5,000. FAR is a collaboration between the Ink People Center for the Arts, Trinity County Arts Council, and Del Norte Association for Cultural Awareness (DNACA), with funds provided from the Humboldt Area Foundation and Wild Rivers Community Foundation. For more information and to apply online or print an application, visit inkpeople.org/far.

Halloween Film Festival
The Ellensburg Theater Company will hold a Halloween Film Festival starting at 1 p.m. Saturday. Films include "House on Haunted Hill," "Night of the Living Dead," and more. Tickets are $5 per movie, or $10 for an all-day pass. Tickets are available at Jerry's Rogue Jets, Gold Beach Books or at the door 30 minutes before showtimes. The theater is located at 94196 W. Moore St., Gold Beach. Due to mature themes, parental discretion is advised. Face coverings and social distancing are required. For more information, call 541-247-4382.

Taj Mahal Livestream Concert
DNACA is proud to partner with vocalist, multi-GRAMMY® winner, and Blues Hall of Fame member TAJ MAHAL, for his first-ever livestream performance 6 p.m. Nov. 17. General tickets are $20 and include livestream to one device. Limited meet and greet tickets are available for $150, which include the lconcert. Ticketholders will be able to access the concert for 48 hours if they can't see it live. For more information, visit tajlivestream.eventbrite.com or dnaca.net.

For community arts calendar listings, please visit www.dnaca.net. For inclusion in Arts Scene listings, items should be sent to the Del Norte Association for Cultural Awareness (DNACA) at office@dnaca.net by Tuesday of each week.
---
SHARE →