---
Jessica Cejnar / Wednesday, Oct. 21, 2020 @ 5:49 p.m.
Following Solid Waste Director's Assault, Staff, Residents Tell Commissioners The Former Landfill Has Become A 'War Zone'
---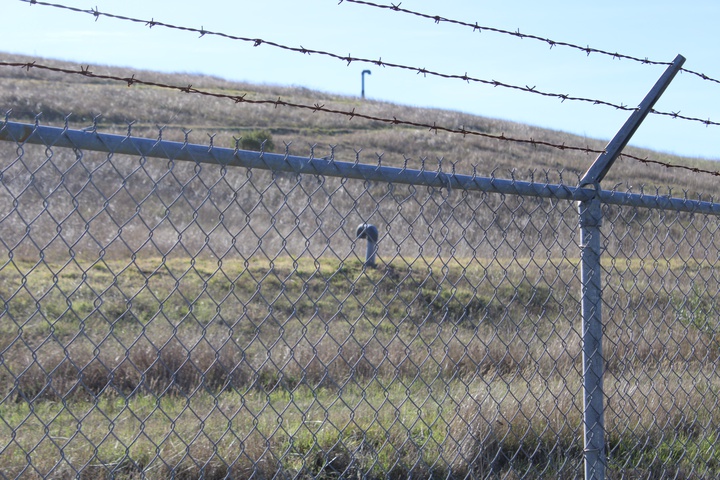 Solid waste officials promised to take action that could include potential litigation and property acquisition following the Oct. 8 assault of their director at the former Crescent City Landfill.
Residents and Del Norte Solid Waste Management Authority employees described the 167-acre county-owned property near the end of Old Mill Road as a "war zone" rife with illegal bonfires, gunshots, explosions, accumulated trash and other debris.
Volunteers and those visiting the nearby Tolowa Dunes State Park and Lake Earl Wildlife Area to recreate are now questioning their safety, they say.
This has jeopardized habitat restoration work in the area, which will likely cease until issues of vandalism and theft are addressed, said Tolowa Dunes Stewards director Sandra Jerabek.
Jerabek's husband, Solid Waste Management Authority Director Tedd Ward, suffered fractured ribs and a collapsed lung that required surgery following his Oct. 8 assault.
"From where we live, we hear the ATVs, but we also hear the guns. The guns are a frequent occurrence on that property," she said. "This summer it got worse. All of a sudden there were these enormous explosions — much more than guns — like ground-shaking, window-shaking explosions. It makes me wonder if they are exploding propane tanks."
At Ward's request, commissioners directed the authority's legal counsel, Martha Rice, to pursue a workplace violence restraining order against his alleged assailant, Sparky-Lee Wyatt Phillips. Since Ward's assault is one example in a series of incidents jeopardizing the safety of other staff members, Rice said that restraining order can apply to all authority employees.
At Crescent City Mayor and Solid Waste Authority Board Chair Blake Inscore's request, Rice said she would also be available to help staff members who wanted a personal restraining order following Ward's assault.
During the broader discussion of security at the former landfill, Inscore broached the possibility that the agency could try to acquire properties immediately adjacent to the facility as a way of alleviating some of the safety concerns. That topic, he noted, would be a discussion for a future closed session meeting.
Rice also asked Inscore to include the possibility that the agency would pursue legal action in the form of a lawsuit in a future closed session discussion.
"I just wouldn't want to rule that out if we came up with that strategy," she said.
The suspect in Ward's assault, Phillips, 25, faces charges of assault with a deadly weapon with great bodily injury; robbery; battery with serious bodily injury; force or assault with a deadly weapon that's not a firearm; failure to appear after a written promise; obstruction and resisting; and possession of controlled substance paraphernalia.
Del Norte County Sheriff's deputies arrested Phillips on Saturday. He is currently housed at the Del Norte County Jail.
In his report to the sheriff's office on Oct. 8, Ward stated a second assailant was involved in his assault. That individual has not been identified, however, he told Solid Waste commissioners on Tuesday.
Solid Waste employee, Kyra Seymour, who inspects and oversees maintenance at the landfill, said she and a colleague had encountered Ward's alleged assailant on Sept. 1. That person was on an ATV, Seymour said, adding that her coworker had obtained video footage.
Seymour described theft and vandalism at the landfill, including stolen drainage equipment, fence and gate damage, erosion from motorize vehicles trespassing on the landfill mound itself. This includes people using equipment for regrading surfaces.
Seymour said at the last inspection, she and her colleagues noticed a bullseye spray painted onto a drainage structure that had been used for target practice.
About two years ago, a fire created extensive damage at the landfill, Seymour said. The blaze destroyed a county-owned wheel loader and melted drainage structures, she said.
Seymour noted that she and her colleagues must visit the area regularly to collect data and inspect the site to meet the county's obligations to the state following the landfill's closure. But the vandalism makes that job difficult, she said.
"At one point, when I was doing normal erosion repair, I was called back to the transfer station and had to leave the landfill," Seymour said. "As I was locking it up, three gentlemen were coming onto the landfill property walking with rifles, and I had one of them point the rifle at me and say, 'What are you doing here?' I don't know if I responded or not."
Seymour said she got into her car and left the area, calling 911 and reporting the incident to a deputy who was further down Old Mill Road at the time.
"This is part of what we're dealing with out there," she said, adding that her stress level since Ward's attack has greatly increased. "This could easily have been any one of us. Anyone out there is vulnerable and we need that to be heard. I needed that to be heard."
During both the discussion regarding the restraining order and the next topic on the agenda regarding overall security at the landfill, Inscore's colleague on the Solid Waste Board, District 2 Supervisor Lori Cowan suggested the agency contact the Del Norte County Sheriff's Office.
"I don't want Kyra to go out there alone," she said. "I don't want anybody to go out there alone yet we have to because of what we need to do to satisfy what's expected of us."
Crescent City Councilor Jason Greenough, noting that it wouldn't be feasible for a deputy to accompany staff to the landfill every time they needed to go, suggested training and arming solid waste employees.
"They shouldn't be out there unless they're able to protect themselves or have someone have their back," he said.
Greenough also suggested the Solid Waste Authority Board consider paying for having a sheriff's deputy at the site as extra security — something his colleague, District 3 Supervisor Chris Howard, said the California Highway Patrol does for Caltrans projects.
Howard, saying that he and Inscore have spoken with Del Norte County Sheriff Erik Apperson and Undersheriff Randy Waltz about Ward's assault, said he could bring the subject of ongoing security at the landfill site with the sheriff.
Before Inscore wrapped up the discussion, Carol Wilson, who works for the California State Parks Natural Resources Division, said vandalism and trespassing could have wider implications.
Wilson noted that California State Parks is working on a land exchange with the Border Coast Regional Airport Authority that could include the landfill property.
"We don't want to take on land that's going to be really problematic," she said. "If we don't do the land exchange with the airport, they will not be able to proceed with the clearing that they need to do to be in compliance with the FAA regulations."
Jerabek also noted that if people are setting campfires in Tolowa Dunes State Park the risk of a fire in that area is great.
The Crescent City Landfill opened in the late 1970s and operated until 2005. Its closure was complete in 2006.
The Solid Waste Management Authority, on behalf of the county, is tasked with managing the property for a minimum of 30 years. This includes ensuring the landfill's liner remains intact and its drainage structures are working.
---
SHARE →