---
Jessica Cejnar / Monday, Nov. 16 @ 8:30 p.m.
Del Norte Gets 15 New COVID-19 Cases Over Weekend, Public Health Reports
---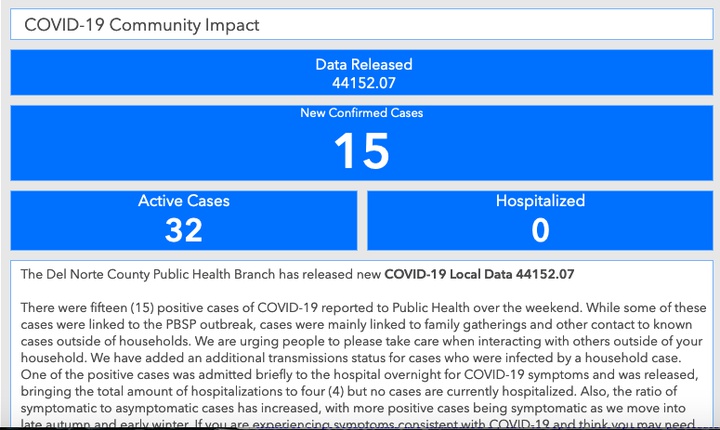 Fifteen new COVID-19 cases were reported to the Del Norte Public Health Branch over the weekend.
There are currently 32 patients with active disease, according to the Public Health Branch. This includes two cases among the inmate population at Pelican Bay State Prison, according to the California Department of Corrections and Rehabilitation.
There are currently 21 active cases among Pelican Bay State Prison employees, according to CDCR.
From Del Norte County's COVID-19 Information Hub:
There were fifteen (15) positive cases of COVID-19 reported to Public Health over the weekend. While some of these cases were linked to the PBSP outbreak, cases were mainly linked to family gatherings and other contact to known cases outside of households. We are urging people to please take care when interacting with others outside of your household. We have added an additional transmissions status for cases who were infected by a household case. One of the positive cases was admitted briefly to the hospital overnight for COVID-19 symptoms and was released, bringing the total amount of hospitalizations to four (4) but no cases are currently hospitalized.

Also, the ratio of symptomatic to asymptomatic cases has increased, with more positive cases being symptomatic as we move into late autumn and early winter. If you are experiencing symptoms consistent with COVID-19 and think you may need testing, please contact your primary care physician or go to a local testing site. Finally, Del Norte County has been moved into the Red Tier, with 32 total active cases and over 50 confirmed cases of COVID-19 for November alone. To read the full press release, please visit: covid19.dnco.org/news
---
SHARE →