---
John Ross Ferrara / Tuesday, Nov. 10 @ 4 p.m. / Local Government
Del Norte Board of Supervisors Approves Transferring $26,000 in Funds to Buy Virtual Golf Simulator
---
The Del Norte County Board of Supervisors unanimously approved a budget transfer of $26,000 today for the purchase of a virtual golf simulator in hopes of recouping financial losses suffered by the county's Recreation division during the COVID-19 pandemic.
Recreation Coordinator Kim Nguyen told the Outpost that the department is currently $64,698 short of its projected annual revenue due to the cancelation of youth and adult sports programs and the closure of the Recreation Gymnasium.
"We're kind of at a standstill right now," Nguyen said. "Usually the gym is really packed with birthday parties or rentals in general, but that has been shut down due to COVID."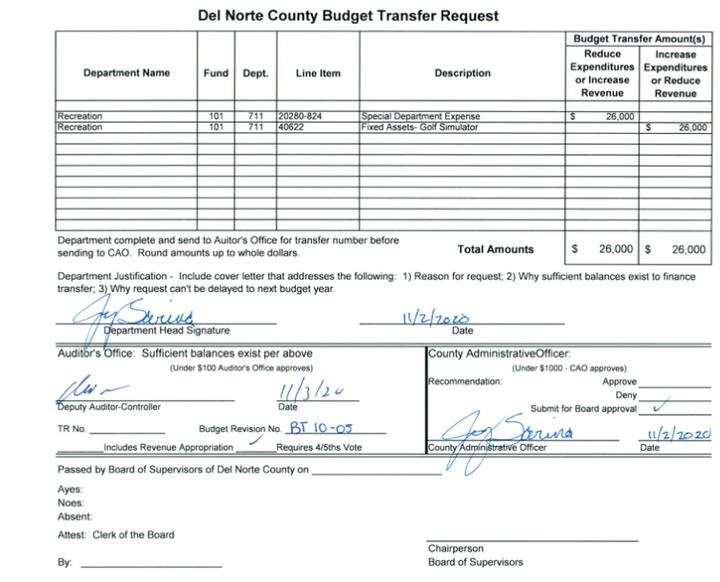 If purchased, the golf simulator will allow residents to practice their golf game indoors. Players will use real golf clubs to smack real golf balls into a projection screen. The computer will then analyze the stroke and use the projector to instantly display a realistic result of the ball's flight on a simulated golf course.
According to the county's report, the $26,000 Foresight Sports GCQuad Golf Simulator's "advanced imaging technology," "lightning-fast processor," and "real-time visual feedback" will allow residents to have a quality golfing experience that's within the county's budget.
"An investment in a golf simulator is a long-term investment that will bring a return to the County's investment after two years," the county stated in its report for the Board of Supervisors. "The golf simulator will attract beginner golfers, experienced golfers, and golf teachers and students who want to improve their golf skills."
The pricey golf simulator is planned to be available for hourly rentals inside Crescent City's Recreation Gymnasium at 1005 H St. Although the rental prices have yet to be determined, the county estimates that players will be charged approximately $25 per hour.
While the simulator is a hefty investment, Nguyen said the simulator comes with a two-year warranty and that the county expects the simulator to last for at least a decade. The county also plans to lock the simulator away in a room fitted with security cameras when it's not in use.
The simulator also comes with a variety of carnival games where players can use the golf clubs and balls to play skee ball, darts, pop balloons and shoot targets.
The $26,000 will be transferred from the county's Special Department Expense fund using existing money earmarked for the 2021 fiscal budget.
Watch the entire Board of Supervisors Meeting in the video above.
---
SHARE →