---
Jessica Cejnar / Wednesday, May 6 @ 5:33 p.m. / Arts, Community, Emergencies
Arts Organization Offers COVID-Friendly Poetry Workshops, Guitar Classes, Drum Circles to Veterans
---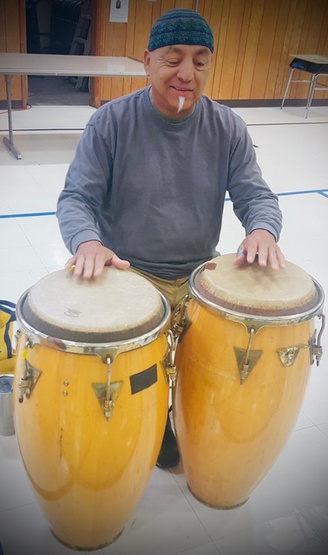 Though COVID-19 has forced the Del Norte Association for Cultural Awareness to make changes, its programs for veterans still exist.
Veterans and their families can learn how to construct the perfect stanza, make their guitar strings sing and tap into each other's rhythm, thanks to a grant the California Arts Council awarded DNACA on Wednesday.
Though it had to cancel its Arts in Education program and postpone the last two concerts of its 2019-2020 season, DNACA is still offering guitar and poetry workshops to veterans and their families, Executive Director Stephanie La Torre told the Wild Rivers Outpost on Wednesday.
The poetry workshop started Wednesday and will be held two nights a week through the end of May, La Torre said. Though students are still welcome, the guitar workshop has already begun, so people shouldn't be "absolute beginners" if they want to join, she said.
Meanwhile, percussionist Mombo Hernandez will lead a drum circle on May 30 at an overlook of the Klamath River near the Requa Inn, La Torre said.
"It was originally going to be in a national-state park area, but they pulled all those permits with the shelter-in-place (order)," she said. "Jan and Marty Wortman, who own the inn, have events sometimes at this overlook across the road from the inn. It's a beautiful scenic spot and it has lots of room for people to spread out, and it's outside, so we think that'll be a really nice spot."
La Torre said she would also explore holding the drum circle on a virtual platform, potentially Facebook Live, allowing those in wheelchairs or their own instruments to participate.
"The great thing about actually being there at the drum circle is everybody feeds off of the different rhythms that people are introducing as they play their instruments," she said.
The grant the California Arts Council awarded DNACA is one of roughly 1,500 the council awarded throughout the state. This investment of $30 million is the largest in the Art Council's history, according to a DNACA news release.
The Arts Council gave grant dollars to organizations that work with youth, veterans and historically marginalized communities such as the incarcerated population.
"In our isolated community, it's important to continue to offer arts programs, La Torre said. "Whether we are offering arts locally in an interactive or workshop-setting such as with the Arts for Veterans program, or by providing artwork to view at the courthouse, or through a live concert performance, DNACA knows the arts provide a lasting impact in our community."
COVID-19 has also had an impact on the Del Norte community, including DNACA. Del Norte Unified School District's March 15 decision to shutter campuses forced DNACA to cancel the spring semester of its Arts in Education program.
This program brings connects local artists with students at the elementary and middle school level, teaching art, poetry or drawing, La Torre said.
Meanwhile, DNACA had to cancel its Okaidja Afroso and Sarah Hagen concerts. La Torre said the organization may be able to bring Afroso, a Ghanaian musician and storyteller, to Crescent City later in the summer at an outdoor venue. Hagen, a Canadian musician, cancelled her spring tour as a result of the pandemic, La Torre said. DNACA is rescheduling Hagen's performance for later in 2021, La Torre said.
"When this all started, we originally postponed that until June 5," La Torre said. "It looks like restrictions on large gatherings is not going to lift before then, so we're still exploring our options with that."
La Torre said one option is to hold a performance and streaming it online. But, the experience won't be the same as a live performance, she said.
"I just feel like the heart of the performer for that concert and his vibe in general is really something that people will get much more out of in person," La Torre said. "We want to present these folks. We want to support their art and we really think the community will like them."
La Torre also mentioned those who bought season tickets, saying she wants to make sure they get to see the concerts they expected to see.
DNACA is also looking to next year's concert season. Though the line-up is a secret, La Torre said patrons are in for a fun performance series.
"Every year we do an audience survey where people tell us what they would like to see," she said. "I think we have a different act for every top category people said they wanted to see more of."
The poetry and guitar workshops are open to veterans and their families and are held via Zoom. Those who are interested should email office@dnaca.net.
---
SHARE →
---