---
Jon Alexander / Saturday, May 23 @ 7 a.m. / Angels and Desperados
ANGELS and DESPERADOES: The Rear View Mirror
---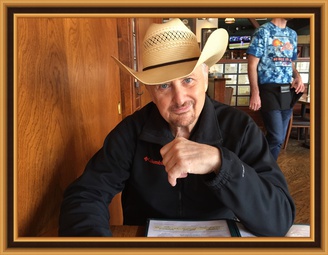 It was a turn down day. I woke up rueing walking the dog, the gout or whatever has crawled into my right knee and hibernated, letting me know it would be a painful hike. The downstairs seemed colder than usual, so I found a way to bitch about that. I'm dealing with Stage IV metastatic prostate cancer and taking my latest regimen of chemo pills, called YONSA(which I affectionately call Yahtzee) along with prednisone which makes my face look like a bran muffin on steroids.
The weather has been nasty, windy and rainy, the past week and that hasn't done much to improve my spirits much either.
And so, with a foul mood intact, I leash up my "res dog rescue curs," Jake and Max, open the front door and go out to meet the day.
It's 7:00 a.m., late for our walk, but the sun is beaming and it's warm out, a beautiful day. We walk about 30 yards and a band of ravens is now upon us, seeking the treats I toss them every day.
The ravens follow us across the grass and past the Marine Mammal Center where I look into one of the pools there and see two beautiful seal pups looking back at me. If that image doesn't do something to warm your heart, you're in a bad need of a transplant.
Max and Jake and I walk a bit further across the soccer fields, a place where, halfway between the goals, I traditionally hit my knees in the grass and say my gratitude list. Today, being no different, I give thanks for this day and all of my bounty which is indeed plentiful. I rise and continue on, across Howe Drive, to the beach. Always having been an ocean person, I stop and look past our jetty and pier, past the channel markers and out to sea, where the swells continue their march to shore as they have for all of recorded time.
I make the turn back toward home, my sulk and sullen humor cast aside, as I realize the beauty of this world and my place in it. Something that's always there-if only I choose to look for it.
I wrote the piece below over a decade ago. I'm here to report, nothing has changed since.
To all my Brothers and Sisters out there-be well, be safe and take a moment to love yourselves.
-- jon
Carole King and Lemonade
I have a friend named Bedsworth. He isn't necessarily the smartest or the most spiritual person I know, but he may be the wisest. A great contemporary American songwriter, Carole King, once wrote, "Sometimes you win, sometimes you lose. And each time you choose between the two." In addition to being a Carole King fan and District Court Justice, Bedsworth has made a second career out of inspiring the folks around him to make lemonade out of life's lemons, as he calls it.
I awoke Wednesday morning to a driving wind and cold rain. The heater was broken and I cursed aloud, getting dressed and leaving for a long day in court-until seeing that my left rear tire was completely flat. The spare left in a friend's garage to make space to help them move, the day was getting more dismal by the second.
I recalled a friend saying how good the people at Les Schwab's were about backing their merchandise. Calling, a kind voice apologized, saying he was sorry, but it would take about 15-20 minutes to get there. Being from North Jersey with it's borrowed New Yorker wolverine sensitivities and nihilistic optimism, I hung up the phone, reverting to the vernacular of my Carolina dockworker past and began walking to work-only to run into a Les Schwab tow vehicle which got my flat tire fixed and me to work in 25 minutes.
Ten minutes later, I'm crossing 5th St. when the wind wrecks my new umbrella. Within 20 yards, I'm back cursing this place and it's mercurial weather. Only to run head on into my resident curmudgeon pal and law librarian extraordinaire, Dick Edgar, who never fails to pick me up with his love of civil liberties and storage of revered quotes from the likes of Sir Thomas More, William O. Douglas and Bob Dylan. "Stand back, Edgar, I'm in a foul mood and don't need to be humored today," I threatened. The twinkle in his eye ever-present, waving a single piece of paper, he retreats, admonishing, "Well, I guess you don't want the schedule for the new Springsteen tour they just announced." He smiles, knowing the hook's in and raw meat in the San Diego Zoo's Big Cat Park has a better chance of escape than the paper I'm lunging for.
Walking out of the library, looking at a heavy day, I run into a young girl who two years ago had her children taken away with little hope of ever getting them back. The young lady that greets you dug deep and suited up, showed up and anted up, as they say. She is dressed immaculately, has a good job in Smith River and last week got her girls back. She and the kids are beaming, as she thanks you and George Mavris for helping them. Unsaid, as she walks away and you go just a little misty, is your silent thanks to her for reminding you why you went to law school.
The day goes on and, as expected, it's a bear. You work straight into the afternoon and an unusually heavy juvenile calendar, which never fails to remind me back of the good, bad and ugly that came with my Newark upbringing and the last time I did in Juvenile Hall there for shooting out the streetlights over Jimmy Herbert's house. Unfortunately, Jimmy's father was a Newark beat cop. I still remember, on release, my old man ordering me to go apologize to Mr. Herbert and how that conversation from a guy, who was once me, turned me around.
It's now 7:00p.m., I'm hungry and dragging, almost to my car when I remember a promise to visit two clients in custody. Grumbling, I march back down the street to the jail. I walk up to the Visitation window, unannounced, and ask to see my clients. Waiting, I recall visiting my "shut-ins" on Flower Street in Santa Ana or L.A.'s infamous Towers, where you had to make appointments in advance, fill out endless forms on arrival and wait 30-90 minutes, usually getting raw treatment from bitter people who live in their "us and them' myopia. The Sergeant behind the glass tells you your people will be down in about two minutes, asking who you'd like to see first. All with a kind smile, before striking up a brief conversation. These bizarre colloquys between jailers and defense attorneys once made you wonder what was in this town's water supply. Until after a couple years, their consistent courtesy and efficiency reminded you that it was simply how decent people go about their jobs and treat others.
It's past 9:00 p.m. as I start walking the two blocks to my car. It's pitch black out and as I approach the intersection, an old beat-up sedan slows, pulling over . Flower Street and the Towers are back in my mind, my street antennae's up and I slow my walk to put a high wire pole between me and the car. Turns out to be a lady from the grocery store I shop in, slowing down to wave hello. I wave back, smiling gratefully with the knowledge that a lot more than 800 miles is between my back and L.A..
As I continue down 5th Street, my pal Bedsworth was on my mind again. I recall seeing him in Orange County several months ago and asking him how he had come to his belief, a matter I wrestle with at times. He told me a story about a man who built a beautiful mansion on a hill. On finishing, he threw open the two solid oak 12' doors with their inlaid stained glass, upon which a flock of swallows flew in. The owner cried out, gesturing wildly toward the open doors, but the poor birds, incapable of understanding, flew blindly in circles or into the walls, unable to return to their nested homes and freedom. My friend Bedsworth told me that was what he found when he sought the Bible, his God's way of talking to him in swallow.
Which got me back to Carole King and lemonade and the choices, biblical or otherwise, we make to put things and our lives in the win column instead of the alternative. If only we try. And then I was standing there in the dark, in the wind and rain, looking down at my fixed left rear tire, thinking what a great day I just had.
-- Jon M. Alexander(April 2, 2009)
###
Jon Alexander lives in Crescent City, CA. and can be reached at jonalexanderlaw@yahoo.com
---
SHARE →