---
Jessica Cejnar / Friday, May 22 @ 3:55 p.m. / Community, Education
Del Norte Unified Seeks to Hold In-Person Graduation While Maintaining COVID-Appropriate Safety Measures
---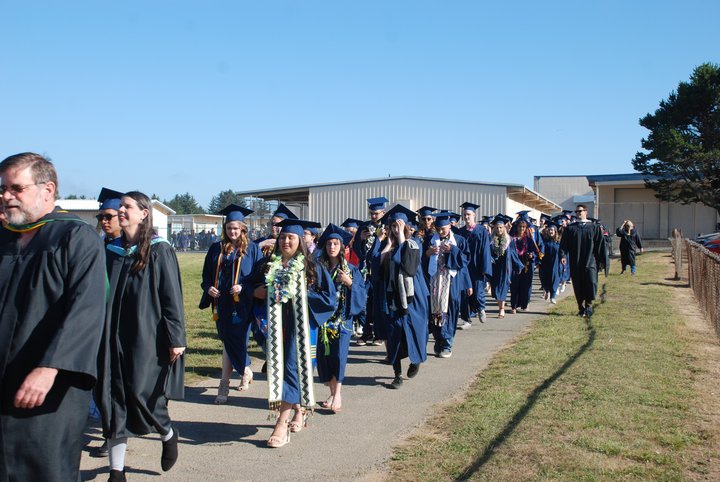 Education officials hope to figure out a way for seniors to mark a rite of passage as normally as possible at the end of a school year disrupted by COVID-19.
Del Norte Unified School District trustees Thursday asked Superintendent Jeff Harris to write a letter to Public Health Officer Dr. Warren Rehwaldt about holding an in-person graduation for Del Norte High School seniors while observing appropriate safety measures.
In addition to sending a letter, Harris spoke with Rehwaldt about graduation and "culminating activities" like end-of-the-year dance and band concerts.
On Thursday, Harris said that, while Rehwaldt told him it was unlikely he'd approve any event held indoors, an outdoor graduation may be possible with appropriate social distancing measures and the use of personal protective equipment.
"He has not approved the idea of an outdoor graduation for Del Norte High School as of yet, but he was more comfortable with that because it is outdoors, because of the extreme distancing the high school has proposed," Harris told trustees. "The configuration would potentially be half of the school graduating at one time and the other half graduating a few hours later with students being able to sit on the track with two to four family members."
Harris indicated that Rehwaldt was cautiously optimistic, but he would have to vet the possibility of holding an in-person graduation with the California Department of Public Health.
Del Norte is currently in Stage 2 of California's four-phase Resilience Roadmap. Since CDPH approved a variance last week allowing the county to move through the reopening process at a faster pace, restaurants are able to resume indoor dining, child care can resume, golf courses can reopen and retailers can offer curbside service.
Del Norte's variance also allows schools to plan to reopening, though more details are expected soon.
Under the reopening roadmap, mass gatherings aren't allowed until stage 4, according to the Public Health Branch.
In Del Norte County, 20 patients have tested positive for the novel coronavirus as of 8:56 a.m. Friday, according to the Public Health Branch. This increase in the number of confirmed cases is up from 15 on Thursday morning and is the result of contact tracing, Del Norte Emergency Services Manager Kymmie Scott told the Wild Rivers Outpost on Friday.
No patients have been hospitalized, Scott said.
Four people have recovered from COVID-19, according to the Public Health Branch. The results for 37 cases are pending and 656 are negative, according to the Public Health Branch.
Though she favored an outdoor in-person graduation, Trustee Charlaine Mazzei said she was concerned about the culminating activities, saying she wasn't sure how social distancing could be maintained in a band or a dance concert.
"If you couldn't really have an audience, then it's a dress rehearsal — it's not really a performance," Mazzei said. "I don't have a problem with sending a letter to Dr. Rehwaldt and asking him to work with us. I would want to see what the plan was for any of those kind of culminating performance-type things before I would say let's go ahead with them."
Student trustee, Del Norte High School senior Elizabeth Ward said the dance class wouldn't have a full concert, but seniors did discuss creating a music video and finding a way to broadcast it.
"We all know we can't have a show, but we finished this piece and we worked really hard on it," Ward said. "Through social distancing, I think it will be something worthwhile. It'll be worth the risk for the seniors."
Music teacher, Sara Rogers, said that while other districts are figuring out innovative ways to hold concerts, DNUSD can't afford to do that currently.
"It is a financial issue to do it," Rogers said. "As a team we are working our butts off to find a way for all of our instrumentalists, all of our vocalists, to be back in the community because we are huge. We pack auditoriums for concerts. We are working on that, but it's just not possible without a budget to do that, and we have bigger needs than to ask for a huge chunk of money for that right now."
---
SHARE →