---
Jessica Cejnar / Tuesday, May 19 @ 12:21 p.m. / Emergencies, Health, Prison
(Updated) Pelican Bay Employee Tests Positive for COVID-19; CDCR Investigating If Prison Staff, Inmates Were Exposed
---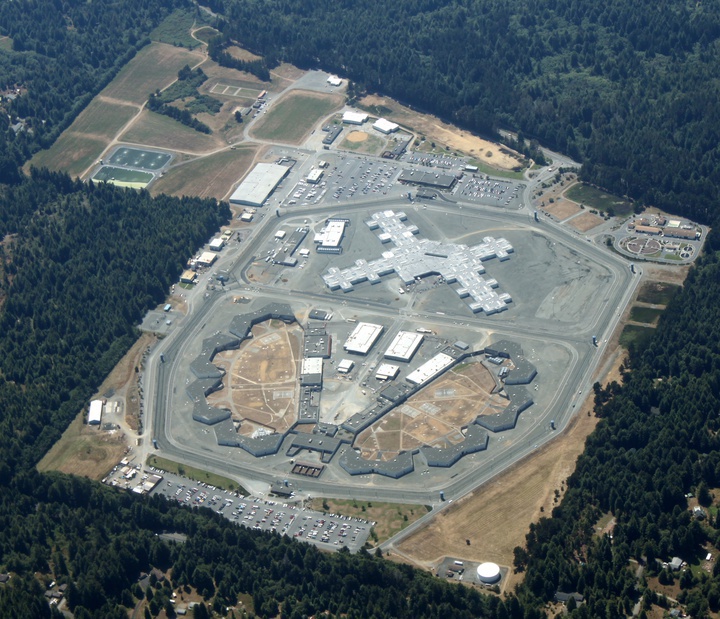 A Pelican Bay State Prison employee has tested positive for COVID-19, according to the California Department of Corrections and Rehabilitation.
Though she didn't know if the patient connected with the prison is one of four positive cases identified in Del Norte County on Monday, Emergency Services Manager Kymmie Scott said Public Health staff will continue aggressive contact tracing Tuesday.
"They're going to try to do something like 65 interviews today," Scott told the Wild Rivers Outpost on Tuesday. "I know they've had lots of conversations with Pelican Bay as well as other CDCR staff. It's such a quickly changing situation."
The number of Del Norte County patients testing positive for the novel coronavirus is now 13, according to the county Public Health Branch.
Staff at CDCR and California Correctional Health Care Services are working with the Del Norte Public Health Branch to determine if prison staff and inmates have been exposed to the virus, CDCR spokeswoman Dana Simas said in a Tuesday email to the Outpost.
"Based on the findings of that contact investigation, we are following isolation and quarantine protocols recommended by the (Centers for Disease Control and Prevention) for correctional settings," Simas told the Outpost.
CDCR is working on expanding testing throughout its system, according to Simas. Decisions for large volume testing at an institution is made are made in coordination with local public health departments and depend on their testing capabilities and priorities. Test results are currently available in roughly 48-72 hours, Simas said.
"CDCR and CCHCS are actively working with state public health partners and other external stakeholders to produce faster testing results," Simas said. "This will greatly contribute to our ability to make rapidly-informed decisions regarding housing, staffing and treatment to protect all those who live and work in our state prisons."
Meanwhile, Curry County Public Health is working with counterparts south of the state line to investigate another patient who tested positive on Sunday. According to a Curry County Public Health news release, that person works in the health care field in Del Norte and lives in Curry County.
Both Curry County and Del Norte County public health staff are engaged in contact tracing. This is the only active COVID-19 case in Curry County, according to the news release.
Meanwhile, Del Norte County is preparing to receive a state-sponsored testing site. According to Scott, the California Department of Public Health indicated the testing site would be established at the end of the month. However, she said, they're pushing to get that site in the community sooner.
"Two weeks ago testing was a whole lot more limited, but the supply chain for testing has come up a lot in the last two weeks," Scott said. "Right now the testing we need to do for contact tracing is being done."
Scott noted that the increase in cases is what local emergency and public health officials have been preparing for.
"We knew that we don't live on an island and we would see cases here eventually," Scott said. "This is why we've been working on getting supplies here and getting people trained and putting processes in place. The work that has been done over the last two months to prepare us is showing to be effective right now."
The increase in COVID-19 cases comes as Del Norte County moves through Stage 2 of California's Roadmap to Resilience at a faster pace than the rest of the state. As businesses, including retailers and dine-in service at restaurants, reopen, Del Norte Public Health Officer Dr. Warren Rehwaldt issued an order asking people to have masks on them when they're in public.
According to Rehwaldt's order, people are asked to wear those masks when they enter a business.
Rehwaldt's order, however, excludes those who have health conditions from having to wear a mask, Scott said. Instead, she said, they may consider wearing face shields to block the spread of droplets from their breath.
Another option for people who may have concerns about their ability to wear masks in public is to connect with True North Organizing Network's Neighbors Together for Good program.
Of the 13 confirmed COVID-19 cases in Del Norte County, four have recovered, according to the Public Health Branch. A total of 632 tests have been administered. The results for 21 are pending and 598 have returned negative, according to the Public Health Branch.
---
SHARE →