---
Jessica Cejnar / Wednesday, March 11, 2020 @ 11:58 a.m. / Community
County Sends Retired Sheriff's Sgt. Gene McManus Off With Standing Ovation, Says Farewell to Assistant Probation Chief
---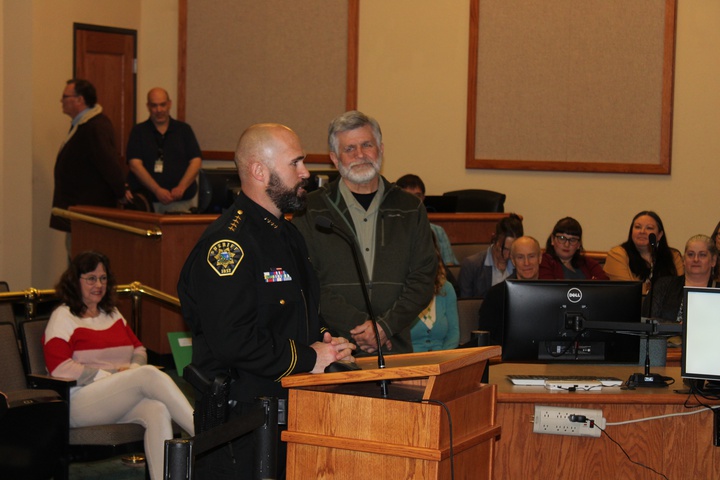 Gene McManus worked hard to keep his emotions in check during a standing ovation from his fellow Del Norte County sheriff's deputies, elected officials and county staff.
McManus, who is retiring from the Del Norte County Sheriff's Office after more than 30 years, received a send-off Tuesday in the form of a Del Norte County Board of Supervisors resolution. His superior, Sheriff Erik Apperson, presented the retiring sergeant with a shadow box of his badges and medals, saying that he's often called on McManus for advice.
"I couldn't fit his career in this building if I had to, but these are just a few of the highlights," Apperson said of the mementoes he gave to McManus, which included his sergeant hash marks, his favorite badge and service ribbons. "This is just a drop of water in the ocean, so-to-speak, when it comes to my level of appreciation for Gene."
Apperson said he and McManus often disagree, which was the reason he appointed McManus to his administrative team.
After serving as a housing police officer in Los Angeles, McManus moved to Del Norte County and completed College of the Redwoods' police academy in 1987, beginning his career with the sheriff's office in September of that year.
McManus was promoted to detective in 1995 and then to patrol sergeant in 2003. He was assigned to the SWAT team as commander in 2004 and became range master in 2014, organizing live fire trainings for the sheriff's office.
McManus said he moved to Del Norte County to live and work in the community he served rather than commute.
"There's always little pieces of gratification that you get," he said. "When you see somebody you've helped turn around and do something better next time. This is my home and it's been a privilege and I want to thank you."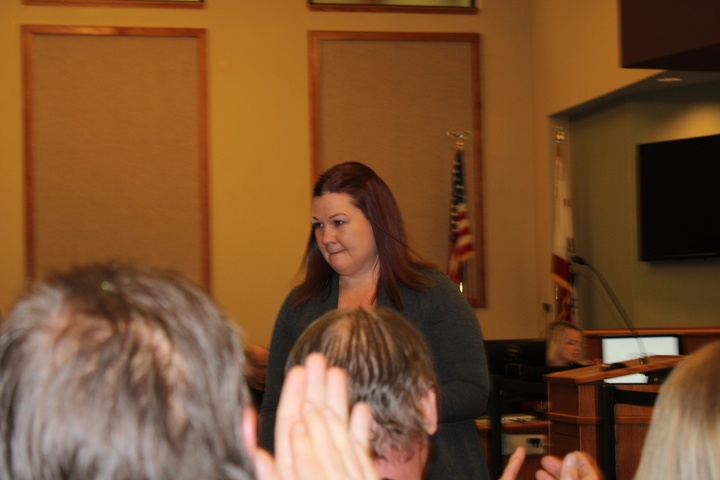 Lonnie Reyman, Del Norte's chief probation officer, also said goodbye to one of his colleagues on Tuesday, former Assistant Chief Probation Officer Katrina Jackson. Jackson, who is going to work with the Board of State and Community Corrections, has worked in the county probation department for 15 years, serving as assistant chief for six, Reyman said.
"She has had the opportunity to impact countless lives of both our adult and juvenile offenders over the years, but her heart has always remained with our kids," Reyman said. "She has inspired hope in people that believed all hope was gone and she has shared her love for people unselfishly with those around her."
Jackson said though she's used to being in the background, she wanted to thank her department for their support.
"They've been my family for 15 years," she said.
---
SHARE →