---
Jessica Cejnar / Tuesday, June 30, 2020 @ 5:52 p.m. / Health, Local Government
Health District Makes Third Attempt To Stop Inmate Transfers to Pelican Bay During COVID-19 Pandemic
---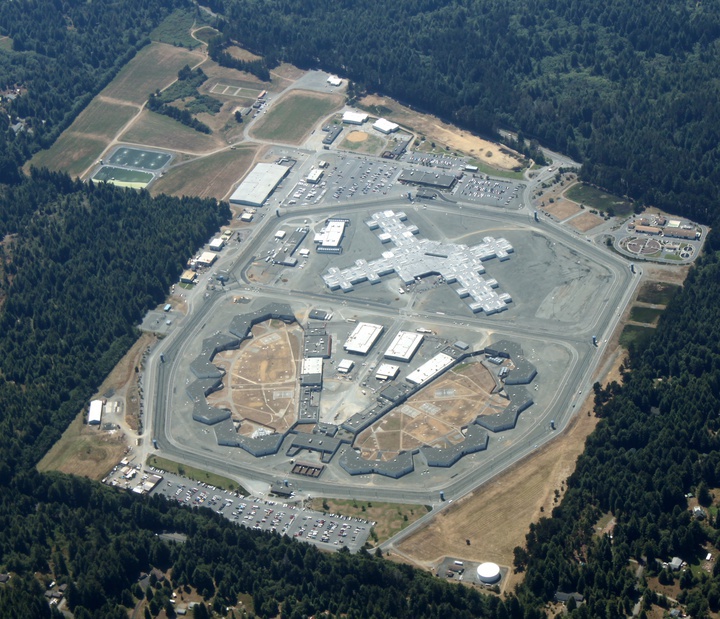 Local healthcare district officials have sent California Governor Gavin Newsom another letter asking him to stop inmate transfers into Pelican Bay State Prison to prevent the spread of COVID-19.
After their two previous attempts to get state officials to respond to their concerns failed, the Del Norte Healthcare District had hoped to get support from the Crescent City Council and the Del Norte County Board of Supervisors, according to Healthcare District President Dr. Kevin Caldwell.
Copies of the district's June 23 letter to Newsom were sent to Board of Supervisors Chairman Gerry Hemmingsen and Crescent City Mayor Blake Inscore. But, Caldwell said, he hasn't received a response from either elected official.
"These are still big issues," Caldwell said, referring to whether inmate transfers are still occurring at Pelican Bay State Prison during the COVID-19 pandemic. "That's what precipitated this letter with copies to the county and the city, hoping somebody will join with us and see the gravity of this."
There are no reported COVID-19 patients among Pelican Bay State Prison's inmate population, though a reporting error indicated otherwise.
A software update resulted in the error appearing on CDCR's patient tracker web page, but was corrected by California Correctional Health Care Services, prison officials told the Outpost on Tuesday.
In its June 23 letter, the Healthcare District also asked the governor to refrain from transferring employees into the prison from areas that have COVID-19 cases. The letter also urged the governor to ensure Pelican Bay staff have adequate personal protective equipment and asked about upgrading the prison's wastewater treatment plant to test for COVID-19 evidence within its walls.
"Our concern was also directed toward those working for the state at PBSP and those COs that are transporting the prisoners to PBSP from out of the area," the letter states. "PBSP staff are free to come and go around the community after potentially being exposed to COVID-19 at the prison. We have now had at least one positive case of a correctional officer working at PBSP."
Systemwide, 2,564 in-custody inmates have tested positive for COVID-19 with a total of 22 deaths reported, according to CDCR's COVID-19 inmate patient tracker.
At a news briefing Monday, Newsom said more than 1,000 inmates at San Quentin State Prison are infected.
According to CDCR, the most recent death occurred at Chuckawalla Valley State Prison on Monday.
As for Pelican Bay staff, two people had tested positive for COVID-19 in May and have since returned to work, according to CDCR's COVID-19 Employee Status web page. Employee cases are self-reported, according to the web page.
Though CDCR shut down inmate transfers into Pelican Bay State Prison "for awhile," it appears they have since reopened it to those who had been out of prison for a court hearing, said Del Norte County Public Health Officer Dr. Warren Rehwaldt.
There is also discussion about renewing transfers into CDCR facilities from local jails as some are becoming overcrowded, Rehwaldt said. Though he didn't have an exact date, Rehwaldt said transfers to CDCR facilities from jails may happen soon.
"It is a hard call because the risk to the inmates in some of the jails is pretty substantial and an outbreak in a jail is also pretty serious," he told the Outpost. "I do know (CDCR) quarantine any new inmates arriving from anywhere regardless of symptoms. They watch them for a full 14 days and are probably doing testing on them too."
Rehwaldt said those who are either going out on parole or are nearing the end of their conviction are also likely tested before they re-enter the community.
According to CDCR spokeswoman Dana Simas, movement of inmates occur during medical emergencies, mandatory court appearances or emergency legally-mandated mental health crises.
"We are taking precautions necessary to increase physical distancing during these transportations, including significantly limiting the number of inmates in-transit per vehicle and have provided staff and inmates at the institution with reusable cloth barrier masks to be worn during transportation," Simas told the Outpost via email.
Rehwaldt noted that both he and the Healthcare District reached out to CDCR a number of times, especially last month when two Pelican Bay employees tested positive for COVID-19.
"It's been a bit of a struggle, (we) don't seem to get the right level of communication and CDCR has a lot of internal rules they have to go by," he told the Outpost. "They need to be pretty careful about the information. (They) have deep concerns about influences and risk to staff just by the nature of the prisoners they're taking care of. I get that."
Though Healthcare District officials initially urged him to issue a public health order to the governor's office, Rehwaldt sent a letter to Newsom in May asking him to address the district's concerns regarding inmate transfers into Pelican Bay State Prison.
Healthcare District officials also attempted to get a restraining order in March stopping inmate transfers to Pelican Bay State Prison. When that failed, the Healthcare District and Rehwaldt sent a joint letter to the governor's office stating that an outbreak could overwhelm the community's sole hospital.
On Tuesday, Caldwell told the Outpost that prison employees told him inmate transfers were still makes him reluctant to trust CDCR representatives.
Caldwell also expressed disappointment in working with Rehwaldt, saying the public health officer was working with the Healthcare District to address concerns about the prison, but that stopped. Caldwell said the Healthcare District may reach out to the Del Norte Office of Emergency Services for further support.
"We need to get some other community leaders who have the power to do stuff to step up and start helping with this because it's still a big issue," he said.
There are two active COVID-19 cases in Del Norte County with one hospitalization currently, according to the Public Health Branch.
Documents
• Healthcare District Letter to Newsom
---
SHARE →