---
Jessica Cejnar / Wednesday, June 3, 2020 @ 1:47 p.m. / Crime, Ocean
Curry County Sheriff Takes to Facebook In Response to Rumored Coos County Antifa Protest
---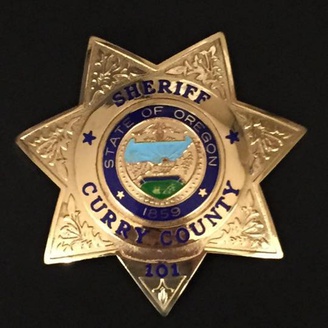 Sheriff John Ward wanted his constituents to know that if rumors were correct and three busloads of antifa protesters were headed to Coquille, his deputies were ready to protect them if they showed up in Curry County.
In a conversation with the Wild Rivers Outpost about a message he posted to his Curry Justice Facebook page Tuesday evening, Ward said the information about the unsubstantiated rumors came from Curry County Counsel John Huttl, who heard about the rumors from another attorney.
According to the rumors, the protesters were headed to Coquille from Douglas County and would then travel to Coos Bay, Ward said in his Facebook post.
"I was told they are looking for a fight," Ward said on Facebook. "I did talk to Coos County Sheriff (Craig) Zanni a few minutes ago and he is in Coquille with all his deputies, Coguille (sic) and Myrtle Point Police departments, OSP waiting just in case."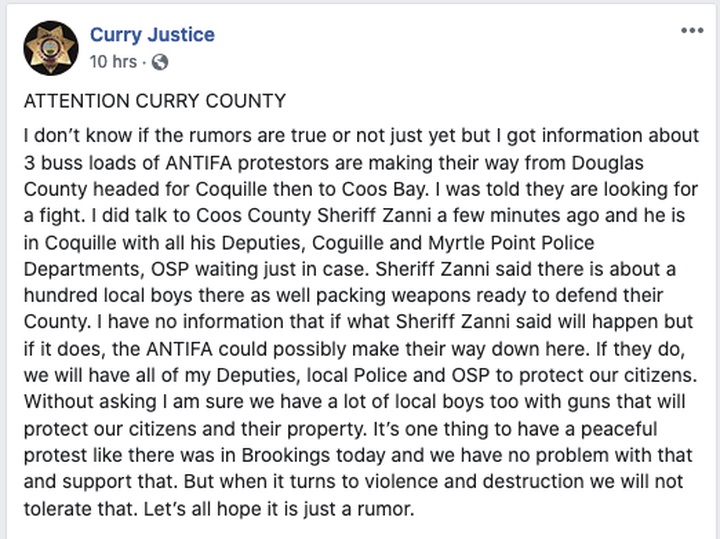 ###
Though nearly 200 residents assembled, some armed, assembled in front of the Coos County Courthouse, The World reported Wednesday, the antifa protesters never showed.
The Coos County Sheriff's Office had issued a press release before the antifa protesters were expected to arrive at 8 p.m. Tuesday, stating that it had received multiple calls from residents, businesses and outside organizations about a "potential peaceful protest" that carried the possibility of being a cover for "planned unlawful activities," The World reported.
The Coos County Sheriff's Office also reached out to other area law enforcement, according to the World.
On his Facebook post, Ward referred to a report he received from his Coos County counterpart that "about a hundred local boys" were packing weapons ready to defend their community. Ward said Curry County has "a lot of local boys too with guns that will protect our citizens and their property."
On Wednesday, Ward told the Outpost that, as Oregon is an open carry state, a lot of people have a concealed carry handgun license and are armed.
"I wouldn't have to ask or say anything, but if the information was out there, they would show up like they do in every other county to protect themselves, their homes, their families, friends, and they're going to be armed," Ward said. "I may or may not be able to control any of that, but if three busloads came up, we would be way outnumbered. When I posted that, it was just for information. I didn't say I would call anybody out, but I'm sure, without asking, people (would be) there and there would be nothing we could do about that."
Ward said his Facebook post wasn't meant to encourage residents to put themselves in harm's way to protect or assist law enforcement if the rumors regarding the antifa protesters were true.
"If you read all the social media posts, (residents) kept saying we have your back, we have your six," Ward told the Outpost. "I said, 'I appreciate that, but as law enforcement we will handle it. We will deal with it. It's nice to know you have our back.'"
Earlier Tuesday afternoon, Ward's deputies responded to a request from the Brookings Police Department asking for assistance with a protest if it "gets out of hand." Ten Curry County deputies were stationed outside city limits, Ward said, though he also sent an unmarked car into the city "keep an eye" on things.
"We told them if something happens and it got violent to call us and we'll come in and help," Ward said, referring to the Brookings Police Department. "We never went in. It was a peaceful protest. We support that. We have no problem with that and nothing happened, so everybody dispersed and went home."
Though he said it would be weird if protesters from outside the area would visit another community to demonstrate, Ward said if they were peaceful, he'd support their right to assemble.
"They can do that all day if they want," he said. "It's when they come in and cause issues that we have to deal with — we will not tolerate violence and destruction — we will deal with it."
---
SHARE →