---
Jessica Cejnar / Thursday, June 11, 2020 @ 6:02 p.m. / Community, Emergencies, Local Government
With Projected $800k Budget Hole For 2020-21, City Will Likely Keep Pool Closed Through the Summer
---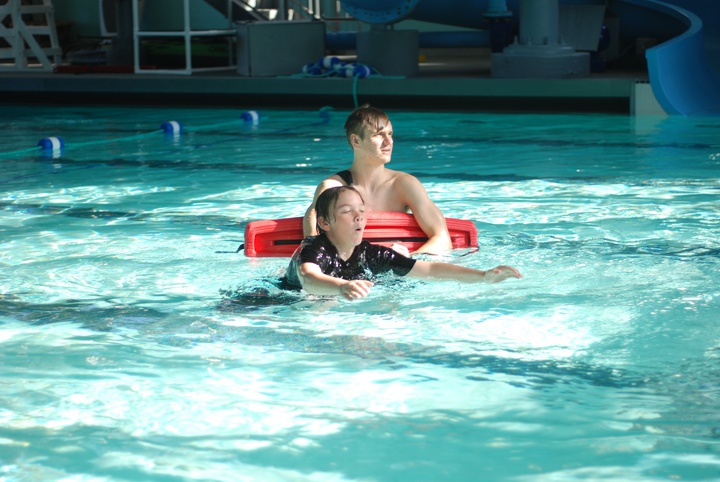 ###
Crescent City Councilors will likely keep the Fred Endert Municipal Pool closed through this summer, pointing to ongoing COVID-19 safety measures and a $800,000 budget shortfall for the 2020-21 fiscal year.
But, though they weren't disputing the cost savings to the city — about $30,000 per month to leave the facility closed, Finance Director Linda Leaver said — councilors urged staff to work hard to make sure the pool can reopen as soon as possible.
"I want to make sure we're talking about this on a meeting by meeting basis," Crescent City Mayor Blake Inscore told staff during a budget workshop Monday. "What have we done? What have we learned? I want to make sure this becomes a placeholder item on every meeting and we continue to look at any strategy that allows us to move forward with that."
The Crescent City Council shuttered the swimming pool at its March 16 meeting after it had declared a local emergency during the COVID-19 pandemic. According to Inscore, the City Council will continue its budget discussion on Monday and is expected to adopt the budget on June 22.
Keeping the swimming pool closed was one of several cuts to the general fund staff recommended to City Councilors for the 2020-21 fiscal year. Other proposals included eliminating seasonal employees and instituting staff furloughs, but at about $370,000 a year, keeping the pool closed made up the bulk of the savings, according to Leaver.
COVID-19 Dries Up Sales Taxes, TOT
Councilors went into the workshop nearly a month after cutting $500,000 from the budget for the fiscal year that ends June 30 to heal the $650,000 shortfall the pandemic created. According to Leaver, the reason for that budget gap and the shortfall that is expected to exist for the 2020-21 fiscal year is largely due to decreases in sales tax and transient occupancy tax revenue.
City Manager Eric Wier pointed out that COVID-19 stopped the whole world "on a dime."
"We had to regroup, refocus and we had, basically, to reinvent what we were doing at that particular time," he said, pointing out that 11 days after the City Council had discussed a strategic plan for Crescent City, it declared a local emergency due to the pandemic.
California Governor Gavin Newsom issued the stay-at-home order three days after that, Wier said. As a result, Del Norte County Public Health Officer Dr. Warren Rehwaldt issued a ban on short-term stays at lodging facilities, city offices were closed to the public and staff had to work from home.
Though the community is working toward reopening — some local businesses have been allowed to resume — Wier noted that the city had to move a lot of its services online.
"It's never about what life throws at you," he said. "It's about who we are and how we overcome it."
According to Leaver, Crescent City's general fund received about $5.8 million in revenue during the 2018-19 fiscal year. For the 2019-20 fiscal year, which ends June 30, the city is expected to receive $5.2 million.
Crescent City's projected revenue for the 2020-21 fiscal year is expected to be about $5 million, according to Leaver.
Sales taxes and transient occupancy taxes — the 10 percent tax Crescent City imposes on guests staying at lodging facilities within its boundaries — each make up 25 percent of the general fund, which pays for public safety, recreation, public works and other services. According to Leaver, they are two of the city's three main revenue sources.
Property taxes make up the third primary revenue source for Crescent City, Leaver told Councilors on Monday. About 35 percent of the city's revenue comes from charges for service, reimbursements and grants, she said.
"Sales tax and TOT very much depend on the overall economy, while property taxes tend to be a lot more stable over time," Leaver said. "All the other revenues really just depends on what activity we're involved in in a particular year."
According to Leaver, during the current fiscal year, which ends June 30, Crescent City lost about 3 percent, or $196,457, in sales tax revenue due to the COVID-19 pandemic. TOT revenue dried up by about 5 percent, or $323,160, due to a ban on short-term rentals and people choosing not to travel during pandemic, Leaver said.
Crescent City also lost about $145,230 as a result of the swimming pool being closed, according to Leaver's presentation. She pointed out that because the fiscal year isn't over yet, those numbers aren't final.
For the 2020-21 fiscal year, starting July 1, projected revenue decreases include a 11 percent drop in sales tax revenue, according to Leaver. Before the pandemic, Crescent City expected to receive about $1.5 million in sales tax revenue for the 2019-20 fiscal year, according to Leaver's presentation. Projected sales tax revenue for 2020-21 is expected to be $1.4 million.
Transient occupancy tax revenue is expected to drop even further — about 16 percent, Leaver said. Crescent City is projected to receive $806,287 in TOT revenue for the 2020-21 fiscal year. Before the pandemic this year, Crescent City was expected to receive $1.47 million, according to Leaver's presentation.
"But it's flexible," Leaver told Councilors on Monday. "It depends on when short-term stays can happen and when people travel again. It could take some time."
Leaver said she expects a gradual increase in TOT as hotels, vacation rentals, RV parks and other lodging facilities welcome travelers.
According to Leaver's presentation, TOT revenue came in at 70 percent below normal for the period between January and March of this year. For the final quarter of 2019-20 — between April and June — TOT is expected to be 10 percent of normal due to the short-term rental ban.
Leaver projects TOT revenue to increase to 25 percent of normal between July and September; 50 percent of normal between October and December; and 75 percent of normal between January and March 2021. Leaver projected TOT to return to 100 percent of normal for the final quarter of the 2020-21 fiscal year.
But, she said, she doesn't want to put on rose-colored glasses.
"Our plan is to be in contact with hotel owners periodically throughout this time to see if can will share information as far as their occupancy, about what they're seeing," she told Councilors. "We'll be updating this frequently."
Leaver said she's not expecting a significant change in property tax revenue. However, revenue Crescent City will receive from state gas taxes will be about 6 percent lower next fiscal year than in the 2019-20 budget based on Governor Gavin Newsom's revised budget proposal issued in May.
As for revenue generated by the city's recreation programs, those are projected to be a third to half of normal, Leaver said.

Proposed Cuts and What Could Stay
Wier said he asked department managers to submit two to three different budget requests — what they wanted in a perfect world, which was $2 million over budget, a barebones request and a combination of the two.
"We went back through to try to reduce as much as we possibly could without eliminating services," Wier said. "We ended up having to cut a lot of different things."
These cuts include expenditures for special projects, vehicle purchases, the Sister City relationship and marketing for the swimming pool and Shoreline RV Park, Wier said. Travel and training expenditures are also a proposed cut, though Wier said as travel resumes and "we know more about revenues," if a particular training is needed, the City Council could weigh in on it as a potential budget adjustment.
The budget for parts and supplies have been cut to the "bare bones minimum" for parks and recreation, police and fire, Wier said. Contract services, including planning, are also not being budgeted for this year.
There is no funding for special ordinances, nor the implementation of the fire department master plan, Wier said.
Approved by the City Council and the Crescent City Fire & Rescue Board of Directors in November, the master plan called for transforming the agency into a hybrid fire department incorporating both paid staff and volunteers.
"It's a great plan," Wier said. "We worked hand in hand with the (fire) district and unanimously approved a plan to make the fire department sustainable."
Other cutbacks include maintaining flower baskets in the downtown area, updating ordinances, legal services for code enforcement projects, a new restroom in downtown Crescent City and a second K9 officer in the Crescent City Police Department, Wier said.
The proposed implementation of an energy audit, though it'll save money in the long run, would require a loan to finance the project, Wier said. He said six companies are offering to perform the audit and project and a proposal will come before the City Council, but there is no funding budgeted for implementing the audit.
Expenditures included in the 2020-21 budget include maintaining $72,000 in allocations to the Crescent City-Del Norte County Chamber of Commerce and Visitors Bureau, $1,000 for the Wonder Bus, $10,000 for street light replacement and $500 for holiday decorations. According to Wier, proposed expenditures for decorations have been reduced by about $2,000.
Projected general fund expenditures also includes $2.4 million in wages, $1.5 million in benefits, and $713,615 in contracted work, according to Wier.
The Crescent City Police Department and the city's allocation to the fire department make up about 50 percent of expenditures in the general fund, Wier said. The pool accounts for about 12 percent, or $530,507, in general fund expenditures, he said.
"After stripping most of the budget out, we were able to cut $1.2 million to get us down to a little over $6 million budget," Wier said. "The problem is we only have $5 million in revenue and it leaves a minimal budget in many areas."
Options and the Swimming Pool
In addition to the cutbacks already included in the city's 2020-21 proposed budget, recommended options included eliminating seasonal positions and instituting staff furloughs.
Four part-time employees currently work in the parks and in the recreation department, Wier said. Three are seasonal staff working about 1,000 hours a year watering flower baskets, mowing the grass at Beachfront and Peterson Parks and cleaning restrooms, he said. Though cutting those positions will save the city about $40,000 per year, Wier said the aesthetics of the local parks will suffer.
As for staff furloughs, Wier said mandating a them at 5 percent for non-safety employees would result in savings across multiple city funds, including the water and sewer funds. He said those furloughs would apply to staff that work in public works, administration and finance, estimating a savings of about $50,000 per year.
Funding for safety employees, including the Crescent City Police Department and Crescent City Fire & Rescue, however, comes entirely from the general fund, Wier said. A 5 percent furlough for safety employees for one year would result in a $60,000 savings, he said. But public safety is a top priority, Wier said.
"A lot of that comes down to scheduling, making sure we have the proper protocol, the proper officers on so we don't put any of our employees at risk," Wier said.
The discussion then turned to the Fred Endert Municipal Pool with Mayor Pro Tem Heidi Kime, who, as owner of Pacific Northwest Physical Therapy, uses the facility as part of her business, recusing herself.
Wier pointed out that the facility has always operated in a deficit ranging from $203,344 during fiscal year 2016-17 and $465,253 in the 2018-19 fiscal year due to a leak.
This year's projected deficit, with the swimming pool closed since March, is expected to be $408,107, Wier said. Unemployment expenses due to the need to layoff lifeguards during the pandemic has added to this fiscal year's deficit, he said.
Even if the swimming pool can reopen, if it's not able to fully open, the deficit will increase, Wier said.
"If revenues are such that we want to make an investment, it's going to take us about six weeks to recruit and train new lifeguards and get it up and running," he said. "What if the second wave comes in? What are the options if we opened the pool for a couple months and now we have to shut it down again?"
Wier estimated that having to layoff lifeguards and pool staff in March cost the city about $50,000 in unemployment expenses. If the city reopened the pool and brought staff back only to have to shut it down again, it would be on the hook for another $50,000 in unemployment costs, he said.
Though they acknowledged that the swimming pool is a significant cost to the city, members of the public pointed out that despite continuing deficit, the facility is an asset to the community. While she said she understood keeping the swimming pool closed for six months, resident Gina Zottola said she was worried that keeping it shuttered for longer than that takes away many people's main sources of exercise.
Zottola, director of the Wild Rivers Community Foundation, asked about creating partnerships to be better able to fund the Fred Endert Municipal Pool.
"I'll certainly be here every time the pool's on the agenda to rally that it stays close for necessity around health concerns and not a whole year based on just budgets," she said. "There are other things we can do and we should start looking at those options now. It's not later. It's now. It's a huge community gem for the entire community, not just the City of Crescent City."
One potential partnership county resident Linda Sutter urged Councilors to consider was with the YMCA. She said Grants Pass partnered with the YMCA to operate its pool and suggested Crescent City could do the same.
Barbara Salonius also argued on behalf of keeping the pool opened, saying there is a way to social distance in the facility.
"I love the pie charts, the dash charts, the lines, the fancy-schmancy… all this and you're fiscally responsible," she said. "I want to know how many human beings you talked to while making these charts; while balancing the sheets. How many people you talked to who the only mobility they have is from the swimming pool? There are people now who are not able to walk. Their access to therapy has been eliminated and it's not necessary."
In addition to asking staff to continue to communicate with hoteliers and lodging facility owners to determine if their occupancy has increased, Councilor Jason Greenough suggested partnering with Del Norte County to help fund the pool since many of its patrons live outside city limits.
Wier, however, noted that the county will have its own budget shortfalls to address due to the COVID-19 pandemic.
Greenough said Sutter's comment about the YMCA also intrigued him.
"I'd like to know what the YMCA's relationship with … Grants Pass and what does that do for Grants Pass's budget," he said.
Inscore, noting that November is likely the earliest the city could think about possibly reopening the swimming pool, said if Crescent City staff knew how hotels and lodging facilities were doing by the end of August, "we can get ahead of the game."
Inscore also pointed out that though they weren't supposed to be open, some lodging facilities welcomed people who weren't essential travelers
"No. 1, I want them to know that we know they're open and we're expecting to get TOT on time without any excuses," Inscore told the Outpost on Wednesday. "It'll help us to at least make some budgetary predictions…. We just need to have some likelihood of revenue that doesn't put us even further in the hole."
---
SHARE →