---
Jessica Cejnar / Monday, June 1 @ 5:51 p.m. / Community
Del Norte Celebrates Preschool Graduations; Available Daycare Slots Going Fast, DN Child Care Council Says
---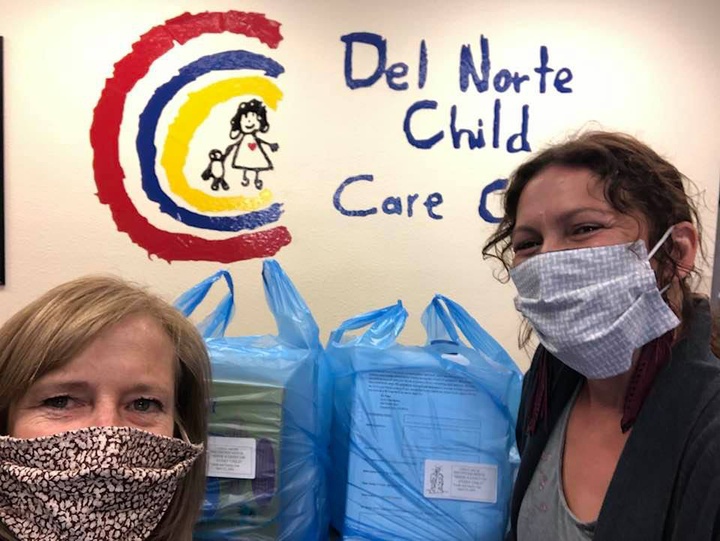 Though it may not have the weight of a high school graduation, Del Norte's youngest students are celebrating a milestone that's no less important in the time of COVID-19.
Working with state preschools, faith-based facilities, tribal head starts and its nonprofit facility, Little School of the Redwoods, the Del Norte Child Care Council and the 3Read23 Literacy Initiative Core Design Team will hold drive-by graduations for youngsters moving on to kindergarten next year.
"With all of the graduations being cancelled and everything, our hearts broke for the littles," said Melodee Mitchell, the Del Norte Child Care Council's executive director. "It's a really big milestone. Not only for the littles, but also for their parents."
Drive-by graduation ceremonies will start next week for preschool classes at Mary Peacock, Joe Hamilton and Smith River schools. A total of 189 youngsters will graduate from preschool to kindergarten, according to Jessica Ortiz, 3Read23 Literacy Initiative coordinator.
The celebrations not only mark an important milestone in their children's lives, it also serves to remind parents to register their student for kindergarten, Mitchell said. Each young one will receive t-shirts proclaiming "Readers Become Leaders" on the front and "Hello, Kindergarten, Here I Come!" on the back, she said.
"In all of their little backpacks, they're receiving from the school district kindergarten registration forms," Mitchell said. "The Core Design Team will be present at each graduation and will be presenting them with little t-shirts and supporting preschool teachers. All that's happening next week."
Now that daycares were able to reopen on May 15, available slots are filling up fast, Mitchell said. Anyone needing child care as they begin to go back to work need to apply as soon as possible. There are also new family child care centers available, Mitchell said, but their open slots are also going quickly.
Little School of the Redwoods won't reopen until at least Aug. 1, Mitchell said. Tribal head starts and state preschools are also closed for the summer, she said. Though the Tolowa Dee-ni' Nation's Howonquet Head Start is year-round, Mitchell said parents should the Child Care Council's Resource and Referral Department to determine available options.
Parents should also call the Child Care Council if they need help paying for daycare, Mitchell said.
"We're getting more and more calls on both ends," Mitchell said. "They want to know if their subsidy is still intact, meaning subsidy to pay for child care, as well as I need a daycare provider."
According to Mitchell, families receiving a subsidy through the State of California can choose what daycare facility to place their child in.
Because local child care slots are filling up, parents can also choose a family member to become a license-exempt child care provider and still receive a state subsidy.
Under this program a family member, like a grandparent, a friend or neighbor can watch one family's children, Mitchell said.
"There is an increase in that as well," she said. "And, we're actually trying to encourage that because (stability) is so important and if a child has been hanging out with Grandma already because the school district is closed, why not encourage that continuum of care?"
Meanwhile, the Del Norte Child Care Council's 212 K Street facility will reopen to the public from 10 a.m.-2 p.m. Monday through Thursday starting June 15, Mitchell said. They will also help the public by appointment during the hours their office is closed, she said.
Some programs, however, including the Wonder Bus and its toy lending library will continue to be closed until safety measures are relaxed, Mitchell said.
The Del Norte Child Care Council also offers a space for supervised visitation, however those will be done on a virtual platform, she said.
"The work continues," Mitchell said. "COVID hasn't slowed us down. It's changed it, but it hasn't slowed us down."
For those needing child care, call Sarah Campbell at (707) 951-8604.
For those needing help paying for child care, call Tracy at (707) 218-1296.
---
SHARE →