---
Jon Alexander / Saturday, July 25 @ 7 a.m. / Angels and Desperados
ANGELS and DESPERADOES: Hope ... and Where You Find It
---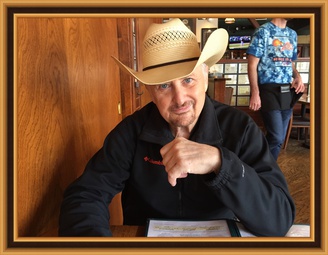 "Man, that sucks…" I eloquently replied to Mark Davis, my urologist, when he informed me back in late June 2015, that my prostate biopsy had come back malignant and aggressive. You drive away from his office, head for the beach for a walk. You tell yourself it's the most common type of cancer among men over 50. You tell yourself it has the highest recovery rate of any type of cancer in men. And then you start interviewing oncologists and good friends, many of which have had the same bug, to see what route you're going to take to battle the beast. That, and you get your game face on …
I go to Palo Alto for a consultation with one of Stanford's oncologists. He tells me he's recommending a prostatectomy, using their DaVinci robot to remove my prostate. I ask him who's going to be at the helm of R2D2 and he tells me he is. I think to myself, aren't you supposed to see a referring oncologist who recommends what route to take for my cancer (ie. chemo, radiation, surgery, etc.). Then again, hey, what do I know?
Four weeks later, it's pitch black outside. I'm standing on a flatbed truck, looking across the Del Norte High School track, into a dark sea of faces. I put both hands on the podium to steady myself, look up at Mom asking for some steadiness, and then launch into my keynote speech for Relay 2015.
It went something like this:
Good Evening- How y'all doing out there tonite? I'd like to thank all the people at Relay for putting this together again and honoring me with the privilege of speaking tonite. Also, for the privilege of being in your Dunk Tank this afternoon—anytime I can be the opening act for Sheriff Apperson, who was kind enough to put in an hour in that Bering Sea frigid water you had to have imported, is a good day.

We're here to walk for Life this weekend and if you know anything about my story, I have to ask you, who appreciates life more than someone who's seen the bottom? The answer is simple---you and everyone with a loved one who has or has had cancer.

This shirt I wear tonite shows two young men, artists and musicians from my home state of New Jersey. One is Bruce Springsteen. The other is his keyboard player, Danny Federici. Danny's exquisite accordion never fails to take me back to the summers of my youth, when I would stalk the boardwalks of the Jersey Shore, knowing I was invincible, never thinking about the finitude of this existence, knowing, like the maids and merrymen on John Keats magic Grecian Urn, that I could dance forever. Danny died on April 17th of 2008 after a three-year bout with melanoma.

I'll start walking later this morning and when I do, I'll have three people with me. Which brings me to that dunk tank experience—It was July 2012, I was on crutches with some torn knee ligaments from a July 4 charity dunk tank accident and hobbling around the track here at Relay sometime after midnite. It was dark and there were only a couple folks on the track. I was feeling a bit down, when all of a sudden I heard a voice coming up behind me, "You better hurry up Hopalong or you're gonna get run over." I turned around and it was Pelican Bay CO Bobby Rice. We talked for just a bit and then he pointed over to this stage where some people were standing and said, "This is a helluva good community." We talked about that for awhile and you people that make up this community in a place called Del Norte County and I couldn't help but think about Lyndon Johnson's reply when asked why he wasn't running for a second term and he replied that he wanted to go back home to his ranch on the Perdernales River and a place where "the people know when you're sick and they care when you die." Bobby said he was going to move on and left me with my crutches and thoughts, but his love of this community that he shared that night has never left me and it's why I stay here.

The second person is my best friend and mother, Arlene Alexander. A soft spoken farmgirl, she was born in 1919 in Boone, Iowa. She was one of a generation of Tom Brokaw's appropriately named "greatest generation" that got us through WW II and the Great Depression, people who rolled up their sleeves and gutted out the tough times instead of whining about them.

My senior year in high school, they told us Mom was sick and had to go to a place called Sloan Kettering in New York. She had breast cancer and in 1968 had radical mastectomies. She and my father never talked about it. I never began to understand what she must have gone through until I returned from my first year of college and found they had moved into separate beds.

We grew up in a factory town where a lot of women got cancer and it seemed like most of them came to my Mom to lean on for strength. Her greatest joy was doing a kindness for someone else who was in need, with no expectation of compensation or even acknowledgement. She will always be my biggest hero. The stone on a hillside in Iowa says March 23, 2006, but she'll be with me tonite.

And the last person that will be with me tonite is a lady who , like my Mom, had a radical mastectomy in 1974. The first day after her surgery, she asked her husband to make a national public announcement of her experience because she felt for the thousands of women who had undergone the silent scourge of breast cancer and wanted to let them know they were not alone.

In 1975, my Mom sent her a simple Hallmark card thanking her for her courage and compassion. A couple months later, Mom got a handwritten letter from 1600 Pennsylvania Avenue with a gold embossed Presidential seal on it, thanking her for her kind words and inviting her to stop in and say hello to her and "Jerry" if she was ever in Washington, D.C.. It was signed simply, "Betty."

So that's the company I'll have with me this morning….and on July 30 at Stanford when they open me up with their Da Vinci surgical robot and remove my prostate and whatever else that 8+ Gleason count brought with it. And this is where Ms. Kubler-Ross and her 5 stages of grief and I part ways. Fine, I'll give you initial Denial, Anger, Bargaining, Depression, but no on # 5--I find my cancer unacceptable---it will not define me, it will not break my spirit, and no matter the outcome, it will not beat or break me. Because I have Bobby Rice and this community standing with me and because I am Arlene Alexander's son.

As our patron saint back in Jersey, Bruce Springsteen, wrote:

"Blood Brothers (and Sisters) in the stormy night
With a vow to defend
No retreat, baby, no surrender.
No retreat, no surrender."
Tonite we celebrate. Tonite we remember. And tomorrow we go out and beat this thing.
Thank you.
###
Today... Sure, some things change, some remain the same. This is still one helluva great community, as Bobby Rice told me. It picked me up on the rebound outta the OC, back in 2005, has supported me every year and day since, and I never have forgotten that.
Relay For Life began back in 1985 in Tacoma, Washington. It's been ongoing here in Del Norte County going on a quarter century.
In the interim years since I've been here, I've seen some great things come out of Relay -- the original support, the teams and literally hundreds of people in this little community that annually turned out to support cancer's survivors and the families of the ones that this scourge has taken from us. That and, of course, memorializing those that were taken. I can still recall one feat, among many, that illustrated the 'Never quit—Ever!' mentality of Relay. I think it was back, maybe 7 or 8 years ago when Nico Mavris laced up his Keds and stepped onto the track at Whalen Field-then proceeded to run one lap, then two, then three and on and on and on... into the twilight and beyond... to the next morning-never once breaking stride, until it was time for the final survivor's walk the following day. I had known Nico's diamond hard resolve and laser focus from being my second chair in the Jared Wyatt case, but nothing had prepared me for the ancient Greek champion-like exercise I witnessed during those 22 hours.
In recent years, Relay's support and attendance has waned, to the point that it seemed to have approached death knell status here in 2020.
And then along came another cancer in the plague image of COVID-19, when all things changed, here, across America, and throughout the world. Relay, which was on life support to begin with, now given the restrictions and guidelines being handed down from Sacramento, appeared to have had the final nail hammered into it's coffin.
Of course, nobody told Chelsea Sanyalou and Devon Mattheny from our local Relay committee. Nope, these courageous and resilient ladies looked up and said, "Heck, who needs a football field? Who needs a track to walk around? Who needs a few hundred (or even 20) supporters? We've still got the butt side of the Whalen Field fence facing Washington Blvd.. So what else do'ya need?"
And so, with a busload of faith, resolve, elbow grease and two trusted soldiers in the names of PeggyAnn Melovich and Chelsea's 4-year-old son William (whose precociousness and eloquence rivaled some of the opening statements and closing arguments I've heard in over 30 years of trial practice), these ladies started out on Friday afternoon to make their statement-mainly that Relay was still alive here in Del Norte County and they'd be damned if they'd let it breathe its last breath on their watch.
First came the banners and streamers-purple, which is the official color of Relay. Twenty to thirty tied to the fence behind the visiting bleachers. (Personal Note-not sure how no one broke an ankle walking the sidewalk in between the fence and Washington Blvd., given the uprooted sidewalk pavement, that at times approached the embarrassing berms and pot holed existence of Front St..)
Then, affixing all of the Team Posters, banners, flyers and Relay signage to the rusting fence-again, (Personal Note-not sure how Devon didn't get a major tetanus infection, after the hours spent affixing and tying down all of the above to that aging, rusting fence.)
And then, the Luminarias. Simple paper bags that used to adorn the interior of the football field track, during Relay's healthier years. Those bags are written upon, in marker, memorializing those that cancer has claimed, the caregivers that supported them, the afflicted families and any other person or persons that cancer has affected.
This year, over 100 Luminaria bags had been collected, so the work had to be done and it was, shall we say, voluminous. The Luminaria bags have wooden blocks that fit perfectly inside the bottom of them to hold them down throughout the night. Then, small, battery driven lights that sit on top of the wooden blocks, illuminating the exterior of the bags and the writing upon the outside.
And so, Chelsea and son, William, began an assembly line of sorts, with William and his perfect four year old hand, fitting the wooden blocks into the bags-incredibly with none torn (Personal Note-which law enforcement might consider as an additional Field Sobriety Test), then Mom, Chelsea, placing the lights on top of the blocks inside.
Then, it was off to navigate the 'high hurdles' of the Washington Blvd. sidewalk, placing the 100+ Luminarias, lights snapped on, just in time as darkness fell on Washington Blvd.. From the street and a ways down the sidewalk, the Luminarias glowing, the banners streaming in a gentle southwest breeze, all beaming testament to all the brave souls who would not, indeed could not be forgotten, by the thousand or so vehicles and pedestrians that passed by over the next 24 hours, until it was time to break it all down and pack it all up on Sunday late afternoon. Until, of course, next year.
###
No, I look around these days, taking in all the beauty and wonder of this world we're born into. Cancer has a way of allowing you to see all that a bit closer up, and in that respect, I'm grateful to my cancer. That said, sure it gets pretty disheartening at times, especially watching how a plague called COVID 19 gets politically bandied back and forth by grown-ups who should know better.
Yeah, it can get you heartsick at times—until you take a ride or a walk down a small city's boulevard, on a beautiful summer's eve and look out upon a display, indeed a testament, to peoples' belief in the humanity and compassion of this thing call Life.
And two courageous women who refused to let it die.
###
R.I.P Mark Davis 1952-4/25/2020
###
Jon Alexander lives in Crescent City. Jon can be reached at jonalexanderlaw@yahoo.com
---
SHARE →