---
Jessica Cejnar / Monday, July 20 @ 1:21 p.m.
Four New Cases Reported in Del Norte; Due to Test Backlog, One Patient Has Recovered, Public Health Branch Says
---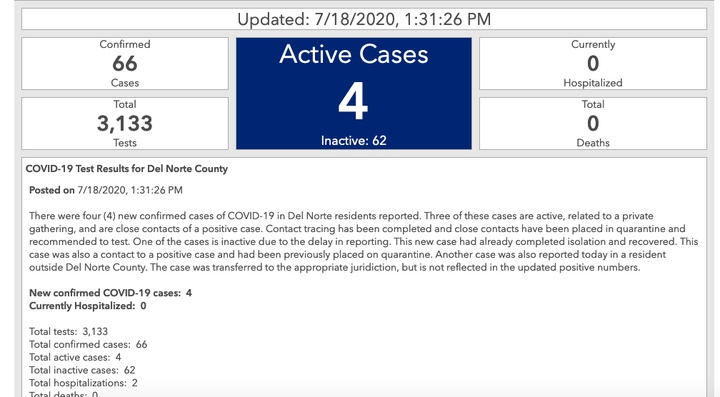 Four new COVID-19 cases were reported in Del Norte County on Saturday with three related to a private gathering, according to the Public Health Branch.
One patient has a case that's considered inactive due to a delay in reporting. The patient has completed isolation and has recovered, according to the Public Health Branch. This case was a contact to a positive case and had been placed on quarantine.
It's a new and separate case from a previous patient who tested positive for COVID-19 but whose results were 9-12 days old when reported to health officials by which time the patient had recovered, Del Norte County Public Health Officer Dr. Warren Rehwaldt told the Wild Rivers Outpost on Monday.
A fifth new case was reported on Saturday in a visitor to Del Norte County. That case was transferred to the appropriate jurisdiction and is not included in the overall statistics for Del Norte County, according to Public Health.
The four new cases reported on Saturday has brought Del Norte County's positive COVID-19 count to 66 total cases, according to the Public Health Branch. A total of 3,133 tests have been administered locally.
The BioBot case estimate taken from a July 12 sample shows a decrease from the previously-reported June 28 sampling. According to the July 12 sample report, released Friday, the BioBot case estimate shows viral evidence related to 370 cases.
The June 28 BioBot sampling, reported to Public Health on July 7, shows a case estimate count related to 1,400 cases.
Free COVID-19 testing is still available from 10 a.m.-2 p.m. Monday through Wednesday at the Verily community testing site at Del Norte High School. For more information, and to make an appointment, visit www.projectbaseline.com.
CVS Pharmacy is also offering free COVID-19 testing to those who make an appointment, though due to high demand the laboratories it works with are backlogged. Samples can take 6-10 days to be processed, according to the CVS website.
Documents
---
SHARE →