---
Jessica Cejnar / Monday, July 20, 2020 @ 8:24 a.m. / Traffic
Crescent City Man Overturns Vehicle, Sustains Major Injuries in Solo Crash on Kings Valley Rd.
---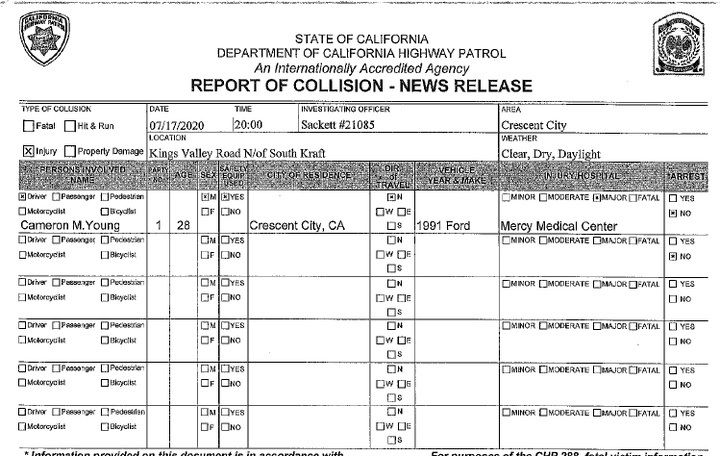 California Highway Patrol news release:
On Friday, July 17th, 2020, at approximately 8 p.m., a 1991 Ford Bronco, driven by Cameron M. Young was traveling northbound on Kings Valley Road, north of South Kraft Road.

For reasons still under investigation, Young allowed the Ford to travel off the edge of the road. The Ford collided with a dirt embankment and overturned onto the driver side. As the Ford overturned, Young was ejected from the vehicle.

Young sustained major injuries and was transported by Del Norte Ambulance to Sutter Coast Hospital. Young was then flown to Mercy Medical Center in Redding for further treatment.

Fort Dick Fire Department, Crescent City Fire and Rescue and Del Norte Ambulance assisted at the scene. The CHP's Crescent City office is still investigating the incident.
---
SHARE →