---
Jessica Cejnar / Monday, July 13, 2020 @ 6:07 p.m. / Community
'The Fish Are Running!' After Six Years, Tolowa Family Catches Enough Smelt To Dry, Share With Elders
---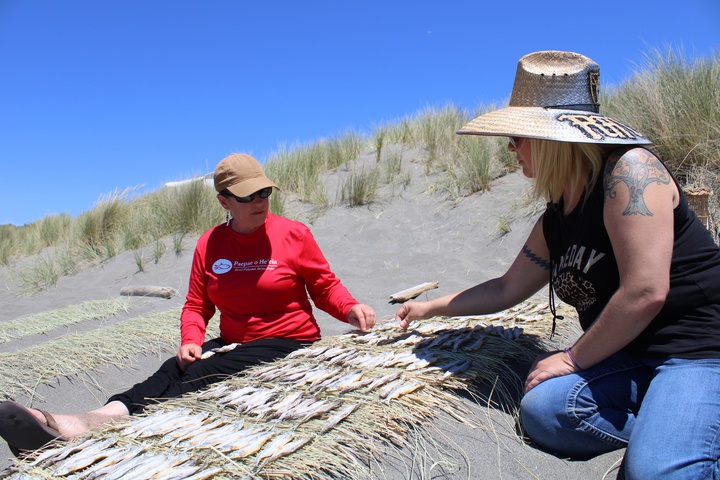 The first day of camp was waning when Marva Jones and Cynthia Ford received a phone call that had them racing to beat the sunset.
It was a call their families had waited six years for — "the fish are running!"
"The last time the smelt hit it was '14," Jones said Sunday. "We pray and make medicine before we come down here. Auntie Sheryl was praying and they came."
Jones, Ford, Amanda Bommelyn, Sheryl Steinruck, Sheryl's daughter, Suntayea, and 19 kids, scrambled to cut grass for beds they would use to dry the fish Sheryl's son, Jaytuk, brought ashore. His catch filled an 18-gallon aluminum tub.
An important staple of the Tolowa diet, after six years the Steinrucks and Bommelyns had enough lhvmrs lhts'ay to eat fresh, to dry and to share with elders, even if it was only a taste.
"We gave them some fresh fish," Jones said. "(One said) 'I want some more!' I said, 'If we get some more we'll bring you some.'"
Roughly a week later — the run hit on July 6 — the lhvmrs lhts'ay were still drying in the sun. The elders call dried surf smelt candy, though they're often smoked in a smokehouse or canned in addition to eaten fresh, Ford said.
"We pigged out the first night!" She said.
Every year the Steinrucks and the Bommelyns set up their lhvmrs xwee-ghatlh-ghelh-dvn, or fish camp, on the beach north of Lucky 7 Casino in Smith River. The families call their campsite, Yaa-ghii~-'aa~dvn, or "Hole-in-the-ground," though the beach is also known as Dat-naa-svt, or north beach.
Sheryl Steinruck said her mother, Eunice Bommelyn, would tell her of a time when campfires dotted the shore between Prince Island and the Oregon border as Tolowa families caught and dried smelt for the winter. In the autumn, they'd go deer hunting and gather acorns.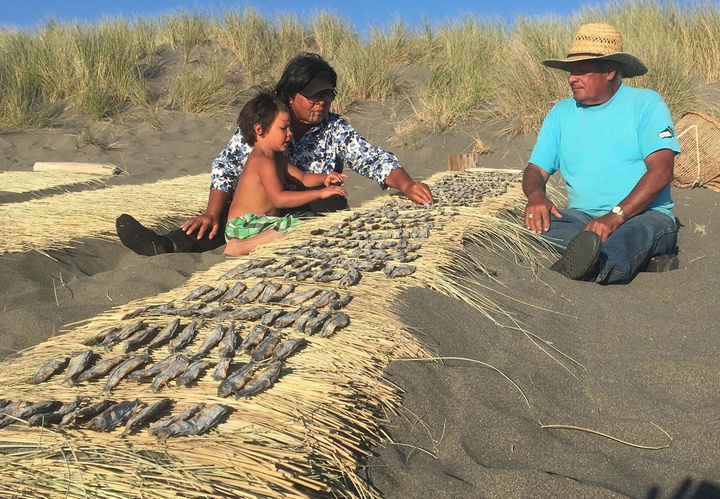 They'd also camp in the mountains to gather huckleberries, though they lived in permanent villages, Sheryl Steinruck said.
According to Sheryl Steinruck, her grandparents Alice and Billy Henry received permission to camp at "Hole-in-the-ground" from her grandmother's cousins who originally owned the land. When it became a gated community, Alice Henry moved fish camp to Kellogg Beach, but its windy conditions made it difficult to properly dry fish, according to Steinruck.
Eunice Bommelyn eventually forced the Westbrook Estate, which owns the gated community, and Del Norte County to construct a trail to the beach and allow Tolowa families to continue to fish between June and September.
"Four of us kids, my sister, me, Loren (Bommelyn) and Bill (Bommelyn), Mom assigned us jobs," Sheryl Steinruck told the Wild Rivers Outpost. "My job was to make sure fish camp happens every year and to put flowers on the graves during Memorial Day."
Surf smelt will come close to shore to spawn on the gravel beds that line the beach, according to Jaytuk Steinruck, who has worked with the Tolowa Dee-ni' Nation's natural resources department until he was elected to the Tribal Council in May.
Since they had been declining for several years, the Tolowa Dee-ni' Nation received a U.S. Fish and Wildlife grant in 2013 to conduct a study to determine if the fish's spawning grounds had changed, Jaytuk Steinruck said. But, he said, it hadn't — the gravel beds were still there.
However, more people visit the beach and homes have been built nearby, he said.
"When I was a kid, there was nobody that came down to the beach," he said. "We were taught that you stay out of the water unless you were fishing. (The fish) can smell you."
According to Ford, it was the Tolowa Dee-ni Nation's marine biologist, Rosa Laucci, who has a home near the beach, that sounded the alarm. But, Ford said, they initially didn't trust it.
"It had been so long since they ran, when someone sounds the alarm, you're hesitant to go full bore," she said. "But it wasn't a fire drill."
Both she and Jaytuk aren't sure why the smelt showed up after six years. They wonder if public health orders against visiting California beaches because of COVID-19 may have played a part.
"Maybe with less people out here on the beach and in the water, the fish might have had an opportunity to come to shore," Jaytuk said, though, he added, that after working with Laucci, he learned that smelt run in five-year cycles.
On Sunday, in addition to fresh crab, scallops, clam chowder and sand bread, the campers had half-dried lhvmrs lhts'ay.
Sheryl Steinruck cooked the six-inch fish over an open fire, peeled off their bottom and dorsal fins, pulled off the head, removed the spine and guts, dipped it in butter and handed one to Jones.
"Here comes some goodness coming out," Jones said, narrating the demonstration for a Facebook video. "What a treat!"
---
SHARE →