---
Jessica Cejnar / Friday, Jan. 24 @ 3:55 p.m. / Community
County Roads Breaches Lakes Earl, Tolowa Ahead Of Rainy Weekend
---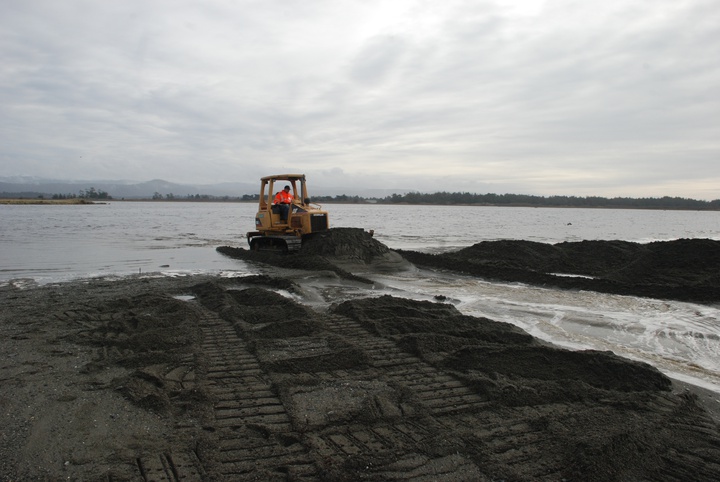 Ignoring the waves surrounding him, Tristan Smith spooned up the first shovel full of sand on a relatively dry Friday.
Taking advantage of a lull in the rain, Smith and his colleagues in the Del Norte County Roads Division used a Caterpillar D5G XL to carve a channel in the sand bar that separates Lake Earl from the Pacific Ocean.
"Keep going, keep going!" Roads Superintendent Jeff Daniels urged as Smith cut a deeper groove to keep the ocean from driving the sand back toward the lagoon.
The Del Norte County Community Development Department received an emergency permit to breach lakes Earl and Tolowa from the California Coastal Commission on Wednesday. Hovering at 9.75 feet early Friday morning, the lagoon had already encroached upon Kellogg Road and was threatening Lower Lake Road, Daniels told the Wild Rivers Outpost.
"After the rain this weekend it'll be on the road," he said.
Preparing to breach Lake Earl requires more than bringing a Cat to its mouth, towing it through a morass of ponds inundating the Pacific Shores area. Along with Smith and Daniels, Assistant Roads Superintendent Richard Mello and Community Development Director Heidi Kunstal were there to watch the lagoon breach.
An employee with the California Department of Fish and Wildlife had already used an air boat to drive birds from the lagoon and was monitoring for shorebirds before Smith drove the Cat out on to the sandbar.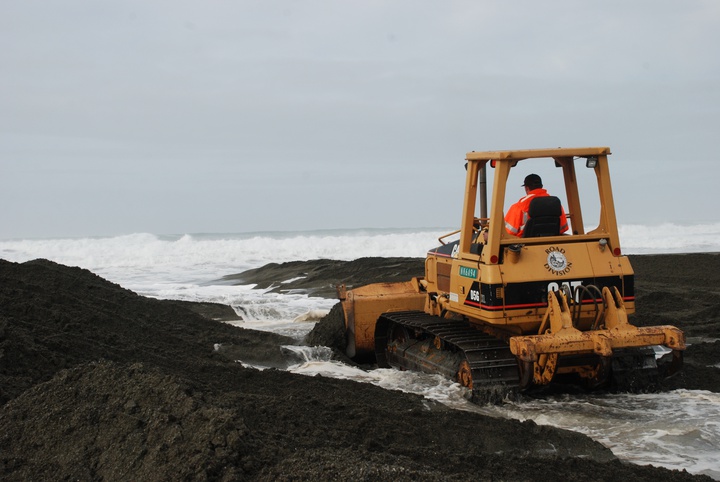 Kunstal said Mello and other Road Division employees were measuring the depth of the sandbar to gather baseline information. The California Coastal Commission requires the county to gather information on how fast the lagoon "heals itself," she said.
Kunstal's department had to get permission from the U.S. Army Corps of Engineers as well as the Coastal Commission before breaching the lagoon. She said they wanted to see evidence of the lagoon impacting the road and private property her department submitted an application.
According to the county's emergency permit from the Coastal Commission, it must document the lagoon's elevation, location and depth of the mouth to determine if it is migrating and how quickly it's closing.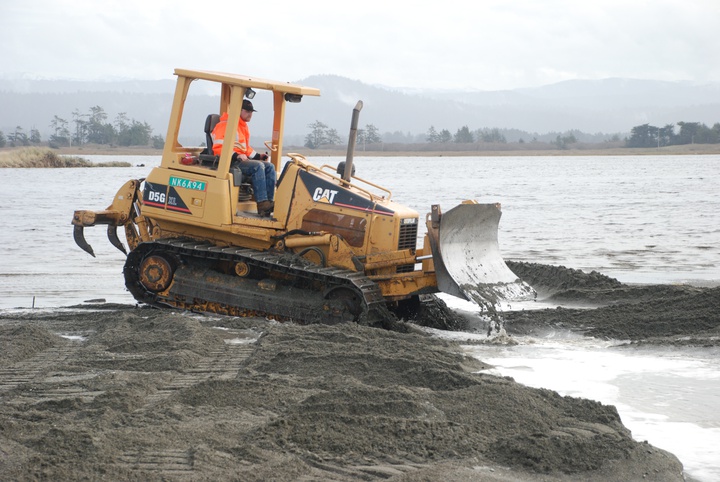 Daniels said there are too many variables to say how long the sand bar will remain open, though a rough ocean may close it relatively quickly. Once it's breached, the lagoon outlet tends to veer toward the north, Daniels said.
Daniels also noted that once the sand bar has been breached, the lagoon drops fairly quickly.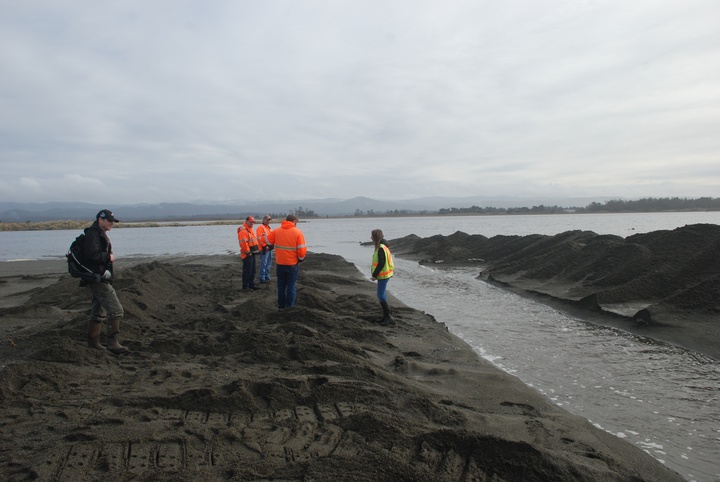 Mello pointed out that though the breaching starts out relatively anticlimactic, it doesn't stay that way.
"It starts off as a four to five foot trickle," he said. "By the next day it'll be like the mouth of the Klamath."
---
SHARE →
---