---
Jessica Cejnar / Tuesday, Jan. 21, 2020 @ 2:57 p.m.
'Women's Rights Are Human Rights!' Crescent City Women's March Celebrates ERA Milestone, Focuses On Community Service
---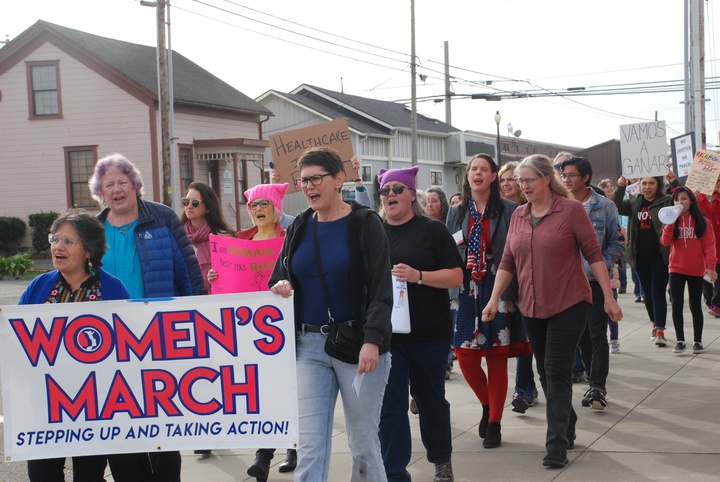 More than 100 people took to Crescent City's streets on the heals of the latest victory in the fight to ratify the Equal Rights Amendment.
Carrying signs and shouting "women's rights are human rights!", local activists to pressure legislators to add the ERA to the U.S. Constitution. They also vowed to perform at least 52 hours of community or public service by the close of 2020.
"You are here — that's the first step," Lynn Szabo told the crowd at the Crescent Elk Auditorium on Sunday. "What are you going to do tomorrow?"
In addition to joining others across the country and around the world celebrating Virginia's decision to ratify the ERA, Crescent City's second Women's March marked the debut of Step Up Del Norte. The Facebook page will serve as a clearing house for Del Norters looking for a cause to volunteer for and support, said Denise Doyle-Schnacker, one of the march's organizers.
Doyle-Schnacker created Step Up Del Norte on Saturday evening. As of Sunday afternoon it had 60 likes, she said.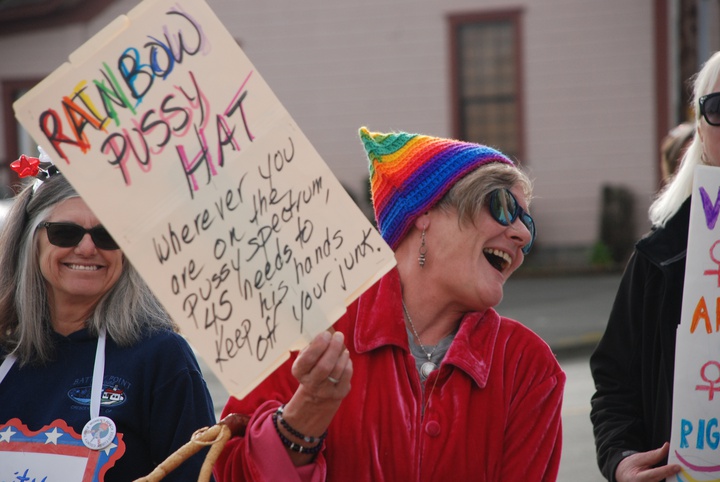 "It's for organizations and community members to connect with whatever people they need to take action," Doyle-Schnacker told the Wild Rivers Outpost. "It's completely nonpartisan. We need to be inclusive and move forward."
Doyle-Schnacker said the goal of this year's march is to get the Del Norte community to either volunteer or engage in some other form of civic service besides Tweeting and complaining on Facebook.
Doyle-Schnacker noted there are plenty of public offices up for a vote in November — the school board, Crescent City Council, Del Norte Healthcare District, the Crescent City Harbor District. And though the filing period has ended for the county supervisor races, which are up for a vote in March, women can help those who have thrown their hat into the ring, Doyle-Schnacker said.
"We don't know how to run," Doyle-Schnacker said. "Traditionally men will help other men, run campaigns… having people to back those who decide to put themselves into the fray."
Those who attended the Women's March on Sunday were also able to register to vote. Amy Campbell-Blair, a leader with True North Organizing Network, also urged people to sign a petition supporting the Schools & Communities First Initiative.
The initiative closes commercial property tax loopholes that benefit corporations and wealthy investors, Campbell-Blair said. It won't affect private individuals and small businesses, she said.
According to Campbell-Blair, if successful, the initiative would reclaim a projected $10 billion for California schools with a projected amount of about $1.5 million benefitting Del Norte County.
Though the initiative has enough signatures to be placed on the ballot, Campbell-Blair said she was collecting signatures to ensure that businesses worth up to $3 million would be protected.
"We have until March 20," Campbell-Blair told the Outpost, referring to the deadline when signatures must be submitted to the Secretary of State.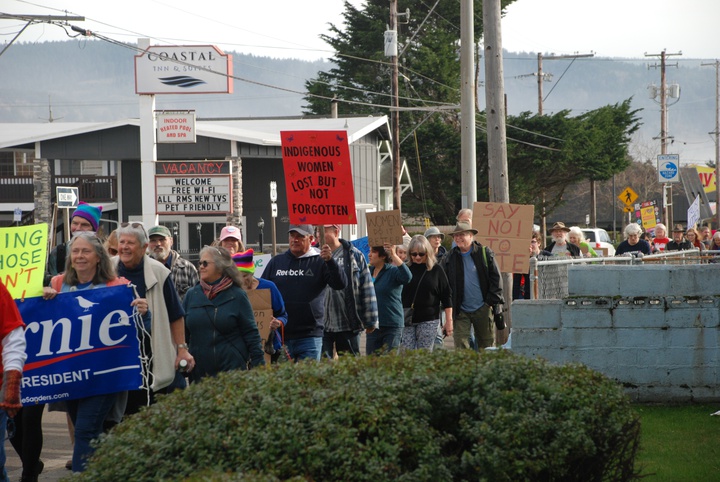 Before hitting the streets, Szabo, Jermaine Brubaker, Hilda Yepes Contreras, Diane Ramsey, Janet Wortman and Persephone Corvid Rose spoke about why they were marching.
Yepes Contreras, who advocated for immigrant rights, said it's time people threw off their "observers' hats."
"It takes courage and determination to stay grounded in one's beliefs," she said. "Immigration reform must establish a road to citizenship. Migration is a human right and no human is illegal."
Wortman, who is of Yurok, Karuk and Tolowa descent asked the crowd that now that Virginia is the 38th state to ratify the ERA, is she worth the $5 bounty that was once placed on her people.
Wortman spoke of the government-sanctioned eradication of Native Americans in California in the 1850s. She said California Governor Gavin Newsom formally apologized for the genocide inflicted on her people, 170 years after the act, and noted that Native Americans have only been able to vote since 1962. Meanwhile, more than 700 Native Women are missing and there are few resources to find them, Wortman said.
"The ability to tell our own story is already a victory," she said. "I celebrate with all of you the ability to tell our story. Welcome to our revolt."
Nancy Stemkoski spoke of the history of the Equal Rights Amendment starting when Alice Paul introduced it into Congress in 1923. Forty-five years later, 35 of the necessary 38 states ratified the ERA, she said.
Nevada ratified the amendment in 2017. Illinois did the same the following year.
"Four days ago, Virginia became the 38th state to ratify the ERA," Stemkoski said. "We need to work to pressure Congress and the Senate to remove the deadline."
---
SHARE →