---
Jessica Cejnar / Monday, Feb. 3 @ 5:02 p.m. / Elections
(Updated) John Pritchett Says He Wants To 'Build Bridges', Give District 1 Back Its Voice
---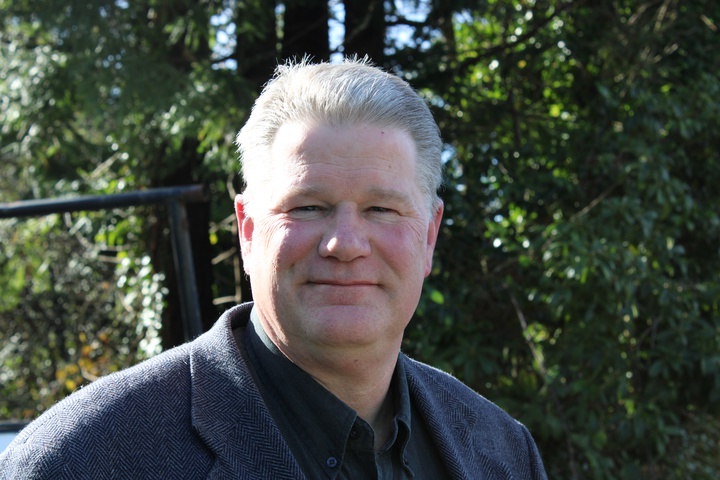 John Pritchett says he threw his hat into the Del Norte County supervisor race to give back to his community.
A 29-year resident in the community, Pritchett says Del Norte has been good to him. But, he says, he also wants to bring something back to District 1 that's been missing for the last eight years — its voice.
"Unfortunately, the incumbent has burned bridges," Pritchett told the Wild Rivers Outpost and Paul Critz, of KFUG Community Radio, Friday. "I believe in building bridges, not burning them. We have to repair our relationship, not only with our elected leaders, but also with those folks in state agencies, the unelected folks, who carry a lot of power."
Pritchett is one of two newcomers to the race for Del Norte County supervisor, hoping to replace District 1 incumbent Roger Gitlin, who has chosen not to seek re-election. Pritchett, who works at Bicoastal Media, is up against former Crescent City Councilor Darrin Short who is also seeking the District 1 seat.
On Friday, Pritchett told the Outpost and KFUG Community Radio, that he works well with people regardless of political preference. He said he's serves on the 41st District Agricultural Association board, which oversees the Del Norte County Fairgrounds. Pritchett has been on the Del Norte County Planning Commission, the California Department of Fish and Game Resource Advisory Commission and the boards of directors at the Del Norte Senior Center and the Crescent City-Del Norte County Chamber of Commerce.
Working well with others is needed to push for a completion date for the bypass around Last Chance Grade that's earlier than 2039, Pritchett says. It's needed to solve a homelessness issue that, not only affects adults, but has snared some 150 public school students in the county, he points out. Bridge building is also key to improving Del Norte County's economy, its residents ability to access affordable healthcare and mental health services and to draw visitors to the area.
"What I'm hearing more and more when I go knocking on doors and I'm visiting people, they're tired of the Board not working together," Pritchett said. "They understand there's going to be disagreements, but there should not be animosity."

Homelessness and Property Crimes
Pritchett's comment about animosity on the Board of Supervisors segued into thoughts on homelessness in Del Norte County. He also noted that the issue appears to have been linked with property crimes. While county elected officials have to give law enforcement better tools, he said people need to do a better job of being neighbors who watch out for each other.
"We can't afford to put a cop on every street corner," Pritchett said. "What we can do is keep an eye out: That person doesn't belong at that house — my neighbor's house? I'm calling my neighbor right now."
Being homeless doesn't make someone a criminal, Pritchett said. The student who is living in a car with their parents or surfing on a friend's house is not a criminal, he said. A woman escaping an abusive relationship by seeking shelter at the Harrington House also isn't a criminal, Pritchett said.
"They're certainly not human refuse as somebody once referred to them, rather disappointingly I might say," he said.
Pritchett pointed to efforts on Del Norte County's state senator, Mike McGuire's part to bring money into the community to create a housing program for those who are homeless. But, he said, he also liked Gitlin's idea about finding a piece of county-own land and using it as a "staging area" — a place for mobile showers and other programs.
In August, the District 1 incumbent requested a list of county-owned properties that would satisfy a ruling by the 9th Circuit Court of Appeals in the Martin v. Boise case that determined prosecuting homeless persons for sleeping in public areas violates their constitutional rights.
On Friday, Critz said that Jerry Johnson, a member of the local Veterans of Foreign Wars, brought that idea to Gitlin to take to his fellow supervisors.
Pritchett said a "staging area" for the homeless deserved to be considered, but Gitlin's colleagues immediately dismissed it.
"We're at a situation where the bridge has been burned and so we got to repair that bridge in District 1 so we can look at all possible solutions," he said. "We have to move on from partisan politics because it's not getting us anywhere."
Though he identified as a Democrat, Pritchett said he was an "Eisenhower Democrat" — someone for whom "the middle of the road is the only usable surface." He noted, however, that county supervisor is a nonpartisan position and, though it helps that he's of the same party, he thinks he would be able to work with McGuire, Assemblyman Jim Wood and Congressman Jared Huffman regardless of political party.

Cannabis and the economy
Like District 2 Supervisor Lori Cowan, who is seeking re-election and also spoke with the Outpost and KFUG on Friday, Pritchett said he doesn't think cannabis is going to be the economic boon to Del Norte people may have expected. It's a commodity like any other.
When it comes to cannabis, though, Pritchett said he's more concerned about illegal grows. Not only does it put pressure on those who are cultivating the plant legally, he said, it has created massive environmental damage to often devastating effect in Humboldt County.
Del Norte has largely been spared those environmental impacts, Pritchett said.
Rather than looking to cannabis to bring a sunnier economic scene to Del Norte, Pritchett said the community needs a fully-funded chamber of commerce that can bring industries to Del Norte that provides living-wage jobs.
"If that means we need to offer some incentives, some sort of small tax breaks over a reasonable period of time that pay off for us in terms of a higher tax foundation, we need to do that," Pritchett said. "We need to take a long hard look at how do we make that work."
Pritchett said the county also needs an expanded recreation department. Del Norte County's Parks and Recreation Department has two employees that do a remarkable job and offer great children's programs, he said. Pritchett said he'd like to see more recreation options for adults.
This, Pritchett said, could also bring people from out of town to the coast during the summer for tournaments.
"We create this event, especially in the summer, and we get the word over in Medford, Ashland, Grants Pass, Redding, Sacramento — bring your team, bring your sweatshirt; it's 115 degrees in Sacramento, but it's 65 degrees in Crescent City," he said.
"When they get here, Dad's out playing softball, Mom's out playing softball and we give them our sponsorship flyers, saying if you're looking for something to do, the lighthouse is open from this time to this time. One of our sponsors might be Trees of Mystery or Ocean World."
Tourism also plays a factor in improving Del Norte's economy, but, Pritchett said, there is more to offer than big trees.
"One thing that's going on right now is a huge boom nationwide in mountain biking, and we're seeing efforts being made to bring trails in to Del Norte County… Joe Gillespie is leading that fight," Pritchett said of the Gillespie's founding of the Del Norte Trail Alliance.
"Congressman Huffman has a wilderness bill that I'm taking a long hard look at. Part of that is for the expansion of trails… Anything we can do that allows people to enjoy our natural beauty should be encouraged as long as we don't degrade those things we care about the most. Clean air and clean water."
Pritchett also praised Huffman's efforts to get a myriad of different stakeholders involved in finding an alternate route around Last Chance Grade — the slide-prone area of U.S. 101 south of Crescent City. One of those stakeholders, Pritchett noted, are the local tribes.
Though he hasn't done a lot of outreach, Pritchett said Del Norte County's native american communities are huge economic powers. The Tolowa Dee-ni' Nation has made strides in healthcare and housing, Pritchett said.
The Elk Valley Rancheria has also proved to be a valuable partner to Crescent City through helping the city pursue grants for infrastructure projects as well as their participation with the Border Coast Regional Airport Authority.
"I'm good friends with Dale Miller and with Kara Miller," Pritchett said. Dale Miller is the chairman of the Elk Valley Rancheria, while Kara Miller is on the Tolowa Dee-ni' Nation tribal council. "They're an economic power and if we don't embrace that we're hurting not only ourselves, but we're also hurting them."

Healthcare
Pritchett also brought up mental health. With no real mental health facility, Pritchett said, those who are in crisis are often sent out of the area for treatment.
"We're spending a ton of money — I couldn't give you an exact dollar (amount), but it's in the six digits — just transporting patients," he said.
Sutter Coast Hospital and Heather Snow, director of the Del Norte County Department of Health and Human Services, had pursued creating a crisis intervention program at the hospital, Pritchett said, however that didn't work. He said he wants the county and the hospital to continue to look for a solution.
The Del Norte Healthcare District should be involved in creating mental health services people can access locally too, Pritchett said.
Regarding the Healthcare District, Pritchett said he was glad to see it act as a watch dog to make sure the hospital was best serving the community. Pritchett addressed an effort by Sutter Health to turn the local hospital into a critical access facility, which would have reduced the number of beds available.
Pritchett noted that the hospital has made assurances that it won't pursue critical access after strong objection from the community. Pritchett said he applauded the hospital's decision to contract with a physicians group that offers in-network care at its emergency room for most Del Norters. But, he said, Sutter Coast Hospital is working within a broken system.
"MediCal in our community and statewide forces folks to use the ER as their primary care physician," Pritchett said. "It's a systemwide situation that has to be addressed, not only locally by keeping the pressure on, not only Sutter Coast, but the other providers as well. Also by keeping pressure on our other elected leaders and the Board of Supervisors to keep moving things forward to look for solutions to make groups together to work for a common goal."
Pritchett said it's easy for people to see the bad news and to spot a problem in Del Norte County, but there have been some tremendous moments where the community has banded together.
One such moment is through a group of high school students deciding to clean up a boat that had washed ashore on South Beach and return it to its home in Japan, Pritchett said. This act of kindness ultimately led to a feature of the budding sister city relationship between Del Norte County and Rikuzentakata that's going to be featured on NBC Sports during the 2020 Olympics in Tokyo.
Pritchett noted that just the NBC feature will bring more publicity to Del Norte County than its leaders could hope to buy.
"It's important that we find ways to lift ourselves up and lift others up rather than tear them down," he said. "We saw that during football season where this group of kids, about 20 kids on this team ended up playing for a state championship — the whole community was lifted up by these kids. We need to find ways to celebrate our successes more and more."
---
SHARE →