---
Jessica Cejnar / Wednesday, Feb. 12 @ 5:17 p.m. / Elections
County Supervisor Candidates Face Constituents At True North Forum
---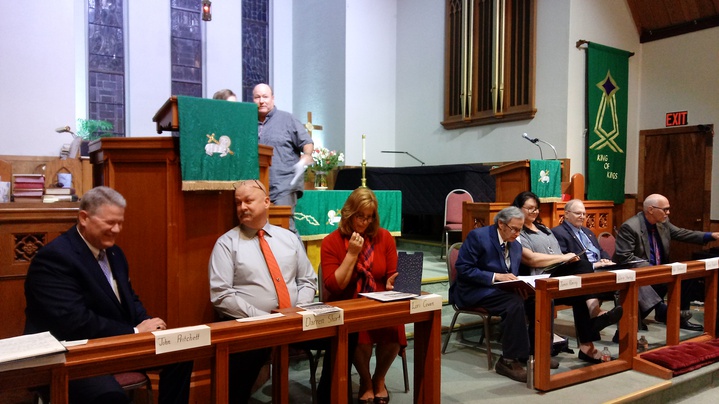 Del Norte County supervisor candidates faced their would-be constituents Monday at the first of two candidate forums.
Hosted by True North Organizing Network, the forum touched on topics related to homelessness, affordable housing, mental health, economic development and opportunities for youth. Candidates also fielded a question from the audience on how they will encourage "out-of-towners" to stay and invest in Del Norte County.
The forum was also an opportunity for supervisor hopefuls to hear from the people they hope to represent — those who are "close to the pain in our community," True North leader and United Methodist Church pastor Dana Gill Port said.
"Tonight is about building power to create change," she said, urging the community to vote and encourage their friends and family to vote. "Finally, tonight is about building an inclusive community. That's why a diverse group from different parts of this county are leading the meeting, and that's why we are translating (it) into Spanish and providing child care so that all families have the opportunity to participate fully."

Economic development
The first question of the evening came from Requa Inn owner Jan Wortman.
Wortman said her family has lived on Requa Hill since time began and that her ownership of the inn is the first time in 160 years a Yurok tribal member has owned that property.
"My annual payroll is almost a quarter of a million dollars and each year I send over $49,000 to the county's general fund for bed tax," she said. "Our business donates over $10,000 to local charities and schools. My small business contributes to this county."
Wortman noted that Del Norte County is one of the 14 poorest in California with a poverty rate of 24 percent. She cited a 2012 federal report on rural wealth creation, which stated small businesses can result in growth in rural communities. She asked candidates how they would create a thriving small business development plan across the county and in each of their districts.
Though he was the first to speak, Jim Ramsey, one of two candidates trying to oust Lori Cowan as District 2 supervisor, was unable to finish his thought in the time he was given. He said focusing on tourism could grow small business entrepreneurship and creating partnerships and apprenticeships could keep them going when the tourists leave for the season.
Ramsey said there were also a lot of empty buildings in his district that could house small businesses.
His opponent, Valerie Starkey, mentioned Del Norte County and Crescent City's Comprehensive Economic Development Strategy. This five-year strategy has been approved, she said, and it allows her to jump in and "get to work."
Starkey said there should also be a liaison between businesses and local agencies and organizations such as the Crescent City-Del Norte County Chamber of Commerce, the Small Business Development Center and the Tri Agency Economic Development Authority.
"Let's all get on the same page," she said. "When you streamline the process, you get more consistent results. I would also encourage a mentoring program so new businesses have a supportive resource to help guide them during their first two years of businesses."
Cowan, who manages North Coast Grill with her husband, said the greatest business opportunity in her district is at the Del Norte County Airport.
"This past summer when we've doubled up on flights we had a food truck out there," she said. "I'm definitely looking forward to the upcoming season and getting more food trucks out there."
District 5 candidate Kevin Hendrick, who is challenging incumbent Bob Berkowitz, said government should consider investing in local businesses before inviting large box stores into the area.
Consumers should also shop locally, he said, adding that he purchased his campaign material at Del Norte Office Supply and he shops for food at Safeway rather than Walmart because it's a "union shop."
Specific to District 5, which includes Klamath, Hendrick said the lack of high speed internet hobbles small businesses. Hendrick also called for greater collaboration between the Klamath Chamber of Commerce and the Crescent City-Del Norte County Chamber, which has a larger budget.
"Building a more robust economy in Klamath is good for the rest of Del Norte County," he said. "We're all in this together."
Berkowitz also called for more collaboration between the two chambers." Berkowitz said he has been involved with the Crescent City-Del Norte Chamber for roughly 40 years, serving on its board of directors. He is also currently a member of the Klamath chamber.
"Both of those organizations are deeply involved in bringing the next tourist through the area," he said. "That's why the county has supported the concept of making sure that tourist dollars are invested in promoting our county by bringing NBC to our area to promote our Japanese connection through the Summer Olympics."
Former Crescent City Councilor Darrin Short, who, along with John Pritchett, is seeking to represent District 1 on the Del Norte County Board of Supervisors, said he's an advocate for making the permitting process easier for small businesses.
"As a city councilman I exuded that philosophy all the time and as a supervisor I'd do the same thing," Short said. "I would bring stakeholders to look at downtown (Crescent City), which is a big part of District 1 and explore the concept of enterprise zones or opportunity zones to encourage business development in that area."
Short's opponent said Del Norte County needs clean industries that offer a living wage to residents. Pritchett said he wrote a letter to Gerry Hemmingsen, chairman of the Board of Supervisors, urging him to invite Terra-Gen to Del Norte.
Terra-Gen is an alternative energy company that tried, unsuccessfully, to build a wind project in Humboldt County. Pritchett said he wanted to see if Terra-Gen's project would fit in Del Norte County.
"It might, it might not, but at least we made the effort," Pritchett said. "We do not need another box store paying minimum wage in our community. We need clean industries and that means offering incentives to bring them in."

Homelessness and Housing
True North leader Wanda Wilder found herself homeless for the first time last year after the pipes on her home failed. She said she had rented the home for more than 20 years, but her landlord couldn't afford to make the repairs.
"I found myself for the first time in my life without housing struggling to find a place warm and safe enough to lay my head while trying not to impose on family and friends or taxing the system," Wilder told candidates.
She cited statistics from the county's 2019 Point-in-Time survey that stated 189 people were homeless in Del Norte last year. But, Wilder said, more struggle to remain housed.
"The reasons we lack housing are diverse and varied and all of these people have a story," she said. "I would encourage each of you to hear that story when you can. In the fall of 2018, the Del Norte County Board of Supervisors passed a resolution to end homelessness. It has been an entire exhausting year now. In keeping with that resolution, what will you do as a county supervisor, to end homelessness in Del Norte County?"
Berkowitz noted that the Board of Supervisors has worked to combat homelessness for about three years. One concentration has focused on providing services to those who live with mental illness, he said. Berkowitz said he and his colleagues have been successful in getting state funds that "help us alleviate this problem."
Berkowitz also mentioned Our Daily Bread, a faith-based rescue mission that operates an emergency shelter during inclement weather. He said expanding the facility to a 24-hour shelter would build more capacity to "care for all our homeless and get them off the streets."
Though Berkowitz didn't mention Daphne Lambert, founder of Del Norte Mission Possible, a new organization working with Our Daily Bread to create a full-time shelter, his opponent did.
Hendrick said he supported Del Norte Mission Possible's efforts to provide an expanded shelter. He said he also endorses efforts by True North Organizing Network in developing a tiny house village model similar to a Medford-based program.
"Both projects include wraparound services to provide mental health and substance abuse counseling to help stabilize their lives and get back on their feet," Hendrick said.
Hendrick said he also supports reduced fees and a simplified permitting process for secondary housing units, he calls "backyard cottages" that can be built on existing properties.
"All these programs require very little government involvement and bring us a long way to solve problems with homelessness and affordable housing," Hendrick said.
Cowan also mentioned Del Norte Mission Possible, asking Lambert to raise her hand. Over the past year, Cowan said, she has urged the Del Norte County Mental Health Branch to offer services twice a week. Our Daily Bread also offers meals and services through the county's Alcohol and Other Drugs branch.
"People talk about a staging area, we've got it," Cowan said, bringing up a concept the Board of Supervisors have discussed in the past at the request of outgoing District 1 Supervisor Roger Gitlin. "(Lambert's) been working closely with the county to get that building up to snuff so it will be a 24-hour shelter. If I have it my way, it'd be done by June."
Cowan said she has also worked with State Sen. Mike McGuire, who is bringing No Place Like Home state loan dollars to develop a program that addresses the chronically mentally ill. But it's taking too long, she said.
Ramsey also mentioned Our Daily Bread and the work Lambert is doing, noting that combatting homelessness requires partnerships.
"One of those things people may not have known, when Daily Bread first came to this area, they started on my front lawn," he said. "I've (been) working with them in support ever since."
Starkey also praised the work Lambert and her board member, Del Norte Local Transportation Commission director Tamera Leighton, have been doing to build Del Norte Mission Possible. However, Starkey said, a one-size-fits-all approach may not work for the community.
"I'm a big believer of the housing first model and that is moving long-term homeless individuals who have mental health or substance abuse issues into housing, subsidized housing and then linking them with supportive services," Starkey said. "How we respond to somebody who lost their job should be different than someone who has severe untreated mental illness."
Short and Pritchett both noted that homelessness is a multifaceted issue.
Pritchett said California has 30 percent of the homeless population in the country and that while law enforcement needs better tools, homelessness isn't a crime.
"Sen. McGuire and Assemblyman Wood are working to bring money here to help solve the problem," he said. "We have to work with public and private agencies because together we're better."
Short said he liked Rogue Retreat's Hope Village tiny house model because it's a program that works. He said he thinks it could work for Del Norte County.
"It's a try for people who are homeless to move to temporary housing and then onto permanent housing," Short said. "It's a very successful program. I know we can achieve that in our community and work together when I'm a supervisor."
Before she wrapped up the forum for the evening, Gill Port asked each candidate if they would be willing to work with True North Organizing Network if they are elected to the Board of Supervisors. Each candidate promised they would.
Election day is on March 3 this year. KFUG Community Radio will air the forum in its entirety at 6 p.m. Thursday.
---
SHARE →