---
Jessica Cejnar / Wednesday, Dec. 30, 2020 @ 3:57 p.m. / COVID-19, Community
COVID Resiliency Grant Keeps Three Del Norte County Child Care Centers Running
---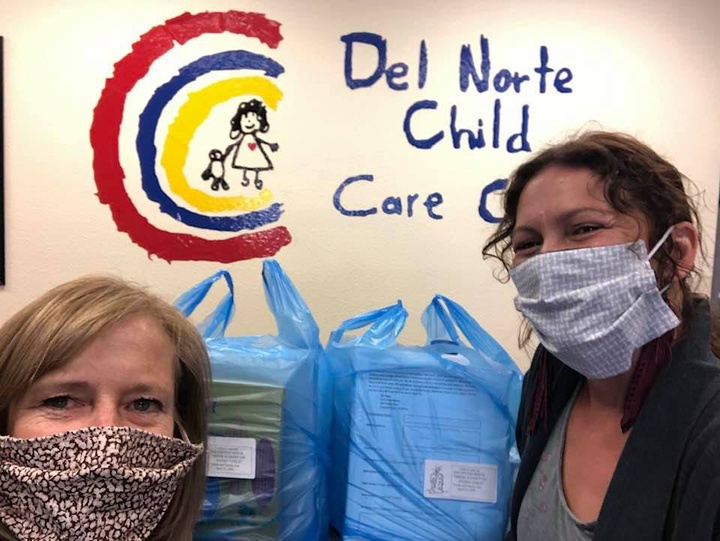 Local childcare centers facing closure due to the COVID-19 pandemic received an injection of money from the Wild Rivers Community Foundation to continue serving their families.
The $20,000 grant the Del Norte Child Care Council received earlier this month will allow the nonprofit organization to operate its centers at Mary Peacock and Redwood elementary schools as well as Little School of the Redwoods, according to a WRCF news release. The centers care for 49 youngsters and will be able to operate until April, according to WRCF.
According to Executive Director Melodee Mitchell, the Del Norte Child Care Council's board was contemplating closing its three daycare centers down in January.
"These families are working families and this would have directly impacted their ability to work," Mitchell said in a written statement. "And we would have had to lay off employees who would be forced to draw unemployment."
The Wild Rivers Community Foundation and the Humboldt Area Foundation established its COVID-19 Regional Response Fund in March and so far has received 233 donations, WRCF The WRCF, Humboldt Area Foundation, the California Wellness Foundation. Since then it has received between $10 and $1.1 million in donations, including money from the California Endowment, Graves said.
"We've had $3.1 million donated-given to us," he told the Wild Rivers Outpost last week. "And the number of grants that has gone out is $2.1 million."
A committee of 15-20 employees from both foundations meet every Tuesday and Thursday, hearing proposals from foundation representatives, including what the request is, how much it's for and how it will be used, Graves said. The group discusses it, gives it its approval or sends the proposal back to the person applying for the grant.
In addition to continuing to accept donations, the WRCF and HAF continue to review grant requests, Graves said.
"It doesn't look like there's any end in sight because obviously COVID is still out there impacting people," he said.
Grant requests have come from organizations trying to ensure people, including senior citizens are fed. The grant request on behalf of the Del Norte Child Care Council is a recent one, Graves said.
According to WRCF's Dec. 8 news release, Keri Mosey, coordinator for the foundation's Nonprofit Alliance, urged Mitchell to apply for a COVID-19 Regional Response grant.
In addition to operating its three preschools, the Del Norte Child Care Council offers referrals and subsidies for families seeking child care, a space for supervised visitation, a toy lending library and a carseat lending program.
The Child Care Council has a food program for family child care providers and resources to help family child care providers earn a license.
The Del Norte Child Care Council also received a Holiday Partnership grant from the Wild Rivers Community Foundation for its for its Christmas Project Giveaway.
Other causes the Wild Rivers Community Foundation and Humboldt Area Foundation COVID-19 Regional Response Fund has supported include Del Norte County Unified School District for summer food boxes and technology for students.
Grant dollars also went to organizations in both Curry and Del Norte counties that serve the homeless population. According to Graves, funds went to purchase tarps, sleeping bags, tents and other supplies.
"A lot of these places haven't been able to do the usual fundraising," Graves said. "Because of COVID, funding mechanisms ground to a halt. That's where our grants come into place to help with that."
For more information about the COVID-19 Regional Response Fund, including how to donate or apply for grants, click here or call (707) 465-1238.
---
SHARE →