---
Jessica Cejnar / Tuesday, Dec. 29, 2020 @ 5:23 p.m. / Business, COVID-19
State Offers COVID-19 Relief Dollars To Small Businesses; Grant Application Process Starts Tomorrow
---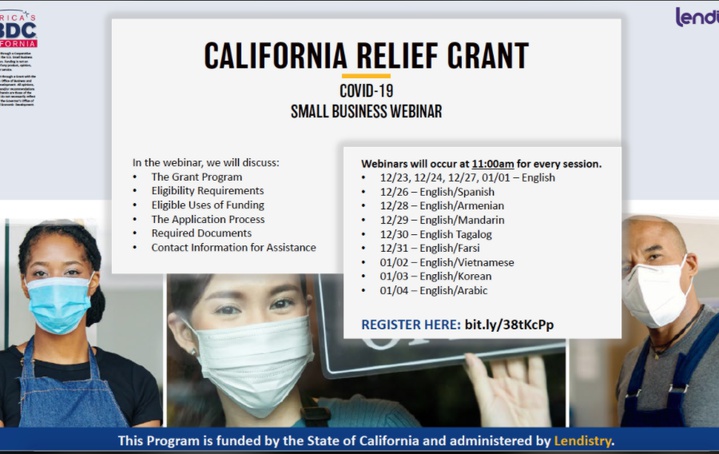 Local businesses struggling through the COVID-19 pandemic may find relief through a new state-funded grant program.
Businesses, including 501©(3) and 501(c)(6) nonprofits, earning between $1,000 and $100,000 in annual revenue may be eligible for $5,000 in California Small Business COVID-19 Relief Grant program dollars. Those earning more than $100,000 up to $1 million can apply for $25,000 in grant dollars, Holly Wendt, Crescent City's recreation director who spearheads the Economic Resiliency Branch for the Del Norte Emergency Operations Center.
The application process for the first round of grant funding begins at 8 a.m. Wednesday and closes Jan. 8, Wendt said. A plethora of webinars are available at 11 a.m. daily on the program's web page to help business owners through the application process.
"All applications are given the same amount of importance," Wendt said. "So it's not like the very first one gets more importance than the others. This is the first window."
Wendt noted that since the dollars are being offered to businesses through a grant — unlike the Small Business Administration's Economic Injury Disaster Loan and the Paycheck Protection Program — owners don't have to repay them.
"That's what a lot of businesses are looking for," she said.
Nonprofits can also take advantage of the California Small Business COVID-19 Relief Grant, including 501©(6) organizations such as the Crescent City-Del Norte County Chamber of Commerce.
This is the first grant the chamber has been eligible for since the COVID-19 pandemic began, Executive Director Cindy Vosburg told the Wild Rivers Outpost. This is a welcome relief since the chamber's primary annual fundraiser — the Fourth of July parade, festival and fireworks display — was canceled this year due to health mandates against large crowds.
"We have spent countless hours helping our local businesses apply for the available loans and grants and do their COVID-19 reopening plan," she said. "Up to now, I believe it is 188 businesses we have met with and helped counsel through this difficult time since COVID started last much. Much was done by webinars, but much of it was also done in one-to-one phone calls and one-to-one Zoom meetings."
Crescent City's Fourth of July festivities raise between $20,000 and $30,000, which pays for the following year's fireworks display. Throwing the party costs the chamber roughly $39,000, Vosburg said.
"If we can get this grant, this will help keep us doing what we like to do best, which is support our local business community and nonprofits," she said.
In addition to the California Small Business COVID-19 Relief Grant, the Economic Resiliency Branch still has about $75,000 in Small Business Stabilization Loan dollars available out of $140,000, Wendt said.
Administered through the Arcata Economic Development Center, the Small Business Stabilization Program offers no-interest loans of up to $5,000 o businesses with five employees or less, Wendt said.
Fifteen local businesses received stabilization loan dollars and those that weren't eligible still received advise and support from Claggett Wolfe and Associates and the North Coast Small Business Development Center, Wendt said.
Some businesses that took advantage of those resources were able to seek other funding, Wendt said.
Funding for the program came from the Gill and Ann Hess Memorial Foundation, the South Fork Big Flat Fund, the Baird and Jane Rumiano Fund and the Nick and Lisa Rail Fund, Wendt said.
Though they're both looking forward to life post-COVID-19, Wendt and Vosburg noted that Del Norte County, unlike much of California, has come through the pandemic relatively well. Wendt said some business were willing to diversify and change their operation quickly to accommodate health measures restricting indoor dining and social distancing.
The chamber of commerce will be putting out a public service campaign urging Del Norters to "wash-up, mask-up, social distance and no gatherings," to help reopen businesses faster, Vosburg said.
Vosburg, referring to California's regional stay at home order, which is based on intensive care unit capacity, noted that restaurants in the Bay Area and Sacramento are closed because their hospitals are overwhelmed. Del Norte County may be in the most restrictive purple tier of California's Blueprint For A Safer Economy, but restaurants can still offer outdoor dining and takeout and retailers can operate at 25 percent capacity, Vosburg said.
"That's the saving grace of being up here on the North Coast," she said. "Our overhead (costs) for businesses is not so sky-rocketed that if push came to shove (we can ask) what other local programs can we do to help keep our restaurants open until we can open full time because of having the vaccine widely available in our community. We have to keep businesses going and chugging along."
As of Monday, Del Norte County had 130 active novel coronavirus cases with one person hospitalized, according to Del Norte County's COVID-19 Information Hub. Two people have died from COVID-19 since the start of the pandemic.
There are currently 163 incarcerated cases including inmates at Pelican Bay State Prison and at the Del Norte County Jail, according to the Information Hub.
For more information about the California Small Business COVID-19 Relief Grant, click here. For more information about the Economic Resiliency Task Force, click here.
---
SHARE →