---
Jessica Cejnar / Thursday, Dec. 17, 2020 @ 4:21 p.m. / Community
Food Security Task Force, Pacific Pantry Needs Help Assembling, Distributing Christmas Boxes
---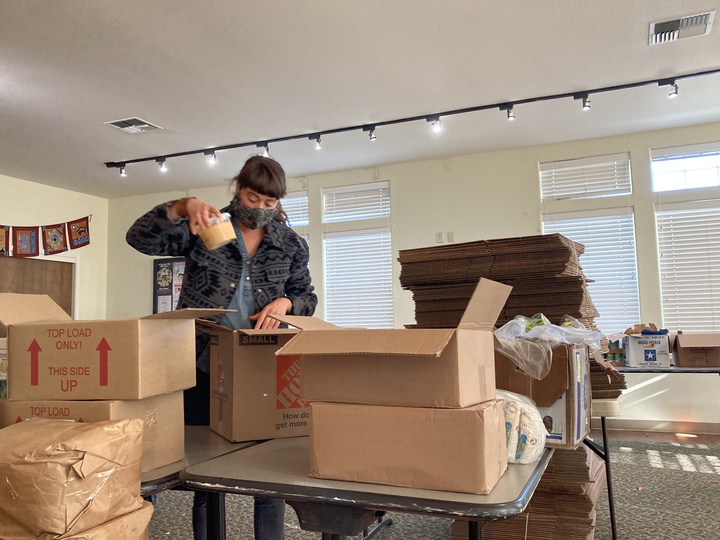 Andrea Lanctot surveyed tables ladened with canned goods, dry goods, produce, meat and boxes both flattened and intact.
Everything a family would need for a holiday feast, including hot cocoa and Martinelli's apple cider — aka "apple juice champagne" — covered every flat surface in the classroom at the Family Resource Center of the Redwoods. About 15 minutes before Pacific Pantry patrons were expected to collect them, Lanctot, food program coordinator for the Community Food Council, began showing volunteers how to assemble a Christmas box.
"We've handed out holiday boxes in the past through Pacific Pantry," Lanctot told the Wild Rivers Outpost. "This is the first time with all the parties since the Food Security Task Force started."
Realizing that a number of holiday dinners, including the Community Thanksgiving Dinner, would be canceled due to restrictions on social gatherings because of the novel coronavirus, the Task Force came together to help the pantry put out more boxes this year.
As a result, the Food Council issued a call-out for volunteers Wednesday via Facebook. Though Thursday's shifts were covered — volunteers were expected to assemble boxes until about 6 p.m. — there is still room for people to help on Friday, Lanctot said.
"We were planning for 500 boxes; it looks like we'll be doing 600," she said.
Christmas food boxes will be distributed to Pacific Pantry patrons this weekend, according to Lanctot. Christmas boxes will also go to Del Norte Mission Possible, Our Daily Bread Ministries, the Del Norte County Veterans Service office, Rural Human Services, the Dorkas Society, the Yurok Tribe and the Del Norte Senior Center.
Those who don't have access to a kitchen to cook their food will receive ready-to-eat items, such as a cooked ham. Whole chickens are destined for other boxes.
The Del Norte Food Security Task Force formed in March and includes a variety of nonprofit organizations including churches, the senior center, the Del Norte County Department of Health and Human Services and the Veterans Services Department, the North Coast Indian Development Council and the Yurok Tribe.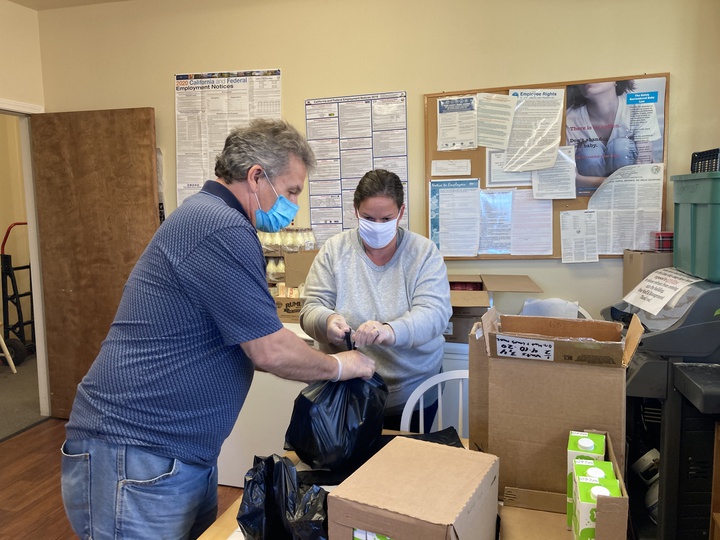 Though the task force realized it was too late for Thanksgiving, its goal was to put about 500 holiday food boxes together, Community Food Council Program Director Amanda Hixson told the Outpost in November.
According to Lanctot, grant money from the Humboldt Area Foundation and Wild Rivers Community Foundation helped the Food Security Task Force put the boxes together.
The holidays are already a busy season for Pacific Pantry, Lanctot said. This year, however, it has seen more new patrons than it has in the past three years, she said.
When the COVID-19 pandemic first began, Pacific Pantry began giving food bags away without taking names and had seen a surge in visits, Lanctot said. Those numbers leveled off between April and July when the Pantry resumed taking a record of its patrons.Lanctot said this may be due to the relief programs created in response to the pandemic.
The number of people visiting the pantry began to climb again around Thanksgiving, Lanctot said. She said she's also unsure of what the new year will bring, noting that the organization has been operating on donations for the past year or so and will until March when it will receive its Community Development Block Grant apportionment from Crescent City.
"We're trying to raise $15,000 to fill the gap for January and February," Lanctot said.
Pacific Pantry also received help from Redwood Empire, which is based in Santa Rosa and provides resources to food banks on the North Coast. According to Lanctot, Redwood Empire found funding that hadn't been used by the food bank at Rural Human Services and used it to purchase shelf-stable food for Pacific Pantry.
"If we do start to see food shortages with COVID we'll have backup," Lanctot said. "And with the weather… this is definitely making us feel better."
According to Lanctot, volunteers are needed on Friday to continue to assemble Christmas food boxes. This includes bagging perishable items including meat, eggs and milk.
People can volunteer by showing up at the Family Resource Center of the Redwoods, though Lanctot said it would be easier if they signed up via Facebook.
Those wanting to donate to Pacific Pantry can send a check to the FRC at 494 Pacific Ave., Crescent City, CA 95531 or by visiting www.dnatlfood.com.
---
SHARE →