---
Jessica Cejnar / Thursday, Dec. 17, 2020 @ 10:48 a.m. / Community, Health
UIHS Native Tobacco Project Releases Survey Focusing On Smokeless Products
---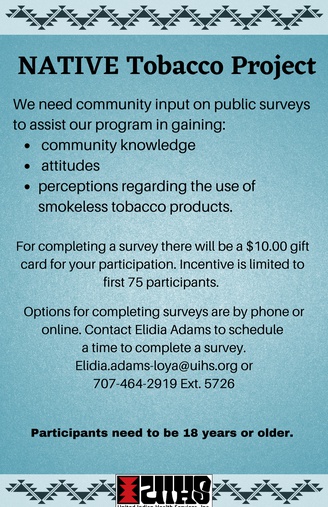 United Indian Health Services' NATIVE Tobacco Project is seeking input on the knowledge and perceptions around smokeless tobacco products.
NATIVE Tobacco Project representatives have deployed a survey to gather this input.
Smokeless tobacoo includes chewing tobacco, snuff and lozenges, sticks, strips or orbs. According to a description of the survey, the results will help the NATIVE Tobacco Project understand how the community defines smoking.
Participants need to be 18 years old or older and will receive a $10 gift card for completing the survey.
People can also take the survey by phone by calling Elidia Adams at (707) 464-2919 extension 5726. Adams can also be reached via email at elidia.adams-loya@uihs.org.
---
SHARE →