---
Jessica Cejnar / Thursday, Aug. 27 @ 3:10 p.m. / Community
Program Combating Food Waste, Hunger Redistributes 45,704 Pounds Initially Headed For Landfill
---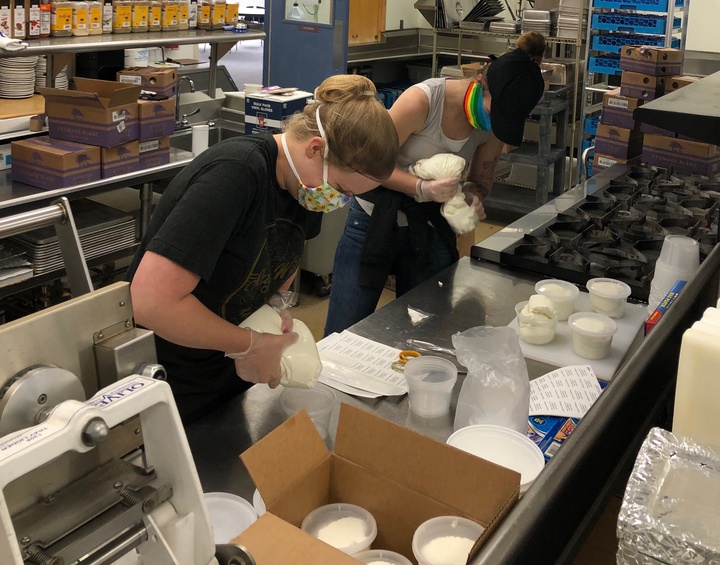 Pre COVID-19, Meredith Knowles expected much of the food she would rescue would come from homes.
Knowles spent the first few weeks of her new job as Food Rescue Del Norte's coordinator learning about the county's food waste stream — homes are one of the highest contributors, she says, citing a 2014 waste characterization study.
When it hit, the pandemic turned that waste stream on its head.
"A lot of the food waste was actually being generated right at the farm and (with) producer because they couldn't sell it or because the restaurants were closing," Knowles told the Wild Rivers Outpost on Thursday. "The supply was ready, but then the demand got very abruptly cut."
The Community Food Council of Del Norte and Adjacent Tribal Lands created Food Rescue Del Norte and hired Knowles a year ago with a $300,000 grant from CalRecycle and California Climate Investments. The organization is working to keep more than 400,000 pounds of food from the landfill by the end of March 2021.
As of Thursday, Food Rescue Del Norte has saved and redistributed 45,704 pounds of food, Knowles said. This doesn't include what the program has collected and composted, she said.
"Our website shows our tracker through May — totaling 33,321 (pounds)," Knowles said via email. "We rescued 7,213 pounds in June, 1,620 pounds in July and 3,550 pounds in August thus far."
Del Norte County throws away 3.9 million pounds of food a year, Knowles told the Outpost after she was hired last year. Her goal is to intercept it while it's still edible and redistribute it via the Food Council's Pacific Pantry.
Much of that food came Del Norte Unified School District, Alexandre Dairy, Wild Rivers Cafe, Starbucks and local grocery stores and restaurants. Knowles also has a gleaning team of seven members currently that will accept extra produce from residents' gardens and orchards.
Since the pandemic, Food Rescue Del Norte continues to accept what DNUSD can't use, especially since it had to suddenly stop offering students fresh-cooked meals.
CalRecycle also allows Food Rescue Del Norte to divert food waste coming from outside Del Norte County, Knowles said. For example, Food Rescue Del Norte was able to find a use for 600 pounds of Cypress Grove cheese the Arcata-based company had packaged at restaurant industry-level sizes.
"They already have these 6 pound buckets of fromage blanc that restaurants weren't buying anymore and they were being held in a florist shop because there was nowhere to put it," Knowles said. "We broke it down into pint-sized containers and the fromage blanc was easy to freeze. And then the Bermuda Triangle bags we were able to cut down on."
Since it started, Food Rescue Del Norte has partnered with the Del Norte Solid Waste Management Authority, which is concerned about the impacts to the community from a state law, SB 1383, that sets goals for reducing emissions from methane and other short-term pollutants.
Food Rescue Del Norte works closely with the Solid Waste Management Authority, which has nominated the program for an award through CalRecycle. According to Knowles, SB 1383 also includes diverting food waste from the landfill for composting and animal feed.
While a small portion of waste, primarily from the Community Food Council's food forest near College of the Redwoods, is composted, most of it is for human consumption, Knowles said.
Though Food Rescue Del Norte aims to keep more than 400,000 pounds from the landfill by the end of March, Knowles said her primary goal is to build a sustainable program that strengthens the safety net combatting local food insecurity.
In addition to supplying the Pacific Pantry, Food Rescue Del Norte has spearheaded a Waste Not Weekly program that offers rescued food from local businesses and restaurants to anyone that wants it. Last week, Food Rescue Del Norte had an abundance of Alexandre Dairy milk to offer.
The program also works with Our Daily Bread, Del Norte Mission Possible, Seven Angels Last Stop Services and Mission Possible Home, Knowles said.
One challenge Knowles said the program has had to contend with is ensuring food will get to people who will be able to use it. For example, she said, any milk must go to a place that has the ability to refrigerate it.
Knowles said Food Rescue Del Norte also offers food to those who take part in the weekly shower program offered through Del Norte Mission Possible, Seven Angels Last Stop Services and the county at Coastal Inn and Suites. In that case, she said, the food has to be shelf-stable and ready-to-eat.
"There is a map, if you will, of donors and recipients that tends to be pretty direct," she said. "And, right now, Food Rescue Del Norte is the middle piece. We're building that connection. We're fostering that relationship. We certainly hope that once we stitch the ties together those direct relationships can continue."
Food Rescue Del Norte's Glean Team is looking for volunteers, both those who have trees, gardens and other sources of produce to offer and people who can help harvest them. For more information, call Knowles at (571) 225-0946, visit www.foodrescuedelnorte.org or find them on Facebook.
---
SHARE →