---
Jessica Cejnar / Friday, April 17 @ 7:22 p.m.
Local Chiropractor Plans Protest In Defiance Of COVID-19 Safety Measures; Supervisor Gitlin is Helping
---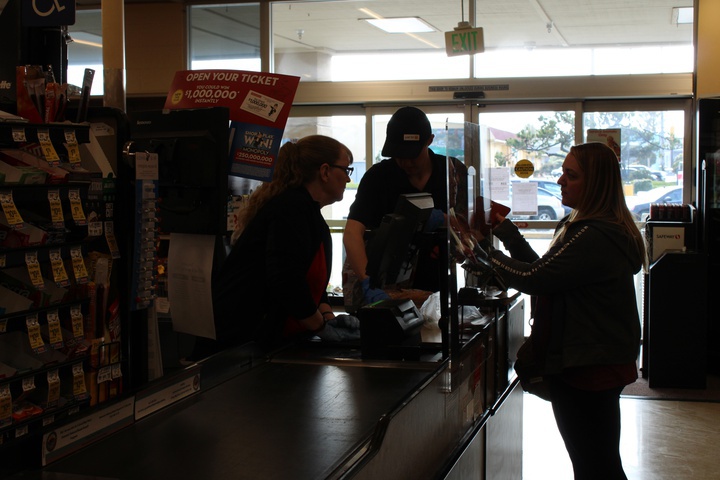 A Crescent City chiropractor says he will hold a protest next week, challenging social distancing measures local and state health officials say are slowing COVID-19 to a crawl in Del Norte County.
Asking the oft-repeated question if the "cure is worse than the disease," Dan Schultz, who operates Maitreya Healing Center, says he and others are going to "stand up and say whatever people want to say."
Schultz, receiving help from Del Norte County District 1 Supervisor Roger Gitlin, is organizing the protest for noon Tuesday on the sidewalk in front of the Del Norte County Fairgrounds.
Schultz, who's known as "Dr. Dan" to his clients, says he doesn't have a medical background. As a holistic chiropractor, "he looks at these things from a holistic standpoint," he said.
Schultz argues that tens of thousands of Americans die each year from the seasonal flu, greater than the country's current death rate from the novel coronavirus. A lockdown of most are currently experiencing has never happened before, he said, and will cause "hundreds of thousands of deaths" in the U.S. due to suicide.
"That's not a hypothetical. We know that's the case," Schultz told the Wild Rivers Outpost. "In the 2008 recession, there was a 25 percent increase in suicide. You can look in the newspaper, in Tennessee, suicides are outpacing the coronavirus. And that doesn't count the economic downturn. You can count on an extra 80,000 deaths due to drug abuse and 220,000 deaths due to lack of medical coverage. The cure is worse than the disease."
The local rally comes amid other protests in Lansing, Michigan, and Frankfort, Kentucky. In Michigan protesters became rowdy, with maskless people shouting "lock her up" in reference to Governor Gretchen Whitmer, who had issued aggressive social distancing measures about a month ago, the Washington Post reported.
Grand Rapids, Michigan's ABC 13 reported that the state has more than 30,000 positive cases of COVID-19 with a death toll of 2,200
In Kentucky, protestors also rallied in front of that state's capitol, urging the governor to "open up Kentucky," the Hill reported Wednesday. Kentucky has 2,210 confirmed COVID-19 cases and 115 deaths.
In the Golden State, there are 27,528 positive COVID-19 cases and 985 fatalities as of Thursday, the California Department of Public Health reported on Friday. The bulk of the cases are in Southern California and the Bay Area, according to the California Health and Human Services Open Data Portal.
On March 19, California Gov. Gavin Newsom issued a stay-at-home order to slow the spread of the novel coronavirus. In Del Norte County, schools had closed the week prior due to the virus and the Crescent City Council had shuttered the Fred Endert Municipal Swimming Pool and suspended city-sanctioned events.
A week following Newsom's order, Del Norte County Public Health Officer Dr. Warren Rehwaldt issued an order banning short-term stays at hotels, motels, vacation rentals and other lodging facilities catering to visitors.
Del Norte County has had two positive cases of COVID-19 so far, and both have recovered, according to the county Public Health Branch. This has prompted Gitlin to say Del Norte is COVID-free and to question whether lodging facilities and other businesses should remain closed if there aren't anymore active cases.
Along with the two recoveries, a total of 238 COVID-19 tests have been administered as of 5:02 p.m. Friday, the Public Health Branch reported. The test results for six are pending and 230 test results have turned up negative, according to the Public Health Branch.
"We don't have a problem," Gitlin told the Outpost, adding that he's waiting on figures from County Auditor Clint Schaad and Tax Collector Barbara Lopez. "Del Norte County is in a situation where it's hemorrhaging money, and we're not the only one hemorrhaging money. All 57 other counties are hemorrhaging money. It is not sustainable."
As local officials take their cue from Sacramento, Gitlin said, "tremendous economic damage" is being wrought. Activities that generate income have been cancelled, he said. Stores, restaurants and hotels aren't doing business, which is a loss in both transient occupancy tax and sales tax, Gitlin said.
Gitlin said he plans to propose a plan to his colleagues on the Del Norte County Board of Supervisors for gradually reopening Del Norte's hotels, motels and restaurants. A special supervisors meeting is planned for 10 a.m. Tuesday, but Gitlin said he'll ask for his proposal to be placed on the April 28 meeting for discussion.
"(If we) scaffold opening up to the tune of 15 percent every other week, every other week we open up another 15 percent on motels, another 15 percent on restaurants," he said, adding that the county had a TOT base of about $325,000 last year. "We'll continue with face masks and sanitizers and if, for any reasons, numbers begin to spike, any action can be suspended. But if we don't bring money into our county, we're dead."
Though community's two COVID-19 patients have recovered and more than 200 local tests are negative, Rehwaldt said Del Norte is "COVID-quiet," not "COVID-free." He said he has to assume for every active case health professionals identify there are at least 10 more they aren't aware of. It's also hard to know whether any unidentified cases are transmitting the virus to others, Rehwaldt told the Outpost on Friday.
However, he said, there haven't been more positive cases in the community because Del Norters are willing to stay home, maintain a safe distance from others, wash their hands and wear masks when they do have to go out. This has made treating the disease more manageable for Sutter Coast Hospital and other healthcare providers, Rehwaldt said.
"That's what flattening the curve is all about," Rehwaldt said. "If we had done nothing, not put any measures in place, thousands of people could have died in Del Norte County; across the state, hundreds of thousands, maybe a million."
Rehwaldt said he's currently trying to convince people that though having to self isolate and shelter in place is difficult, it's working.
Now, he said, public health officials are going to try to back away from the extreme measures that are currently in place and figure out whether gradually opening things back up will produce a COVID-19 case load that the local hospital can tolerate.
Though Rehwaldt sympathizes with the economic straits people are in — he said he wants the county to reopen too — there needs to be a "balancing out of this."
"People have to come to grips with the fact that going forward, we have to conduct ourselves differently as long as this virus is in the background," he said. "It will continue until we can get a vaccine that works."
As the state begins relaxing its stay-at-home guidelines, Rehwaldt said, it may look at rural counties with sparser populations and lower COVID-19 numbers differently than the Bay Area or Southern California. This could include allowing Del Norte and other rural communities more flexibility when it comes to deciding how to go about reopening businesses, he said.
This could include allowing inside dining to resume at local restaurants, resuming social gatherings and gradually increasing the occupancy at hotels while encouraging people to maintain a protective space around themselves, Rehwaldt said.
"There may be some modifications to social gatherings that would allow more people to congregate," he said. "But the common theme to all that is maintaining social distance as best you can, and in some instances people are going to be asked to wear masks going forward. A lot of businesses are doing that."
Gitlin said his target date for beginning the process of reopening motels, restaurants and other shuttered businesses is May 8. He said he'd start with offering motels a 15 percent maximum occupancy rate while allowing restaurants to serve at a capacity of about 15 percent while still offering take-out. Gitlin's goal is to have some coins coming into the county treasury.
"We have to do this gradually and we have to do it now," he said. "And to wait through the summer months, which is our prime season, I'd like to get this thing moving so by the time the summer quarter ends and we go into fall, we have maintained some semblance of a tax base."
Business in Del Norte County has to continue, Gitlin said, despite Newsom's orders.
"Again, nobody's getting sick here. Nobody's dying here, so what's the big hubbub about?" Gitlin asked. "What's the issue about why we shouldn't be opening up our county again? Wait for Sacramento to tell us what to do?"
Del Norte County's Office of Emergency Services must follow orders that come down from the state, its director, County Administrative Officer Jay Sarina told the Outpost on Friday. But, he said, as far as a plan for when businesses and other normal functions can reopen isn't up to the Office of Emergency Services.
"We will follow orders that come down from the state and from the public health officer," Sarina said.
Currently, Del Norte County is in the middle of developing its 2020-21 budget and is analyzing projected revenues, Sarina said. He said expenses and revenue will be affected by a decline in TOT and sales tax, but he won't know what those final numbers are until the analysis is finished.
However, Sarina noted, there's a finance section under the Office of Emergency Services and any costs, including staff over time and volunteer times is sent to the state and, ultimately, the Federal Emergency Management Agency, for potential reimbursement.
"I do expect that TOT will be down, but how much is not certain right now," Sarina told the Outpost.
On Tuesday, the Board of Supervisors is expected to discuss a previous order they approved to close Walker Road, which leads into Jedediah Smith Redwoods State Park. Sarina said the Board of Supervisors closed the road in response to a request from California State Parks, which operates a parking lot nearby.
"Their request was to close that road because of issues of people going into the parking lot and using that road to access into state parks," Sarina said, adding that he expects a robust discussion over that issue. "There's been a lot of discussion by the public, especially the local public, over restrictions, and the permanent gates that are going up may enter into the conversation too."
Sarina noted that the county is charged with protecting the public and is following the best available information from the experts.
"We're attempting to get into a position where the county can open up to business as usual," he said. "But the orders come from the state and they carry weight."
Schultz, however, disagrees with the officials. A small fraction of the population has been tested, he said. He noted that the Centers for Disease Control and Prevention recalled its first batch of tests. The "draconian measures" are harmful to the country, he said.
"We know that lockdowns like this have caused hundreds of thousands of deaths," Schultz said. "In the midst of all this we lose the ability to think it through. We lose our compassion. Do we not care if hundreds of thousands of deaths are caused by this lockdown? (There will) be tens of thousands if not hundreds of thousands bankruptcies for this. For something that doesn't have the mortality of our annual flu."
In March 11 interview with the Wild Rivers Outpost, Rehwaldt said while COVID-19 shares many characteristics with the seasonal flu and the populations most at risk of serious illness are similar, the chances of a healthy individual dying from the flu is a "fraction of a fraction of a percent."
COVID-19's reported death rate is from 1 to 3.5 percent, according to Rehwaldt. He also noted that no one's been vaccinated against the novel coronavirus, so no one has had a chance to build immunity.
The Del Norte County Board of Supervisors will meet at 10 a.m. Tuesday. The meeting will be streamed live on You Tube and will also be accessible via Zoom.
---
SHARE →