---
Jessica Cejnar / Wednesday, April 15 @ 6:43 p.m. / Community, Emergencies, Health
Siblings Turn COVID-19 Into 'Family Talk Show'; Del Norte's Two Confirmed Patients Have Recovered
---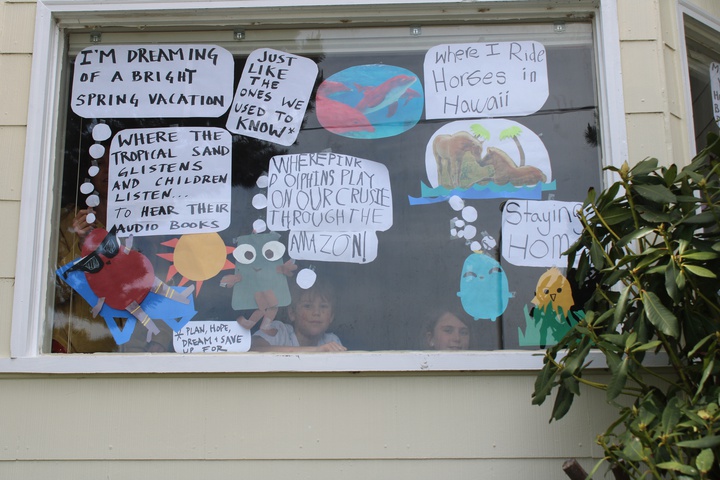 For Jack and Alma Smiley, not being in school grew old fast.
The 9 and 11-year-old Joe Hamilton Elementary School students would be on Spring Break now anyway. But the novel coronavirus sidelined plans to spend time with their dad in Davis, Jack told the Wild Rivers Outpost.
"It can be boring, but sometimes it's fun," Jack said of sheltering-in-place. "I wish it weren't happening."
Jack and Alma have been out of school since Del Norte Unified ordered its campuses closed on March 16 due to the COVID-19 pandemic.
Following the district's decision to shut down schools, Crescent City and Del Norte County officials declared states of emergencies. Governor Gavin Newsom issued a stay-at-home order on March 19. A week later, Del Norte Public Health Officer Dr. Warren Rehwaldt, issued an order banning short-term stays at hotels, motels, RV parks and vacation rentals.
Del Norte County saw its first confirmed COVID-19 case on April 2. Two days later a second patient was identified. However, according to Rehwaldt, those two are now recovered.
The first confirmed COVID-19 case in Del Norte County was identified on April 2 as a middle-aged man. The second confirmed case, identified on April 4, was an elderly woman who lived in Gasquet.
On Tuesday, though he said he had no news to report, Public Health Officer Dr. Warren Rehwaldt noted that there are currently no confirmed patients in the hospital and no deaths in Del Norte due to the novel coronavirus.
"The news may change, but for today, things are much the same as last week," Rehwaldt said in a letter to the community Tuesday.
Rehwaldt said shelter-in-place measures have tamped down the huge spike in COVID cases that was expected in California. Though the Los Angeles area had a tough time, he said, things weren't as serious as New York City.
"In Del Norte, we have seen this virus stall," he said. "We suspect that there are some cases going on, but that's OK. A trickle of cases is what we want."
A total of 190 COVID-19 tests have been administered in Del Norte County as of 4:54 p.m. Wednesday, according to the Public Health Branch. The results for one test is pending, while 187 are negative.
At the Smileys Crescent City home, making the best of a bad situation, Jack and Alma turned their living room window into The Yelims Family Talk Show featuring Meep and Eggy.
The main characters are Alma's creation, based on her drawings, their mother Julie Smiley said. The 11-year-old came up with the names too, and each day carries a different theme. Eggy, who hatched on Easter, was a major plot device, Julie said.
When it's time to come up with a new theme, Jack said, his mother asks him and his sister what they're thinking about.
For Julie, who works from home part time, having her youngsters out of school when they shouldn't be is a balancing act between having Jack and Alma be comfortable with new routines and not burdening them with details about the COVID-19 pandemic.
However, though her kids weren't in school, she said they initially began using online programs to continue learning. Once Del Norte Unified School District's distance learning program was available, Jack and Alma began using that, Julie said.
But the new program hasn't been without its glitches.
"Everybody's learning," Julie said. "The teachers are learning how to do it."
In his letter, Rehwaldt said social distancing, washing hands and staying home "stops this virus to almost nothing." Now, he said, the community needs to figure out how to live with the virus — how to open things back up — without it overwhelming the system.
A lack of supplies in the medical community also complicates opening up too soon, Rehwaldt said.
"If we relax too much too fast and we create a surge of cases, we have to be completely prepared," he said. "The communication has been good. The planning has been good. The medical community is coping, especially the hospital, but the steady stream of supplies we need is not there yet."
At the Smileys on Wednesday, Jack noted that there are a few benefits to sheltering-in-place. For one thing, no one is rushed to get to school, he said. He and his sister are learning new things, and they get to sleep in.
Plus, even Jack, at age 9, knows the COVID-19 pandemic is a big deal.
"Someone said 'At least you have something to say to your grandchildren,'" Jack said. "'I survived the coronavirus.'"
Documents
• Dr. Rehwaldt's April 14 letter to the community
---
SHARE →