---
Jessica Cejnar / Wednesday, April 15 @ 5:51 p.m.
Our Daily Bread Keeps Unsheltered Del Norters Fed, Protected, Informed During COVID-19 Emergency
---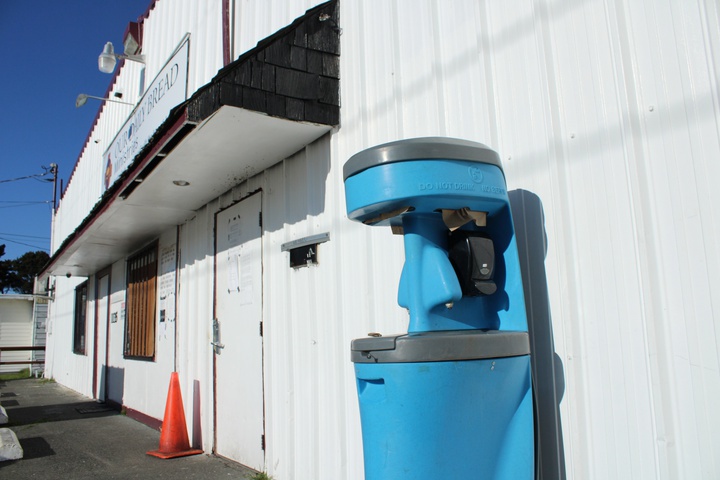 Though the pandemic has meant changes at Our Daily Bread Ministries, the faith-based organization continues to feed, clothe and provide resources to the unsheltered community.
Working alongside Daphne Lambert, founder of Del Norte Mission Possible, Our Daily Bread founder Mike Justice provides a hand-washing station, hand sanitizer, soap and other materials to those who are homeless. Both organizations are also providing face masks, Justice said.
"They're made by caring community members and we're still in need," he told the Wild Rivers Outpost on Friday. "The homeless are grateful for them."
Despite the COVID-19 emergency, Our Daily Bread still feeds people. Dinner may be meatloaf, mashed potatoes and gravy, Justice said. Or it may be something simple, say, biscuits and gravy, which could make a reappearance on a breakfast menu alongside scrambled eggs with cheese and bacon.
On Friday, Justice said he planned to cook 60 meals, expecting about 30 people to stop by. There is also free food on tables in front of the building so if someone is hungry, they can eat even if it's not mealtime.
Because of the pandemic, though, meals are now a grab-and-go affair.
"We prepare the meal in the kitchen," Justice said. "We load that up on to-go trays — we have a big 6 by 6 foot table. We open up at 5:30 and we try to get everything done in a half-hour."
Once the line of people have been served, leftovers are then available to anyone who wants them, Justice said.
"We give out a lot of food during the day," Justice said. "And it's seven days a week all the way until 8 o'clock at night. The free table stays loaded with food. It's a resource people know they can come and get."
Our Daily Bread also delivers food, Justice said. On Friday, he said he was going to bring food to a family of seven who was staying at Beachfront Park because their car had broken down.
"They have seven people sleeping in a Suburban at Beachfront Park," Justice said. "I take them food every time we serve."
Justice opened Our Daily Bread at 1135 Harrold Street in Crescent City about 15 years ago. Over the years, though it wasn't officially a shelter, in addition to offering dinner and breakfast, the organization would offer "all-night movies," providing a roof over people's heads when the weather was bad.
Lambert took charge for Our Daily Bread's life recovery classes and discipleship program, Justice said.
When he opened, Justice said, he envisioned an organization that would operate with community donations. That hasn't panned out, but by next year, thanks to Del Norte Mission
Possible, the Our Daily Bread building will be a 52-bed full-time rescue mission, Justice said.
What's currently needed are donations, Justice said. Our Daily Bread has received $1,600 so far this month, Justice said. With overhead costs of about $8,500 a month, Justice said the organization was "trimming the fat" where it could.
He said he and Lambert have gone without a salary. They purchased a smaller dumpster, lowering their $575 bill to $200 a month. According to Justice, any money Our Daily Bread receives is for its projects and programs.
"The misconception is Daily Bread's ship came in," he said. "I have absolutely no access to any of that money. The county ended up paying the dumpster and hand sanitizer bill for us too. That's $177 and then $160 a month for the hand sanitizer."
Del Norte Mission Possible provides some relief, Justice said, but Our Daily Bread is its own entity.
"We're privately funded, we do not get grants," he said.
In addition to providing food for the community, Justice said Our Daily Bread shares with Rural Human Services, the Del Norte Senior Center, Pacific Pantry and the Seventh Day Adventist Church's DORCAS Society.
Though Our Daily Bread is struggling, Justice said people are grateful for the service they provide.
"We cook with love and we say we care for you by the quality of the food," he said. "It's always been that way, but even more so now."
For more information about Our Daily Bread Ministries, or to donate, visit dailybreadcc.org.
---
SHARE →