---
John Ross Ferrara / Tuesday, April 14 @ 12:25 p.m. / Crime
Robbery Suspect Arrested, Found in Possession of Nitrous Oxide After Altercation at Crescent City Smoke Shop, Police Say
---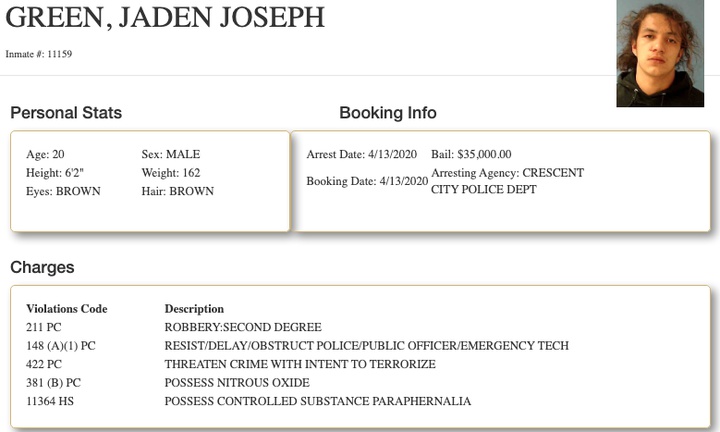 Crescent City Police Department:
On 04-13-2020 at about 2:30 p.m., CCPD was dispatched to the Smoke Shop, 450 Highway 101 North, for a report

of a theft. DNSO Deputies also assisted with the response. During the investigation CCPD Officers found that the suspect had became upset after a transaction was declined for a purchase. The suspect, Jaden Green age 20, had made a purchase earlier in the day at the Smoke Shop and returned to make another purchase before his credit card was declined. Green then allegedly made threats towards the store clerk and reached behind the counter to steal a box of merchandise. During the altercation the store clerk received a minor injury as she tried to prevent the theft.

Green was located a few feet away from the store behind the dumpster in the parking lot. Green was booked and held in the Del Norte County Jail for PC 422 Criminal Threats, PC 211 Robbery, PC 148(a)(1) Resisting a Peace Officer, and PC 381 Inhale Nitrous Oxide.

I would like to personally commend the quick response from the CCPD Officers and DNSO Deputies involved with this investigation. Their actions allowed for the suspect to be quickly taken into custody and for a quality investigation to be forwarded to the Del Norte County District Attorney's Office for review.
---
SHARE →