---
Jessica Cejnar / Friday, Oct. 25, 2019 @ 2:30 p.m. / Education
District Returned To Bargaining Table Unprepared To Negotiate, Teachers Union Says
---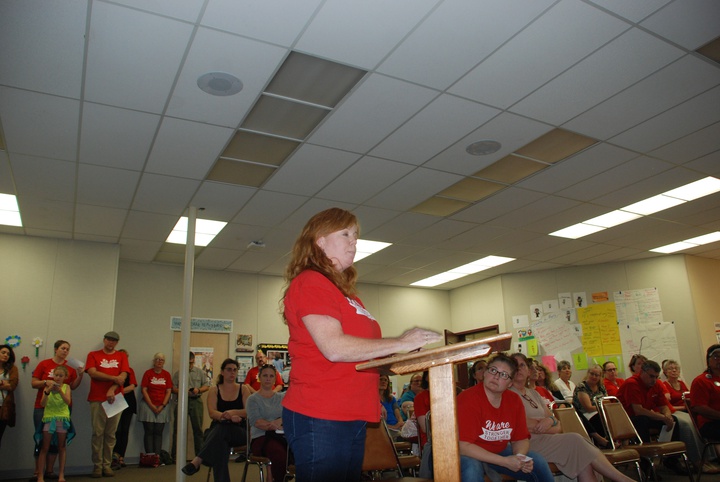 The lead negotiator for the Del Norte Teachers Association chastised school district administrators who, she said, returned to the bargaining table on Tuesday without notes and proposals from previous sessions or the means to access them.
Paige Thompson wasn't alone in berating the Del Norte Unified School District Board of Trustees on Thursday. Joined by parents and members of the district's classified staff, whose union will soon begin negotiating terms for its 2019-2020 contract with administrators, teachers again demanded a pay increase higher than the 1 percent DNUSD initially offered.
"The DNUSD bargaining team wanted to talk to us about some potential wiggle room that resulted from increased student enrollment and to find out if DNTA would like to craft contingency language with them so they can offer us a little more money," Thompson told Trustees. "DNTA is done talking with DNUSD about concepts. We're at a point in the bargaining sessions that written proposals must be exchanged."
Following a meeting that lasted more than three hours, prompted by public comments, the Board of Trustees went back into closed session to speak with the district's labor negotiators. The Board reported to the public about 40 minutes later that they had taken no action, according to DNTA President Marshall Jones.
According to Thompson, both parties will meet again to negotiate on Nov. 1. A fact-finding hearing is tentatively scheduled for Dec. 5 if teachers and district administrators don't find a resolution, she said.
"I hope you're serious and ready to work with us next Friday," she said. "The certificated staff's bargaining team is prepared to get the contract they want and deserve."
Thompson said she, and most certificated staff, had been happy when DNUSD Board President Frank Magarino said on Sept. 26 district negotiators would return to the bargaining table to "work for a resolution."
Up until that time, both parties had been at an impasse and had entered the fact finding stage in 2019-2020 contract negotiations. When bargaining began in the spring, teachers had asked for a 6 percent salary increase and a $1,000 increase to the health and welfare cap the district contributes. In August, DNTA representatives said they were willing to take a 1 percent pay raise if the district agreed to eliminate enough development days and adjunct hours to equal a 3.35 percent increase.
The district offered to either increase teacher pay by 1 percent or apply that 1 percent to the health and welfare cap. Administrators said an expected 3.26 percent cost of living adjustment wouldn't be enough to raise salaries further.
At a Sept. 12 meeting, Jeff Napier, the district's assistant superintendent of business, said the 3.26 percent COLA brings $586,000 to DNUSD, but it had already spent $550,800 of those dollars on teachers.
On Thursday, though neither Trustees nor administrators responded to teachers' comments, Michelle Branson, DNUSD's director of fiscal services, told the school board that the district would have experienced a deficit last fiscal year if it had stuck to its budget.
During Branson's presentation on what the district spent in 2018-19, Napier said DNUSD had budgeted more than $400,000 for new science text books, but didn't spend it.
According to Branson, about $1.4 million, or 3 percent, is in the district's reserve account for economic uncertainty.
"The 3 percent that we pulled out for reserves for economic uncertainty would not cover our payroll if we ran into a cash issue," she said.
According to Napier, the district only has enough in its reserves to pay its staff for 12 days.ssd
Meanwhile, Jones told Trustees the district pays its teachers 9.2 percent less than the state average. California raised its minimum wage for teachers 19 years ago to $34,000, Jones said. To keep pace with that Del Norte Unified's new teachers need a 27 percent raise, he said.
To the south, teachers at Northern Humboldt Unified School District have just settled for a fully-funded healthcare program, Jones said.
"Del Norte Unified is losing teachers to other school districts and will continue to do so," he said.
Lora Schultz, a counselor at Joe Hamilton Elementary School, read an email she sent to the School Board on Sept. 2. Noting that there are 30 students in two kindergarten classrooms at Joe Hamilton, Schultz said there appears to be a disconnect between Trustees and what's going on at the district's campuses.
One day when a teacher was out for the day, Schultz said, the school was unable to find a substitute. As a result, every teacher took on four to five additional students that day, she said. Schultz said she was concerned that Trustees weren't "getting the full picture of what's going on."
"Please connect with teachers and see what we're doing," she told Trustees. "To my knowledge, none of the current board members have been teachers. Could you do their job? Give staff the respect they deserve and instruct the district to settle their contract."
When he argued that teachers deserve a pay increase, Andrew Hooper, whose students go to Bess Maxwell Elementary School, spoke about how counselor Denise Robles handled a potentially dangerous situation during a lockdown the week before.
Students at that campus, along with others at Mary Peacock Elementary School, Castle Rock Charter School and Del Norte High School, were ordered to shelter in place after a student brandished a toy weapon at the high school on Oct. 15.
During that time, according to Hooper, Robles stopped another student at Bess Maxwell from opening a classroom door during the lockdown. Hooper urged district officials to investigate what happened at the elementary school during the lockdown and to offer public appreciation to Robles.
"He placed students lives in danger, not to mention my own children and every other student at Bess Maxwell during the lockdown," he said. "What Ms. Robles did was nothing short of heroic. She prevented a bad student from turning it into a much much worse situation."
---
SHARE →