---
Jessica Cejnar / Wednesday, Oct. 2, 2019 @ 7 a.m. / Community, Health
Residents Say Klamath Needs a Grocery Store, But Can The Community Support One?
---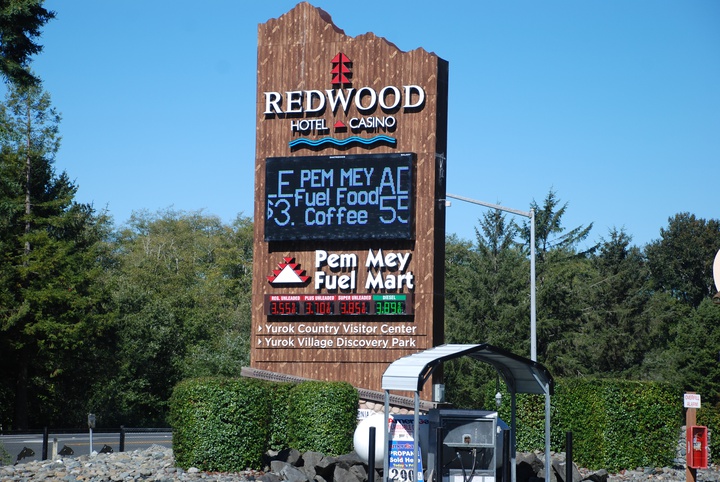 ###
Though the clock was ticking toward 11 a.m., Skylar Lambeth was still asleep.
On a drizzly June morning the week after school let out, Jeanette Lambeth thought she'd let her daughter sleep in. Skylar had just wrapped up the third-grade at Margaret Keating Elementary School despite multiple trips to the UCSF Benioff Children's Hospital.
Skylar has been battling multiple health challenges related to her digestive system since she was a baby, her mother said. Skylar had surgery at 3 or 4 for vesicoureteral reflux, a condition in which urine flows backward from the bladder. Five years ago Skylar began having problems with blockage in her intestines. Skylar's doctors were trying to avoid giving the 9-year-old a colostomy bag.
"Without laxatives daily, her digestive system doesn't work," Lambeth recently told the Wild Rivers Outpost. "We already tried different diets. We thought maybe she was lactose (-intolerant), but she's not. Her food doesn't have to be anything special because nothing helps her stomach. We have to just deal with the stuff as we go."
Lambeth has lived with her husband and two daughters at Redwood Grove Mobile Home Park in Klamath for six years. Because of Skylar's health issues, the family travels to UCSF every two to three months, staying at the Ronald McDonald House nearby. Jeanette Lambeth said her family wouldn't be able to travel so much if it weren't for her parents helping her.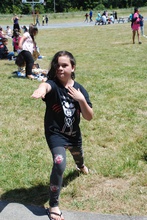 At home, to make their funds stretch and make sure her daughter eats healthy, the Lambeths have a strict budget. Lambeth shops at Grocery Outlet because that's the only place she can afford, unless she has coupons for Safeway.
They do have a car, a 2000 Nissan Quest. But Lambeth said she only trusts it to get to Crescent City and back.
"We can't take it to Eureka or to Medford to go to the other stores," she said, adding that most of the family's tax refund goes toward vehicle repairs. "When my van breaks down we have to go on the other side of the road and wave down the (Redwood Coast Transit). Hopefully they'll stop for us and that's how we get to town."
Like the Lambeths, most Klamath residents do their grocery shopping in Crescent City, traveling over two-lane U.S. 101, battling tourist traffic in the summer and toppled trees and landslides in the winter. In February a slide shut the road down for about 12 hours, cutting the community off from the rest of the county, including its supermarkets.
In a Wild Rivers Outpost survey entitled "Where do you get your food where you live in Klamath?" out of 30 respondents, 96.7 percent stated they traveled more than 15 miles to get their food. About 53.3 percent stated they spend about 1-2 hours getting their food or groceries.
Many Klamath residents hunt, garden, gather, fish and preserve the foodstuffs they acquire through canning or smoking. But many respondents to the Outpost's survey, recognized that some don't have the time, skills or a vehicle to do these things.
Klamath needs a farmers market, workshops on canning and gardening, and a grocery store that offers fresh food at affordable prices, they say.
"A lot of people run into town, but a lot of people don't have the means -- the transportation -- to go for real groceries," said Yurok Tribal member Ashley Powell
FEEDING KLAMATH

• DAY 1: 'A Piece of Your Spirit': Feeding Each Other in Yurok Country
• DAY 2: Residents Say Klamath Needs a Grocery Store, But Can the Community Support One?
• DAY 3: Of Floods and Fish: How Natural Forces and Cultural Conflict Shaped Klamath's Floodscape
• DAY 4: 'That's Just What We Learned': Klamath Residents Share How They Help Each Other in a Remote Community
If you live in Klamath, buying milk, bread, produce, toiletries and other supplies often means traveling to Safeway, Walmart or Grocery Outlet in Crescent City.
This wasn't always the case, said Brigette Norris. Norris, a former food programs coordinator for the Community Food Council of Del Norte and Adjacent Tribal Lands, lives in Yurok Tribal housing in Crescent City with her husband Hoppow and their children. But both she and her husband grew up in Klamath.
When she was a kid in the 1980s, Norris said, there were three grocery stores.
"There was a small but full-service grocery store, including a meat counter, in the Glen," she said. "It was called Blake's and it was owned by Ethel Blake. There was a grocery store in the townsite and Woodland Villa used to be more of an actual grocery store than it is now."
Back then, a diverse array of people called Klamath home and worked at the local lumber mill, Norris said. Everyone knew everyone else and the community was economically more prosperous, she said.
Now, when you ask a Klamath resident where to buy groceries in that community, they say Pem Mey, Norris told the Wild Rivers Outpost.
"That's not food," Norris told the Outpost. "That's processed food-like product with the occasional fresh banana or package of strawberries."
Last week, in addition to onions, apples and bananas, one could find heads of romaine lettuce and bags of fresh spinach at Pem Mey Fuel Mart, which is operated through the Yurok Economic Development Corporation. Store manager Troy Pruitt said he also stocks cheeses, deli meats, eggs, bacon and bread.
"The layout is salty snacks and soda, but we also have to be a different type of business here and cater to the locals 'cause we don't have a grocery store," Pruitt said, adding that Pem Mey serves those who receive help through the Supplemental Nutrition Assistance Program. "The problem that I face is my prices cannot compete with Safeway, and I cannot compete with Walmart. I'm a completely different type of vendor because I don't buy in mass quantity."
Because produce is highly perishable, Pruitt says he often has to throw a lot of it away. He noted that Safeway, Walmart and Grocery Outlet can purchase items in larger quantities than he can, which cuts down on their cost.
For Woodland Villa, which used to stock produce and had a selection of grocery items before deciding to open a restaurant, it's much the same struggle, Pruitt said.
"I'm not turning a high volume of grocery even though I do have it available to them through the winter," he said. "They'd rather go to Crescent City and buy it a lot cheaper."
Some opt for longer trips to Grants Pass or Eureka. In the Wild Rivers Outpost survey, Jennifer Castellanos said she leaves Del Norte County at least twice a month to stock up on groceries. After visiting multiple stores, her trunk, backseat and floors contain an array of products including toiletries, cleaning supplies and food.
"It's impossible to go to the store and just grab one thing," she said. "Not to mention when you check out the cashiers are stunned because it looks like enough supplies to supply an army, when really it'll last me maybe three weeks."
Norris noted that when she was a kid, each Klamath enclave had a market that was within walking distance for most residents. Now, many opt for WinCo in Eureka because the road south is more reliable. Norris said when her family was relying on SNAP benefits, the monthly trip to WinCo to stock up was worth it.
"You talk about how you make your food go further. That was one of the ways and I'm aware of several other families that do that with SNAP," she said. "Even families who live in Crescent City will cruise over to Medford, go to Winco there and bring back all this bulk food 'cause it'll last longer."
Amber and Michael Rodelander are in much the same boat as Castellanos. They travel to Eureka every four to five weeks, visit Winco, Costco and Cash and Carry, load up their Prius and drive back to their home in Klamath.
For Michael, a former mechanic who broke his back twice, has osteoporosis and bone spurs and is on disability, these shopping trips, which can take six hours, leave him exhausted for at least two days after.
After stocking up on meat, vegetables, toilet paper and other supplies for the month, the family car is packed.
"The kids can't even go help because we need that back seat," Amber Rodelander said.
Though Aristea Saulsbury didn't want to minimize the efforts of the Yurok Tribe and the Hoopa Valley Tribe to ensure its members have fresh produce, a mini-mart isn't enough, she said. Saulsbury, whose grandfather had a cabin near Johnsons on the Upper Yurok Reservation, is a discovery manager at Greenway Partners, an Arcata consulting firm the Hoopa Valley Tribe hired to develop and build a new supermarket when Ray's Food Place closed its Hoopa store in 2016. She began working with the Hoopa Valley Tribe in spring 2017. The tribe cut the ribbon on the new Hoopa Valley Shopping Center about two years later.
"Since the day Ray's closed, they knew they needed a store," Saulsbury said. "They went on a lot of reports that residents were having difficulty at the Ray's in Willow Creek. People were choosing to go all the way out to the coast. They wanted more options, they wanted to be treated respectfully. Once we got involved in the stakeholder process, we developed a working group and started chipping away."
The research phase took two to three months before the tribe moved forward on the formal design and construction of its shopping center, Saulsbury said.
According to Saulsbury, the Hoopa Valley Tribe owned the Ray's Food Place building and had hired a local contractor to take it down to the studs. It was a clean slate when Greenway Partners took the project over, she said.
While many residents felt the process took a long time, two years between the research phase and the grand opening of the new market was a quick turnaround, Saulsbury said.
One reason the project went from research and development to a grand opening so fast is because several players helped with the process, Saulsbury said. This included the local health clinic's board of directors, she said.
"I think those folks positioned themselves in strong places," Saulsbury said, of the health clinic. "They're coming out and saying, 'No, we need to have these things, so people who need to have access to healthy foods can have them and keep themselves healthy. (So) people with mobility issues don't have to take three buses and a whole day to get out to the coast.'"
Saulsbury said a major question she would have if she were researching whether a grocery store would work for Klamath is what is the community's appetite and what would motivate the decision-makers to get involved.
Klamath probably wouldn't have anything quite as large as Hoopa's supermarket because it's on U.S. 101, the main north-south route through the area, she said. Compared to Hoopa, Saulsbury noted, it's relatively simple to get from Klamath to Crescent City.
"It's important to make sure there's a unified vision first before you take any steps or devote any more resources" she said. "And if it's not a unified vision, who's willing to be the champion to carry it through?"
Susan Masten also remembers when Klamath had grocery stores that had meat counters and fresh produce. The townsite also had a cafe that served breakfast and lunch and a bakery.
Masten is one of the Yurok Tribe's founding members. She served on the five-member transition team appointed by the United States Secretary of the Interior to develop tribal resources and facilities and to create its first roll of members. Once the tribe was established, Masten was elected to the interim tribal council and, later, the tribal council. She's served twice as the Yurok Tribe's chairwoman.
Masten said she was on the tribal council when it was developing plans for Pem Mey.
Masten said when she was on the tribal council, it looked into food sovereignty. There was a community garden in Klamath Glen and an effort for a farmers market, but they didn't stick.
"We're not healthy because we don't have fruits and vegetables all the time," Masten said. "You can only buy so much and it goes bad. And coming to Crescent (City)'s a big deal because it takes a big chunk out of your day. It's cheaper to go to WinCo."
###
Jessica Cejnar reported this story as part of her University of Southern California Annenberg Center for Health Journalism 2019 California Fellowship. The Center's interim engagement editor, Danielle Fox, contributed engagement support to this article.
Do you have questions about what you just read or a personal story about this issue? Share your feedback here and reporter Jessica Cejnar will get back to you.
---
SHARE →