---
John Ross Ferrara / Tuesday, Oct. 15, 2019 @ 4:06 p.m. / Roads
(UPDATE) Two Bodies Recovered From Vehicle Found 60 Feet Down Highway 199 Embankment
---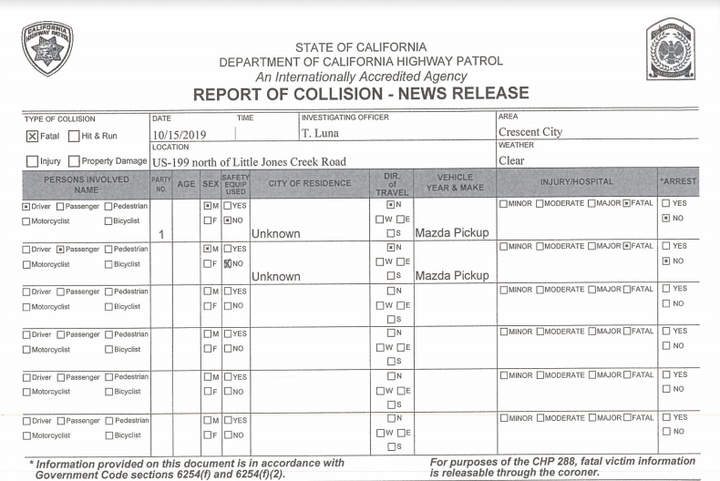 UPDATE, 4:40 p.m.:
CHP press release:
On 10/15/2019, at approximately 0840 hours, California Highway Patrol Dispatch received a call of a small pickup truck that was over the side and down an embankment.

CHP responded to the scene, along with emergency personnel from Gasquet Fire Department, Del Norte Search and Rescue, Caltrans - Idelwile, and Del Norte Ambulance. Preliminary investigation indicates the Mazda was traveling northbound US-199 at an unknown speed, north of Little Jone Creek Road.

For reasons still under investigation, it drifted to the right, ran off the road and impacted a tree. The male driver and male passenger suffered fatal injuries.

The investigation is on-going and at this time, it is unknown if drugs or alcohol were a factor.
###
Two bodies were found inside a vehicle that was spotted 60 feet down a ridge along Highway 199 in Del Norte County this morning.
California Highway Patrol Public Information Officer Brandy Gonzalez told the Outpost that a Caltrans worker discovered the vehicle after noticing a bent road maker about 2 miles east of the Patrick Creek Lodge.
Gonzalez said that the names of the victims will be released by the Del Norte County Sheriff's Office once next of kin have been notified.
The date and cause of the crash are unknown at this time.
---
SHARE →
---