---
Jessica Cejnar / Friday, Nov. 8, 2019 @ 2:25 p.m. / Infrastructure, Parks
Parks Close Mill Creek Trail Until 2021 To Make Way For Grove of Titans Elevated Walkway
---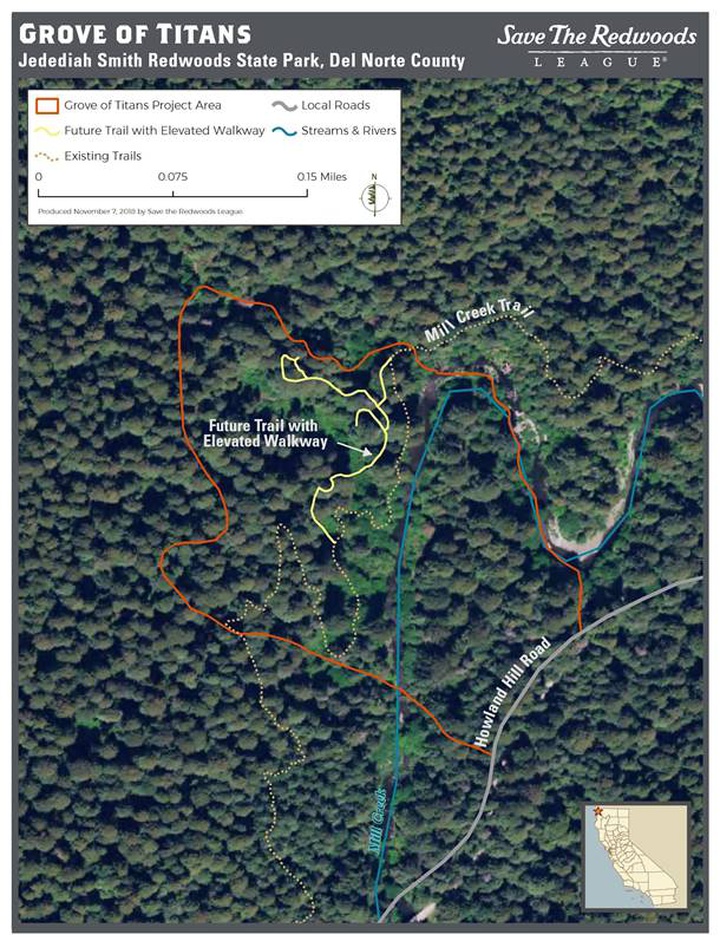 Construction crews Wednesday began working on a 1,300-foot-long elevated walkway that will allow people to experience the Grove of Titans without damaging the massive trees.
However, hikers will be denied access to the Mill Creek Trail from Howland Hill Road to the Smith River until the project is finished in about a year and a half, according to a press release from Save the Redwoods League, the Redwood Parks Conservancy, the National Park Service and California State Parks. Visitors violating the closure could receive a citation, according to the news release.
This $3.5 million project is through a partnership between California State Parks, Save the Redwoods League, the Redwood Parks Conservancy and the National Park Service. The project was first announced in November 2018,
Identified at Jedediah Smith Redwoods State Park in 1998, the Grove of Titans house some of the world's largest redwoods by volume. But after 20 years, visitors have created a network of social trails, destroying understory plants, compacting soil and inhibiting the trees' ability to take in water and nutrients through their roots, according to the release.
The unofficial trails also create soil erosion and runoff that affect streams that support coho salmon and steelhead, according to the release.
In addition to constructing the elevated walkway, removing the unofficial trails and restoring impacted areas, the project includes developing interpretive exhibits detailing the grove's history and the redwood ecosystem, according to the Redwood Parks Conservancy. Amenities, including restrooms, will be installed at the trailhead along Howland Hill Road. Officials will also conduct a visitor usage study, according to the conservancy.
Though the Mill Creek Trail will be closed, visitors can still access the Boy Scout Tree, Nickerson Ranch, Little Bald Hills and Stout Grove trails from Howland Hill Road.
For more information and to donate toward the project, visit SaveTheRedwoods.org/Titans or GroveofTitans.org. Donations can also be made by calling Save the Redwoods League at (415) 820-5800 or the Redwood Parks Conservancy at (707) 465-7329.
---
SHARE →