---
Jessica Cejnar / Wednesday, Nov. 27, 2019 @ 3:07 p.m. / Emergencies, Infrastructure, Local Government, Outages, Roads, Weather
Del Norte Weathers Bomb Cyclone Fallout; Crescent City May Have Experienced Record Low Pressure Point
---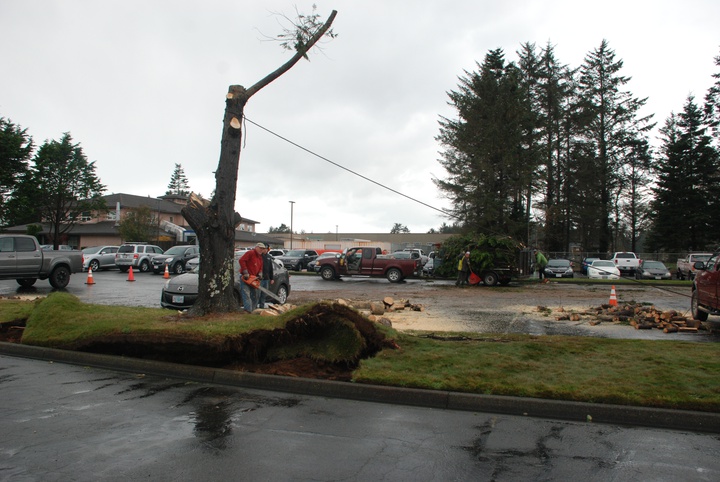 Del Norte County is cleaning up after an intense storm brought winds clocked at 69 mph at the airport and 72 mph at the harbor Tuesday.
The bomb cyclone — defined in meteorologic terms as a 24 millibar drop in barometric pressure within 24 hours — knocked down trees, power lines, blanketed the interior with snow and plunged up to 19,000 Pacific Power customers into darkness, utility spokesman Spencer Hall told the Wild Rivers Outpost on Wednesday.
As of about 3:30 p.m. Wednesday, Pacific Power crews were working to restore power to about 900 customers, Del Norte Emergency Services Manager Kymmie Scott told the Wild Rivers Outpost.
She said Pacific Power staff notified her office that they hope to have electricity restored to about 600 to 700 customers this evening. However some residents may still find themselves without power through Thursday afternoon, Scott said.
"They're scattered everywhere — people at the ends of distribution lines," Scott said. "(Pacific Power) is trying to do the greatest good for the greatest number of people. It's a good time to remind everybody — neighbors helping neighbors — invite friends over for hot coffee or a meal."
Del Norters are also invited to the annual Thanksgiving Dinner from noon-2 p.m. Thursday at the Del Norte County Fairgrounds in Crescent City, Scott said.
Tuesday's bomb cyclone may also be one for the record books, National Weather Service meteorologist Brad Charboneau told the Outpost. The barometric pressure in Crescent City dropped to a low of 973 millibars, he said. The meteorologist told the Outpost that his colleagues were still checking on Wednesday, but it may be the lowest pressure point of all time in the state of California.
Meteorologists use pressure as a general indicator of how strong overall a storm is, he said.
"This storm would be intense at any time of the year," Charboneau told the Outpost.
The National Weather Service winter storm warning was lifted for Del Norte County as of 2 p.m. Wednesday. However, further south and inland, snow is making for a difficult trip over Highways 299 and 36 to Interstate 5. Caltrans District 2 and the California Highway Patrol closed I-5 about 10 miles north of Redding due to snow, though Caltrans reported that it expects to open the interstate by mid to late afternoon Wednesday.
Caltrans has snow plows at work on routes 299 and 36 as well as U.S. 199 and 101.
Crescent City Fire & Rescue responded to more than 40 calls for service between about noon and 10 p.m. Tuesday, Crescent City Manager Eric Wier told the Outpost. Most of those were toppled power lines, trees in the road and "transformer issues," he said.
Due to wind-driven swells of about 35 feet Tuesday, Crescent City staff closed Howe Drive, Beachfront Park and the B Street Pier, Wier said. Waves were washing debris over Howe Drive, he said, and city staff wanted to make sure people stayed safe.
"Public Works as well as fire and police crews were extremely busy; we recognize their tremendous effort," he said. "Especially on the fire side with volunteers who came in and battled the storm. We had multiple calls come in right after the other."
Kymmie Scott said the Del Norte Office of Emergency Services activated its Emergency Operations Center at a level two Tuesday evening.
"It means bringing in our core team," she said. "We have our key players in there monitoring the situation, coordinating operations and putting public information out."
As of about 10 a.m., there were a few people without power and some without landline communication. Scott said she was also going to look at the amount of wind damage Del Norte County sustained.
"For the most part it looks like we are going to be in the clear here shortly," she said. "My only concern is if we don't get everybody back up tonight, it's supposed to be really cold."
The California Highway Patrol was also busy responding to traffic hazards on Tuesday. However, since the power outage, computers at the Crescent City office were down, CHP Officer Brandy Gonzalez told the Outpost.
Two incidents stand out, however, she said. One was a wreck at the junction of U.S. 199 and State Route 197 at about 12:30 p.m. Tuesday. One person was transported to Sutter Coast Hospital with minor injuries.
Another wreck, at Pebble Beach Drive and Washington Boulevard at about 8:40 p.m. Tuesday resulted in the arrest of the motorist who was suspected of driving under the influence. According to Gonzalez, though the road was closed, the driver went through the barricade and ended up involved in a collision. She said that person sustained major injuries, but they weren't life-threatening.
The road closure on Washington Boulevard between Dale Rupert Road near the Del Norte County Airport and Riverside Street is expected to be lifted by about 5 p.m., Community Development Director Heidi Kunstal told the Wild Rivers Outpost. Another closure, on Ocean View Drive due to a tree in the road near Peregrine Way, will also be lifted by about 5 p.m., Kunstal said.
County roads superintendent Jeff Daniels was in the field for all of Tuesday evening and most of the day Wednesday, Kunstal said. Daniels and his crew responded to 34 to 40 trees down across multiple county roads since the storm began, working in shifts throughout the night, Kunstal said.
"(Daniels) pointed out that our primary objective in situations like this is to open the road so vehicles can safely travel," Kunstal said, adding that crews will chip the tree debris from the roadsides at a later date. "We are planning for the cold weather tomorrow and anticipate to having to place sand on our mountain roads like South Fork Road to mitigate the ice and slick road surfaces."
Though waves took out the Citizens Dock sign and battered an equipment shed at the Crescent City Harbor, it didn't bring the amount of debris across Anchor Way staff were anticipating, Deputy Harbormaster Lane Tavasci said.
Staff and elected officials at the port were concerned that dredging material deposited near the groin by the U.S. Army Corps of Engineers would bring waves and debris onto Anchor Way, potentially damaging its public boat launch and cutting off access to the Coast Guard Cutter Dorado, stationed at the end of the road. However, Tavasci said, that isn't what happened.
"There was no debris coming over onto Anchor Way or into any of the parking lot areas," he told the Outpost. "There was a tree that was brought over the walls from the waves that wasn't there yesterday morning, but it looks pretty good. I was talking to the Army Corps (and) they said, 'That's how we thought it would go.'"
According to the National Weather Service, the forecast Wednesday evening calls for lows of 27 degrees. Thanksgiving Day is expected to be sunny with highs of 43 degrees. Evening temperatures on Thursday are expected to be as low as 25 degrees, according to the NWS.
Another episode of moderate rain and breezy southeast to east winds are forecast for over the weekend, Charboneau said. Travelers should be aware of potential rockslides, especially in the mountains. Higher elevations will also see gusty winds, he said.
"The storm is not going to be nearly as intense as the most recent one that we had," Charboneau said. "It's an interesting challenge. When we start the season off that strong, every storm from here on out will seem not as impressive."
The next round of precipitation could bring snow on summit passes, particularly on state routes 299 and 36, which are already digging out from 6 to 12 inches the bomb cyclone brought, Charboneau said.
---
SHARE →
---