---
Jessica Cejnar / Tuesday, July 30, 2019 @ 6:18 p.m. / Community
Get Ready For The Fair!
---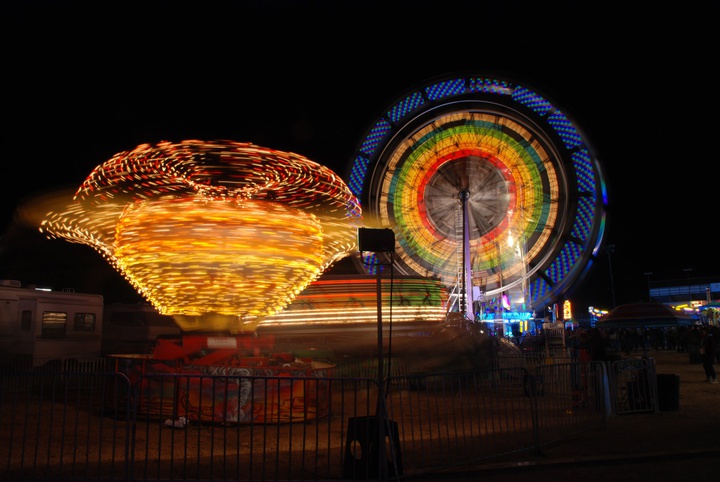 From concessionaires setting up funnel cake and kettle corn stands to rides sitting dormant in the parking lot, it doesn't take a genius to figure out the fair starts this week.
Judges were awarding ribbons to art entries on Tuesday. Other exhibits, including canned, quilted and knitted items were entered on Sunday. Del Norte County Fairgrounds CEO Kimberly Hatfield-Floyd said people were also excited about the fair's annual Amazing Race competition, but haven't been signing up.
"It's $100 for two people to join, but it's a fundraiser for FFA," Hatfield-Floyd said, referring to the Del Norte High School chapter of Future Farmers of America. "What this money helps them do (is travel) to all their competitions and things that they have during the year. They do a lot of stuff and what we're hoping to do is help them a little bit with those costs by putting on this really fun competition at the fair."
The Del Norte County Fair officially opens its gates with a ceremony at 10:45 a.m. Thursday. Highlights on opening day include Wool Busters Mutton Bustin', the Little Miss/Mr. Del Norte Pageant and a concert from Christian music artist, Coffey Anderson.
The Solid Rock Band will open for Coffey Anderson, Hatfield-Floyd said.
On Friday, the headliner will be Sugar Ray lead vocalist Mark McGrath, who has performed with artists including Smash Mouth and the Gin Blossoms. According to Hatfield-Floyd, local artist Camryn Ciara Ridgley will open for McGrath.
"She has moved to Nashville," Hatfield-Floyd said of Ridgley. "She's been doing very well there and so she's come back to perform at our local fair. It'll be a lot of fun."
One of the biggest changes at this year's fair, has to do with the rodeo. Hatfield-Floyd said competitors with Champions Bull Riding will enter the ring at about 4 p.m. Saturday.
Meanwhile locals will show off their speed in barrel riding competitions. There'll also be a calf scramble and mutton busting during the rodeo, Hatfield-Floyd said.
Camryn Ciara Ridgley will perform a second time at the rodeo dance in the fairgrounds' beer garden Saturday evening.
The Livestock Auction is one of the highlights of the fair's final day. Youngsters with the local 4H, FFA and Grange organizations will bring their steers, pigs, lambs, rabbits or goats before judges starting at 8 a.m. Thursday. Animals that reach market weight will be sold to the highest bidder during the auction at 1 p.m. Sunday.
Regulars attending the livestock auction will notice that chickens, ducks and turkeys will be absent this year. This is due to an outbreak of Newcastle disease in other parts of California, Hatfield-Floyd said. Youngsters that had planned a poultry project will give demonstrations from 11 a.m.-4 p.m. Friday in the rabbit barn instead, she said.
"They will be discussing items like Newcastle disease," Hatfield-Floyd said. "What it is, different ways of preventing the spreading of the disease. They'll be talking about projects. They're still a huge part of our fair family. We're giving them the opportunity to still participate in the fair and show what they've done with their projects."
Hatfield-Floyd said many fairs in California have opted to cancel their poultry shows due to the spread of Newcastle.
Though they won't be showing poultry at the fair, the Lake Earl Grange will hold a poultry auction on Aug. 18 at the grange in Fort Dick, Hatfield-Floyd said.
As for the Amazing Race, this scavenger hunt consists of teams of two people and seeks to give them a look at the fair they may have never seen, Hatfield-Floyd said.
"They could be a contestant, they could be a judge, they could work for the fair, they could be a spectator," she said. "We try and put them in every aspect of the fair. For people who have done it before, it's an absolute blast, and it really makes them aware of how much work it takes to put on a fair."
People can enter until Wednesday by visiting the fair office on U.S. 101 and paying the entry fee of $100. This gets them in to all three days of the fair even if they're disqualified from the race early, Hatfield-Floyd said.
There are also good prizes for taking part in the contest, including massages, horseback rides, gift certificates to Port o' Pints and Gordi Bros and dinners for two at Sporthaven Marina Bar and Grill in Brookings, she said.
For more information about the fair, including ticket prices and a schedule of events, visit www.dnfair.org.
---
SHARE →
---