---
Jessica Cejnar / Monday, July 29 @ 5:39 p.m. / Community
Wonder Stump Road Conflict Sparks Petition
---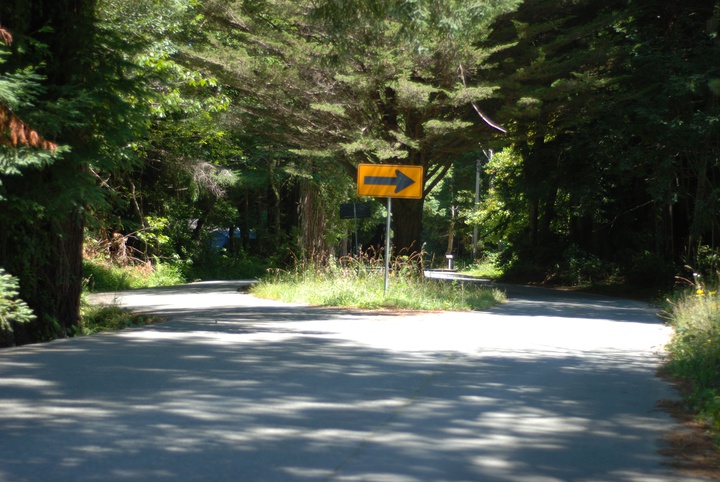 A Nevada man with ties to Del Norte has collected more than 1,200 signatures on a petition to the Board of Supervisors to leave Wonder Stump Road "the way it is."
Daniel Russ, of Reno, Nev., is aiming to get 1,500 people to sign his change.org petition. According to Wonder Stump Road resident Donna Eller, Russ started the petition at about 9 p.m. Friday and already has 1,265 signatures.
Eller created the Facebook page "Save Wonderstump" after residents received notices from the county requesting input about potential improvements on the road between Yonkers Bridge and U.S. 101. Though county officials say they haven't decided what improvements will be necessary, residents are worried they may damage a beloved tree tunnel of second-growth redwood trees.
Russ's petition describes the road and said a surveyor was observed marking trees "for removal" and when asked stated the road was being surveyed for "widening and other improvements."
"We the undersigned, realizing the historical, aesthetic and natural beauty of Del Norte County's Wonder Stump Road, wish that this road be left at its present width and condition, only being paved and maintained as necessary and little else. We do not agree to any widening of the road or removal of any islands or trees along the length of Wonder Stump Road," the petition states.
On Monday, Eller said Russ is part of the McKay family that has lived in the Crescent City and Fort Dick area for many years. An old postcard shows a member of the McKay family sitting on top of the Wonder Stump, Eller said. She said she has been communicating with Russ via Facebook.
"He came across my Facebook page one night and we were Facebook messaging and he offered to help me out," she said. "I had no idea where this was going."
Wonder Stump Road was once part of the Hobbs, Wall & Co. rail line that once brought people from Crescent City to Smith River and back for 75 cents, according to a May 4, 1891 flyer.
The road was named after the Wonder Stump, remnants of a tree that was growing on top of another tree that fell more than 1,000 years ago. The Wonder Stump, which had been logged before 1900, was a tourist attraction for more than 50 years, according to an Aug. 1, 2009 article in the Curry Coastal Pilot by Arwyn Rice.
"It wasn't the biggest, or carved into a house, and cars couldn't drive through it, but it was the most unusual," Rice wrote.
The tree was featured in advertising, Ripley's Believe It or Not and in National Geographic magazine, according to a newspaper clipping from the Del Norte County Historical Society.
In a July 22 letter to county residents, Community Development Director Heidi Kunstal said her department is working on a "planning-level document compiling community and stakeholder input" on potential improvements to Wonder Stump.
According to Kunstal's letter, Wonder Stump Road is not safe for workers to continue to maintain while allowing for motorist travel. Meanwhile, the "oversize one-lane road serving two-way traffic" hinders emergency vehicles and school buses.
Staff is assessing current conditions, including where the trees are located and will develop further plans by September or October, according to Kunstal. The county will hold public meetings in November or December, according to the letter.
Following a second set of public meetings, county staff will present a summary of the feedback it received to the Del Norte County Board of Supervisors in May or June 2020.
Despite Kunstal's letter, Wonder Stump Road residents were skeptical that the county had no intention of damaging the tree tunnel. Jim Coop, a 30-year Wonder Stump Road resident, told the Wild Rivers Outpost last week that he had spoken with a surveyor whose information contradicted assurances he had received from the county after staff had marked about 100 trees last year.
"I was interested in finding out if he was out surveying property lines," Coop said. "He said, 'N I'm out here to survey the road… for possible expansion.'"
So far, the Facebook group "Save Wonderstump" has 717 members.
As for Russ's petition, it's getting signatures from people from around the country, Eller said.
"They've come here on vacation or they used to live here and have since moved away," she said. "People have various reasons for signing it."
Before bringing the signed petition before the Board of Supervisors, Eller said she plans to circulate a petition among Wonder Stump Road residents and another for Del Norte County residents. She said she's hoping for a show of force at a future Board of Supervisors meeting.
"We'll have those petitions at the farmers market and at the Mailroom and at various places where people can sign them," she said. "There's a lot of passion to save the history here and the beauty."
---
SHARE →
---