---
Jessica Cejnar / Thursday, Aug. 8, 2019 @ 2:46 p.m. / Community, Local Government, Our Culture
Mayor Recaps Rikuzentakata Trip, Says NBC Sports Will Film in Crescent City Ahead of 2020 Olympics
---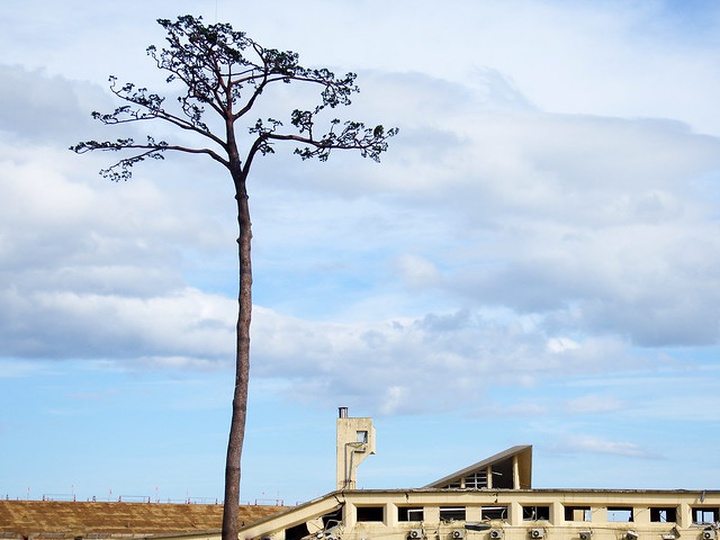 NBC Sports will visit Del Norte County twice as it prepares to spotlight the relationship between Crescent City and Rikuzentakata, Japan, at the 2020 Olympics.
The network will be in Crescent City Sept. 10 and 11 to film the area, Mayor Blake Inscore said. It will return in December along with a Rikuzentakata delegation of roughly 35 people, he said.
That delegation's visit is paid for by a $150,000 grant from the U.S. Embassy in Tokyo and would focus on creating conferences on purposeful inclusion in education and women empowerment, Inscore said.
According to Inscore, the proposed conferences stem from Rikuzentakata Mayor Futoshi Toba's vision of making the city more inclusive as it rebuilds after the 2011 Tohoku earthquake and tsunami. The Japanese city oversees education at the kindergarten through eighth-grade level, he said. Toba hopes teachers and others who work in education will learn from Del Norte County Unified School District's practice of including special needs students in mainstream classrooms, according to Inscore.
Inscore said Toba also envisions a city that fosters leadership roles for women.
"We're not the experts on that, but clearly women have opportunities just because of the way we are structured within our culture and society that may not be the case in a smaller community (like) Japan," Inscore said, pointing toward elected officials like his colleague, Heidi Kime, other government leaders like former county administrative officer, Jeannine Galatioto, and women succeeding in the private sector. "There are just so many levels to this that I don't think anybody could have dreamed about when the kids said 'Let's send the boat back.'"
The boat Inscore referred to is a 20-foot long fishing vessel named Kamome, which is Japanese for "seagull." It washed ashore on South Beach in 2013, two years after the tsunami. Once its origins were determined, local students cleaned the barnacles off and sent Kamome home to Takata High School, laying the foundations of a friendship.
That friendship grew into a sister school relationship between Del Norte High and Takata High and led to the sister city relationship Rikuzentakata, Crescent City and Del Norte County formalized in 2016. There have been several cultural exchanges since then, focusing on emergency and tsunami preparedness, education, and, most recently, the development of products that celebrate the friendship.
At a Crescent City Council meeting Monday, Baird Rumiano, of Rumiano Cheese Co., and Troy Duncan, of SeaQuake Brewing, recapped last month's trip to Rikuzentakata where they, and other local delegates, introduced a new beer, Kamome Ale.
"The people were so compassionate, so loving towards us complete strangers," Rumiano said, adding that he believes Rikuzentakata is halfway toward rebuilding their city after the disaster. "They have no word for no. No is not in their vocabulary. They use the word 'when' instead of 'no.'"
Duncan had a similar take on the recent trip. He said he initially didn't understand the relationship between the two communities, nor why he and other business leaders were going, but the trip was "absolutely amazing."
"I don't think our community understands what's going on and the job Mayor Inscore and Supervisor (Chris) Howard are doing with this community," Duncan said. "If NBC Sports says what they say they're going to do, good things are going to happen."
Howard echoed Rumiano and Duncan's statements and encouraged the City Council to let their mayor attend the U.S.-Japan Council's annual conference in Los Angeles in November.
"What's going to come of this relationship is going to be incredible," Howard said. "I want to emphasize that during a meeting with (U.S.) Embassy officials, they reflected how our relationship has developed into something more organic than they've seen with any sister city relationship since they've been following sister city relationships."
Inscore said U.S. Embassy officials in Tokyo encouraged him to attend the U.S.-Japan Council's annual conference. He said he's still trying to determine if representatives from the Embassy are committed to being at the conference. There is also a possibility that Toba will attend the conference, Inscore said.
Though the schedule for the conference is set, Inscore said his attendance would be about building relationships with the "movers and shakers" within the U.S.-Japan Council. In addition to the conference itself, Inscore said there would also be a series of networking dinners that would bring him into contact with council leaders.
"I hope I can make all those arrangements and US Embassy staff from Tokyo comes to help facilitate conversations at an even deeper level," he said.
As for his most recent visit to Rikuzentakata, Inscore said it was important for local business leaders like Rumiano and Duncan to see a community that has rebuilt much of its infrastructure, including streets, sewer and water lines.
Inscore said it was his impression that the business leaders respected the sister city relationship and the effort it took to establish, but viewed it with an inherent amount of skepticism because they weren't part of the story yet.
"These are people who had done things at my request or at Chris (Howard's) request when we had delegations visit," Inscore said. "They had been supportive at a distance. The game changer in all of this is when NBC got wind of the whole story and started asking questions."
The network accompanied the Crescent City delegation on its most recent trip to Rikuzentakata, Inscore said. The 2020 Summer Olympics will be held in Tokyo starting July 24.
---
SHARE →
---