---
Jessica Cejnar Andrews / Thursday, Sept. 7 @ 5:12 p.m. / Community, Emergencies, Fire
Red Cross Shelter Stands Down; Pac Power Says Transmission Lines Will Be Fixed Soon
---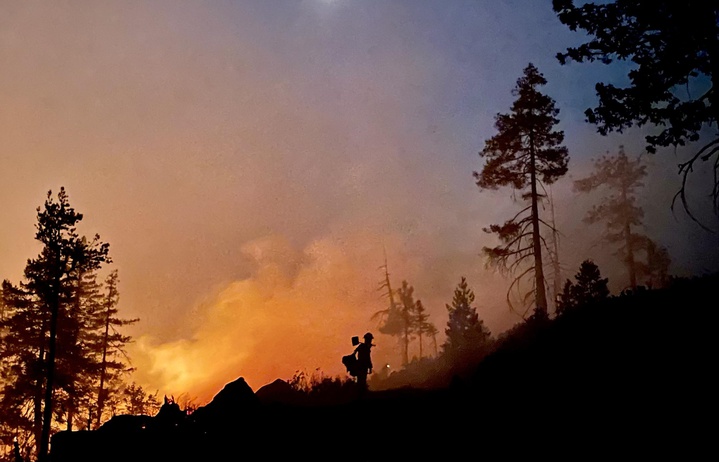 A week after Gasquet residents were able to return to their homes, the American Red Cross has closed its shelter at the Del Norte County Fairgrounds.
Meanwhile, a Pacific Power spokesman says the the utility hopes to restore electricity to Del Norte County through its transmission lines by early next week, though there is no firm timetable at this point,
"During the switchover from the generators that are currently providing power, customers should expect a brief outage while the necessary connections are re-established," Simon Gutierrez, the utility's communications director, told the Wild Rivers Outpost via email on Wednesday. "These outages should only last one to two hours and customers will be notified ahead of time."
More than 2,500 firefighters are making progress on the Smith River Complex wildfires, which were sparked by lightning on the Smith River National Recreation Area on Aug. 15. The fire has been mapped at 85,543 acres as of Thursday morning and is 19 percent contained.
In Oregon, roughly 850 firefighters focused on halting the spread of the fire near O'Brien and Takilma. On Thursday, command of the northern part of the fires transferred from Northwest Incident Management Team 13 to the Alaska Incident Management Team.
In California, Southwest Area Incident Management Team 2 assumed command of the Smith River Complex last week.
At a community meeting Friday, Del Norte County Sheriff Garrett Scott said that while there were no fatalities or injuries that he knew of, the fire damaged roughly 11 to 12 structures. This included two "official residences," he said.
Most structures were off-grid homes, including small cabins and RVs, according to the sheriff.
Pacific Power's transmission line was also damaged in several locations, Gutierrez told the Outpost on Wednesday. Crews were able to inspect most of the transmission corridor either from the ground or by air, he said, and are in the process of making repairs.
During the power outage, the utility deployed 81 commercial-size generators in Del Norte. In the Patrick Creek area, residential generators provided electricity to about 15 customers, Gutierrez said. Five have yet to request a generator or make arrangements for them to be installed.
The generators use about 47,000 gallons every 24 hours, Gutierrez said.
"The current effort to provide power to Del Norte County using generators is unprecedented in the company's history," he said. "We have communicated to customers that they can resume normal electricity use and should feel comfortable using higher energy devices."
On Saturday, after consulting with both incident management teams, Caltrans and the California Highway Patrol reopened U.S. 199 to all traffic, escorting motorists between Patrick Creek and Oregon Mountain Road. The CHP also reminded folks that despite the weather, the fire was still active and unpredictable and future highway closures would be possible.
On Tuesday, Del Norte County Sheriff Garrett Scott lifted the Level 1 "Be Ready" evacuation order for Hiouchi. Level 2 "Be Set" evacuation orders remain for Gasquet, Little Jones and Washington Flat, Big Flat and Rock Creek and the Sun Star community as of Thursday.
Donna Davis, assistant director for external relations for the American Red Cross's response to the Smith River Complex, said the agency closed its shelter at the fairgrounds as of 10 a.m. Thursday because most people were returning to their homes.
"The really good news out of that whole thing is most everybody still had homes to go back to," Davis told the Outpost. "And for those that had issues, we worked hard with them to come up with alternate solutions, but I'm thinking just about 100 percent were able to go back to their previous locations."
More than 267 residents sought shelter through the American Red Cross, according to a Disaster Current Operations Report the organization issued Monday. A total of 105 disaster workers responded, providing 6,608 meals and snacks as well as 150 relief items including comfort kits and other supplies.
Twelve volunteers provided healthcare and mental health support and spiritual care, according to the report.
A total of 105 Red Cross volunteers came from across the country to help Del Norters who were forced to leave their homes ahead of the wildfire, according to a report the organization issued Monday. Davis herself is from Upstate New York.
Now that the larger operation at the fairgrounds is standing down, shelter workers will be allowed to go home, Davis said. A smaller crew will work to "tie up loose ends" before turning the response back over to the local Red Cross chapter by Tuesday, she said.
"We do our absolute best with any response to leave the local region in better shape than we found it — not that it was in bad shape," Davis said. "For instance, if we had any people that were volunteers, if we can get them to convert into regular volunteers or continuing on volunteering, that's a good thing because we're always looking for volunteers."


---
SHARE →