---
Jessica Cejnar Andrews / Friday, Sept. 29 @ 12:09 p.m. / Community, Fire
'We Will Buckle Up, Grab Some Shovels and Start Over'; Sustainable EcoVillage Founder Starts GoFundMe, Plans Post-Fire Revival
---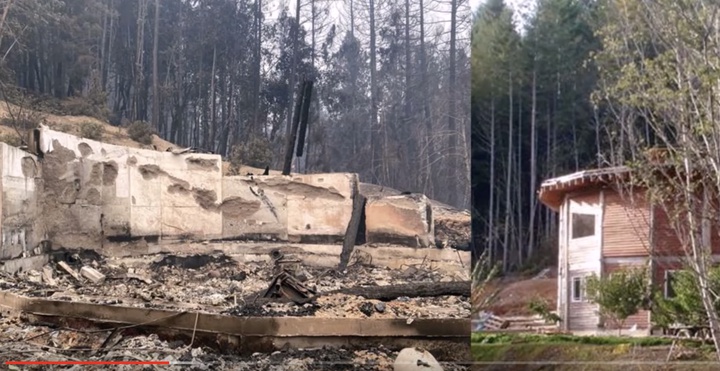 Dan Schultz was driving two interns into Crescent City when the Kelly Fire took the intentional community he founded in the Siskiyou Mountains about 15 years ago.
Four people evacuated, he said, but when they tried to go back for their animals, the entrance was engulfed in flames. They tried again the next day, taking the back way through French Hill Road.
"The fire had burned down onto our driveway," Schultz told the Wild Rivers Outpost on Monday. "We got up and saved our dogs. We weren't able to get our goats at the time. The next time we tried to come up to get the goats, there was a wall of flame between us."
That was Aug. 18, three days after lightning ignited 11 fires in the Six Rivers National Forest's Gasquet Ranger District.
Those fires would form the Smith River Complex, which would shut down U.S. 199, prompt Pacific Power to de-energize its transmission corridor, plunging Del Norte County into a five-day blackout, and force evacuations on both sides of the California-Oregon border.
Schultz said he didn't have access to his property for 10 days. When he, his girlfriend and their interns returned, he said they found that nearly everything "on top of our mountain" was gone.
This included their 2,700 square-foot Chrysanthemum Lodge, their Hygge Dining Hall and Bathhouse, their fairy cabin, A-frame cabin and storage pavilion.
They also lost some animals, but not the goats.
"Goats are pretty crafty," he said. "They were eating out of the gardens, which is their dream come true."
Still, Schultz said, he was initially depressed by what he found.
"I just wasn't going to continue the project of sustainable living there," he said. "My girlfriend in the next few days, and a friend of mine, slapped me in the face a couple of times and reminded me of what it is we've done, and a lot of it's still there."
Schultz started the GoFundMe campaign, Sustainable EcoVillage Revival about a month ago. With "enough good people" wanting to see the self-sufficient eco community continue, Schultz says "we will buckle up, grab some shovels and start over."
So far, Schultz has raised $11,178 out of an overall goal of $100,000.
Schultz, a chiropractor from Crescent City, founded the Maitreya Mountain Village about 15 years ago. Before the fire had swept through, the property, which Schultz now calls Sustainable EcoVillage, had accepted interns WWOOFers and provided stays in its Rustic Remote Treehouse, Earthship Solarium, Half Moon Cozy Cabin, Underground Hobbit Hole and A-Frame Rustic Cabin via Airbnb.
In March 2021, SF Gate Travel Editor Freda Moon wrote about the underground hobbit hole nestled deep in Del Norte County. Moon quoted Schultz as saying the 260 square foot rebar-and-concrete underground structure could provide shelter during a wildfire.
It, the treehouse and half-moon cabin are a few of the structures that survived the Kelly Fire, Schultz told the Outpost.
The fire also spared the community's tile mosaics, the root cellar, "Dave's lawn chair" and "Mario's wood chips and picnic table," Schultz said in a video he included on his GoFundMe page.
"This reminds me of, Robin Williams, the movie 'The World According to Garp' when they're looking at a home to buy, him and his wife, and an airplane crashes right into his home," Schultz said. "Our place has been pre-disastered. There was 100 years of fuel built up. It's been 100 years since the last fire and we survived that. We worried about fire every single year. We'll never have to worry about that again. In some ways, this is the best thing that could happen."
According to Schultz, the Slater Fire got within six to seven miles of his property back in 2020. The Biscuit Fire in 2002 came up U.S. 199 from Oregon, but didn't touch the Sustainable EcoVillage, he said.
The Smith River Complex is currently mapped at 94,606 acres and is 85 percent contained, the Six Rivers National Forest posted on Friday. Evacuations were recently lifted, Del Norte County Sheriff Garrett Scott told the Outpost on Thursday.
Six Rivers also announced Tuesday that it had established its burned area emergency response (BAER) team to identify post-wildfire threats to human life and property.
At the Sustainable EcoVillage, Schultz says they're putting one step in front of the other to rebuild. There aren't any grand plans, but the community needs a kitchen and a place to gather, he said, so that's a first goal.
People are also welcome to lend a hand, Schultz said. A few have already arrived, staying in the cabins that have survived or tenting on the property. There's also a wishlist on the eco village's website and Schultz says people can text him at (707) 954-7743 or email him at positivelydanschultz@gmail.com if they have anything else they think the community can use.
"If they've got some extra stuff in their garage that might end up at a landfill or garage sale, donate it to us," he said.
---
SHARE →