---
Jessica Cejnar Andrews / Thursday, Sept. 21 @ 4:42 p.m. / Emergencies, Fire
Del Norters Affected By Smith River Complex Shielded From Insurance Cancellations; Fire Highlights Local Concern Regarding California's Insurance Crisis
---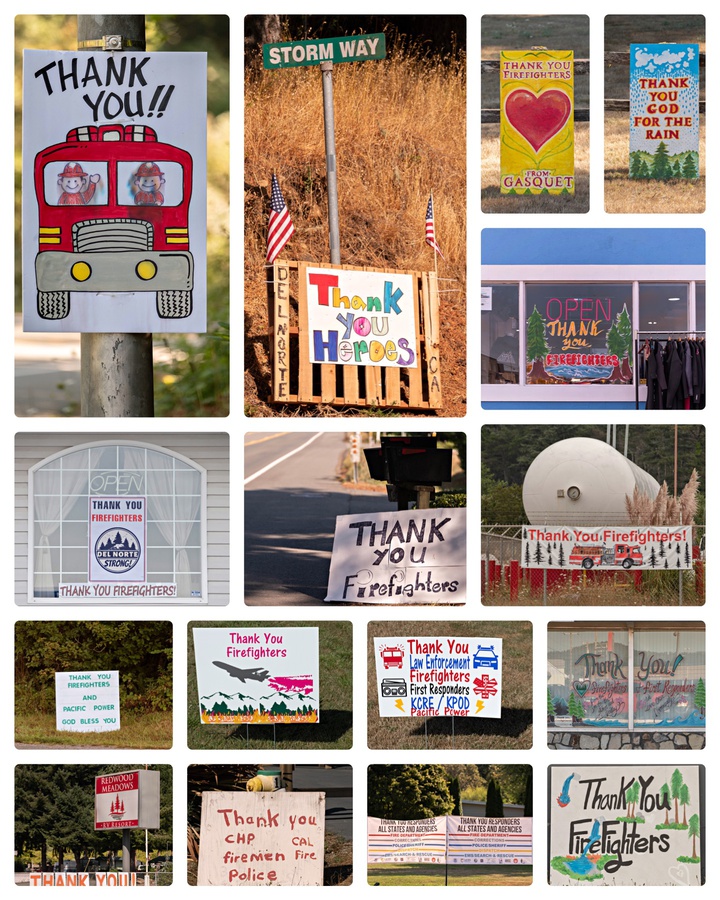 Del Norters recovering from the Smith River Complex wildfires will keep their homeowners insurance for at least a year, California's insurance commissioner announced last week.
This reprieve protects more than 15,000 policyholders living within the "adjoining ZIP codes" of the Smith River Complex as well as the Happy Camp Complex in nearby Siskiyou County, according to a Sept. 14 news release from Insurance Commissioner Ricardo Lara's office.
That protection will keep insurance companies from canceling their policies for one year from Aug. 29, the day Gov. Gavin Newsom's emergency declaration took effect, according to the news release.
This is good news for residents living within Del Norte County Supervisor Chris Howard's district, many of whom were forced to evacuate their homes. According to Howard, the ZIP codes affected include those in Gasquet, Smith River, Hiouchi and Klamath.
Still, Howard told his colleagues last week, insurance companies are underfunded and Del Norte County homeowners rely heavily on the California FAIR Plan, a syndicated insurance pool comprised of companies licensed to do business in the state.
"We are seeing lots of our constituents being turned down these days so they're forced to the FAIR Plan," Howard said during his Board report at supervisors' Sept. 12 meeting. "The FAIR Plan is very underfunded to the tune of $1 billion-plus right now and the state legislature for years now has been unwilling to address these issues with insurance companies."
Howard said he hoped state lawmakers would have come up with a fix on Monday, but that didn't happen.
"It is highly unlikely that anything will be done at this point for the remainder of the session and this can will be kicked down the road to next year," he said. "That leaves us in a bad situation, especially for our residents."
California's insurance commissioner has had the ability to keep companies from cancelling or declining to renew homeowner's insurance policies as a result of a state law Lara authored as a state senator in 2018.
The law not only protects those living within or adjacent to a wildfire emergency whether they suffer a loss or not. Homeowners who suffered a total property loss have up to 24 months of protection from non-renewal or insurance cancellation. For more information about what ZIP Codes are affected, click here.
Wildfires during in 2017 and 2018 had wiped out decades of profit in the state's insurance market and companies had been refusing to renew policies for "tens of thousands of customers," CalMatters reported in a Sept. 14 article.
In May, California's largest home insurer, State Farm, announced it would stop selling new policies in the state. Allstate, another major provider, stopped selling new policies in California months prior to State Farm's decision, and Farmers Insurance began limiting its offerings in July, CalMatters reported.
Yana Valachovic, county director for the U.C. Cooperative Extension in Humboldt and Del Norte counties, said she fears that the state's insurance crisis will have to worsen before people have the political will to come up with a solution. She pointed to California's Proposition 103, which in 1988 made insurance companies seek prior approval from the state Department of Insurance before setting rates.
"The question is really the interpretation of Proposition 103, which says you can't look forward to cast (insurance) rates," Valachovic told Del Norte County supervisors. "You have to look back at historical averages. Insurance companies want the ability to forecast forward and be able to evaluate risk in a more nuanced way and they're (strong-arming) California to play in that space."
Valachovic told supervisors she also questioned the solvency of the FAIR Plan. She estimated that it would take a period of intense wind and a wildfire storm to force the crisis in California.
"Rural communities are incredibly vulnerable," she said. "Especially those with forested landscapes because we perceive that forests are really what's driving the (wildfire) equation, which it's not. It's really about how we build our homes, how we maintain our homes and the fuels that are adjacent to our homes, more so than the condition in the wild land."
According to Valachovic, the FAIR Plan offers discounts for homeowners that have met certain standards including having a roof in good repair, having double-paned windows and being part of a Firewise community.
"We should start to see those get approved from each of the other insurance carriers in the coming six months or so," she said. "So we might see a little relief on costs coming."
David Powell, president-elect for the Del Norte Association of Realtors, referred to the FAIR Plan as Obamacare for home insurance. He said one of his vacation rentals has insurance through the FAIR Plan. However, if insurance companies stop writing policies for that program, it may not get funded anymore.
Powell said sometimes insurance rates are so high it decreases what people can afford for mortgage payments. If they have the FAIR Plan — which is "not very good and very expensive," Powell said — sometimes that's enough to push them over the edge and affect their ability to close on a transaction. Though he hasn't had that experience yet with his clients, Powell said there's been a few close calls.
"I had one just recently. They were finally able to (get insurance), but they would have lost that sale if they couldn't come up with something," he said. "We're telling our people nowadays, you need to get on the insurance thing right away. It used to be a slam dunk. But it'll get worse before it gets better."
The Smith River Complex started as a result of lightning strikes at the Six Rivers National Forest on Aug. 15. Out of 27 confirmed fires forestwide, 12 were within the Gasquet Ranger District in Del Norte County.
Two single homes and three minor structures were destroyed as a result of the wildfires, according to Derek Tisinger, public information officer for California Incident Management Team 4. One home and one minor structure sustained damage, though Tisinger said those numbers will fluctuate as more information is available.
The Smith River Complex has been mapped at 93,559 acres as of Wednesday and is 76 percent contained. Currently, 1,475 personnel have been assigned to the Smith River Complex.
---
SHARE →