---
Jessica Cejnar Andrews / Thursday, Nov. 2 @ 10:28 a.m. / Weather
Flash Flood Watch Issued for Del Norte Interior; Debris Flow In Burn Areas Could Impact Water Quality in the Smith River
---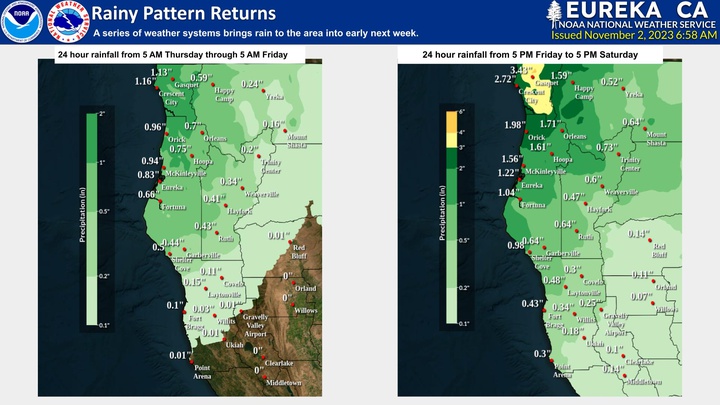 A "weak atmospheric river" has prompted National Weather Service forecasters to issue a flash food watch for the Del Norte interior.
The system is expected to bring 2 inches of rain across Del Norte County with up to 4 inches on western facing ridge slopes and mountains, NWS meteorologist Jonathan Garner said. The flash flood watch will be in effect from 6 p.m. Friday through 5 p.m. Saturday.
According to Garner, the system could cause debris flow across the Smith River Complex burn scar, though there's no warning in effect yet. The storm system itself is typical for the season with the bulk of the precipitation targeted at Southwest Oregon and Northwest California, he said.
Meanwhile, Del Norte County Public Health is warning that the rain could lead to erosion and increased turbidity in the Smith River and its tributaries. The California Division of Drinking Water is warning residents who get their water from the river or its tributaries to ensure their water tanks are full before the rain starts and to conserve water.
Residents are also urged to have extra cartridge filters to replace dirty filters and to check chlorine level and equipment if they're on a chlorine water treatment system. If odor or cloudy water is observed, residents should check the filter or equipment and potentially backwash their water treatment system.
For more information, call the Environmental Health Division at (707) 465-0426 or email environmental-health@co.del-norte.ca.us.
---
SHARE →