---
Jessica Cejnar Andrews / Tuesday, Nov. 14 @ 10:35 a.m.
Curry County Search & Rescue Bring 56-year-old Brookings Resident, Pup to Safety
---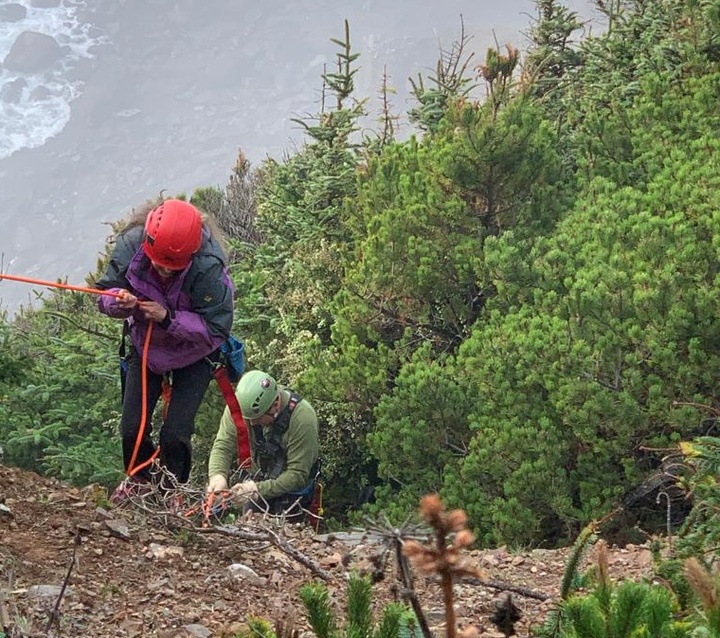 From Curry County Sheriff John Ward:
Monday, November 13, 2023, at about 1:12pm, the Brookings Police Dispatch transferred a 911 call to the Curry County Sheriff's Office Dispatch, from fifty-six-year-old Jody Thibodo of Brookings. Thibodo reported that she had been hiking on a trail with her dog, and she and her dog, Electra, had slipped off the trail, was stuck about thirty feet down a steep embankment and needed help. Thibodo was not familiar with the area and was unsure where her vehicle was parked.

The Sheriff's Office Dispatch, Sergeant Synthia Westerman, was able to get a coordinate of Thibodo's location from the 911 call and paged out the Curry County Search and Rescue rope team. Sheriff's Patrol Deputies responded to the area and located Thibodo's vehicle at House Rock Viewpoint about five miles north of Brookings. With the assistance of the deputies, SAR members, Art Tarin, Craig Rasbury, Jennifer Stansell, Mike Merica, Joe Kolp, Dirk Van Zante and SAR Manager Jesse Fletcher arrived and set up a plan for the rescue. SAR members located Thibodo and her dog off the trail just less than a mile north of House Rock Viewpoint. The SAR team was able to rappel down to Thibodo and her dog, Electra, put harnesses on them and bring them both back to the trail where they were escorted back to Thibodo's vehicle.

We have an incredible SAR team who stop what they are doing when they get a SAR call and respond to help. They do this "So That Others May Live".
---
SHARE →