---
Jessica Cejnar Andrews / Monday, May 8 @ 4:22 p.m.
Volunteers Keep Feeding The Hungry At St. Tim's, Despite Brookings Abatement Notice
---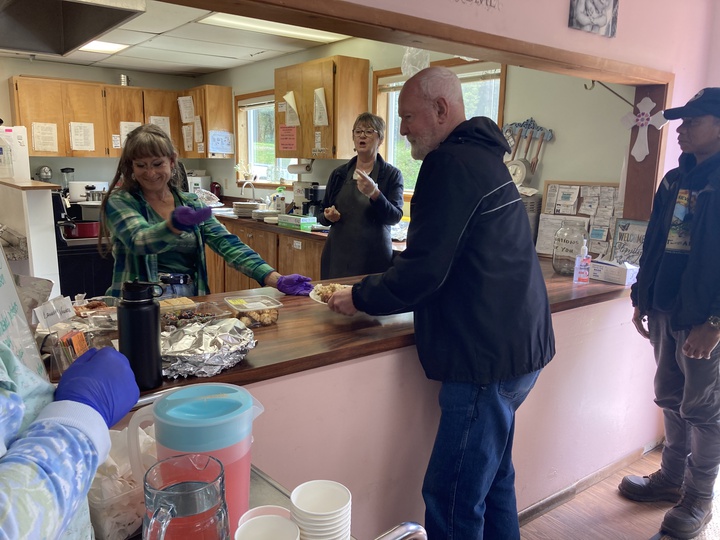 Previously:
• Brookings Serves Abatement Notice to St. Timothy's, Stating Public Safety Problems Remain
• St. Timothy's Episcopal Church Files Federal Suit Against the City of Brookings in Response to Ordinance Limiting Meal Services for the Hungry
###
Jan Smith contemplated the mountain of shredded cabbage and carrots before her, a jar of avocado-oil mayo in her hand, Caesar dressing and lemon pepper at her elbow.
Tasked with making the coleslaw, Smith, a volunteer with the Smith River United Methodist Church, offered a bite to her colleague, Kelley Nolan, who was boiling water for mashed potatoes.
"I would keep eating it," Nolan said, chewing thoughtfully.
Nolan, Smith, Charlene Martin and other volunteers from Smith River United Methodist Church fed the hungry at St. Timothy Episcopal Church in Brookings on Monday. With baked chicken, rice, two kinds of gravy and dessert rounding out the menu, people began gathering around the kitchen a half-hour before lunchtime.
About three weeks earlier Brookings had issued an abatement notice to St. Timothy threatening $720-per-day fines for operating a "benevolent meal service" without a conditional use permit. The city contends that other "social services — including an outreach clinic, a day program and an advocacy program" the church provides violates the municipal code, since the church at 401 Fir Street is in a single-family residential area.
But feeding the hungry, clothing the poor, healing the sick and social justice are a central tenet of both Methodist and Episcopal teachings, Martin told the Wild Rivers Outpost.
That argument is alluded to in the church's response to the city appealing the April 14 notice of abatement.
"From the notice, we glean that the city's conception of 'social services' includes any service provided to the needy," St. Timothy's April 24 response states, "including provision of food, advice or referrals and inviting those in need to an establishment for advice or to have fellowship with others."
St. Timothy offers hot meals four days a week and showers during its office hours. It also provides mailing addresses for those who don't have them, legal assistance for those who need it and COVID-19 vaccines at the Rush Building on Chetco Avenue.
The city's abatement notice comes after councilors approved a change to the zoning ordinance in 2021, limiting the number of days a week churches can feed the hungry to two.
It also comes after St. Timothy Episcopal Church filed a lawsuit in federal court in January 2022 claiming that the ordinance violated its constitutional rights, including the First Amendment.
The church has yet to hear back from the city on its appeal of the abatement notice, Reverend Bernie Lindley, told the Outpost on Monday.
Stating that the church had a legal team that helped draft its appeal letter to Brookings, Lindley took issue with their use of the phrase social services to describe the work he says is part of being a church.
Every Episcopal church has a discretionary fund pastors can use to provide alms to the community, Lindley said. That's how the church is able to provide assistance with gas and utilities. That assistance can also include helping someone get to a doctor's appointment in Medford or navigate signing up for health insurance via the Oregon Health Plan or an alternative, he said.
The church has also helped community members get birth certificates or identification cards and find out if they're eligible for Supplemental Nutritional Assistance Program benefits.
Even the Oregon Department of Human Services has a liaison that works with churches and other faiths, Lindley said.
"The city's defined this as social services," he said. "We define it as being a church. We define it as our outreach ministry."
On Monday, Jay Lindsay, one of the community members Lindley mentioned, raved about the chicken.
"It falls right off the bone," he said.
At 81-years-old, Lindsay, who worked full time well into his 70s, has had lunch at St. Timothy's three times a week for about five years. He says the meals help supplement his income. It also gives him a social outlet.
"I don't like to eat alone," he said. "As long as there's people around, I'm not a hermit."
Martin, who was a nurse for 40 years, pointed out there are many like Lindsay who aren't homeless but still come to St. Tim's for a meal. Others, like Michele Elizabeth, who was homeless before she found St. Tim's, were able to get jobs as a result of their outreach, Martin said.
Martin said it was in response to the city's ordinance restricting the number of times that churches can feed the hungry that prompted her to volunteer.
When asked about the city's contention in its abatement notice that there have been public safety complaints as a result of St. Timothy continuing to provide meals, Martin said she's never been afraid. The people she's served have always been polite, though there are some struggling with mental illness.
"I think many people are uncomfortable around people with mental health issues," Martin told the Outpost. "People in our society were never taught that it's OK to have mental health issues."
Elizabeth said was sleeping in Azalea Park across the street when she showed up at the church about 10 months ago and received a tent and a sleeping bag. She quickly became friendly with the women volunteers at the church and started a laundry program, Ragamuffin Ministry.
Since then, Elizabeth's license and driver's insurance has been reinstated, enabling her to get to her new job at Singing Springs Resort on the Rogue River. She said her fellow volunteers helped her with letters of recommendation and her resume.
"They helped me get back into society from homelessness," she said. "I'm indebted to them forever."
Soup kitchen hours are from noon-1 p.m. the first, third and fifth Saturdays of the month; 4 p.m. Sunday and from noon-1 p.m. Tuesdays.
Smith River United Methodist Church provides the meal from noon-1 p.m. Mondays at St. Timothy's, according to St. Tim's website.
---
SHARE →