---
Jessica Cejnar Andrews / Monday, May 15 @ 3:14 p.m.
Sea to Market Project Aims to 'Shorten Supply Chain' Between Local Fishermen, Del Norters
---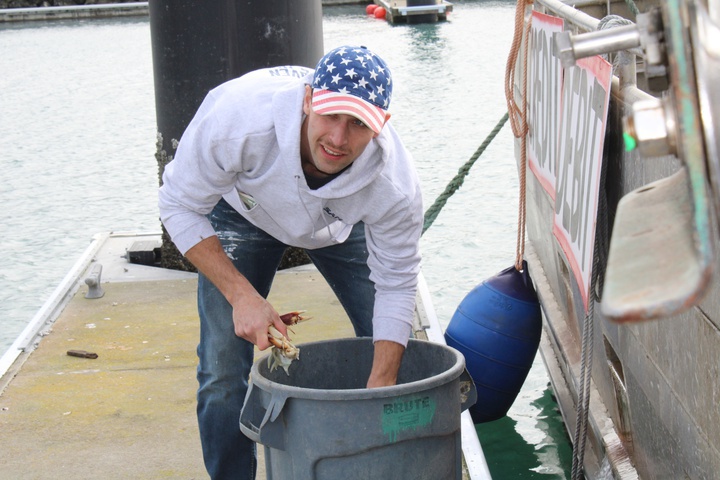 ###
Millions of pounds of crab, shrimp and ground fish cross Crescent City's docks each year, yet it's a rare Del Norter who can bring that local seafood home.
Josh Mims and the Community Food Council hopes to change that.
Mims is the project manager of the Community Food Council's Sea to Market Project. He has 23 years as a commercial fisherman under his belt, plying his trade from Half Moon Bay to Kodiak Island. He just stowed his crabbing gear following a productive, if not quite lucrative, 2022-23 Dungeness season.
With help from a grant from NOAA, Mims and the Community Food Council is creating a small-scale processing facility that will allow local fishermen to sell directly to the consumer at the Crescent City Harbor.
Mims said he and a handful of local fishermen plan to hold a soft opening some time in June.
"Most of our seafood that's caught in Crescent City is shipped north to Washington and Oregon to be processed and packaged," Mims told the Wild Rivers Outpost. "(It's then) re-sold throughout all of the 50 states. It travels all over the country."
The Sea to Market Project will be housed inside a 40-foot cargo container coming from Santa Barbara-based Container Concepts. It will house three fillet stations and fishermen can reserve a time slot, process their catch and sell it directly to the consumer.
Mims said the Community Food Council is also working on a website — inspired by Montauk, New York's Dock to Dish Network — to put the consumer in direct contact with the fishermen.
"They can pre-order the fish and deliver it to the consumer," he said. "It's really shortening that supply chain — kind of cutting out the middle man."
One hurdle the Sea to Market Project has to overcome before it can begin operating is permitting. Mims said the Community Food Council is obtaining a building permit, a health permit and has to answer questions from the California Coastal Commission.
The Food Council's already completed its lease agreement paperwork with the Harbor District, Mims said.
"The facility should be delivered by the end of June," he said. "We're getting the infrastructure hooked up — power and water — that soft opening's going to be worked out with those few fishermen. We're making sure our operating procedures are what we want before we overwhelm the facility with a bunch of people."
Currently, Del Norters who want locally-caught seafood get it directly from the fisherman's boat. Those folks will be the likely beneficiaries of the Sea to Market Project, Harbormaster Tim Petrick said.
More than 4.3 million pounds of seafood has come through the Crescent City Harbor between July 1, 2022 and April 18, 2023, according to Petrick. However, outside of the information small fishing operations file with the California Department of Fish and Wildlife, the port doesn't have a process currently for determining the poundage of seafood they bring into Crescent City, he said.
"We are going to work with the Food Council and CDFW to try and make sure all of the fish landed in CCHD is legally permitted and properly accounted for."

According to Petrick, the amount of seafood that has come into Crescent City between July and April includes a little over 4 million pounds of Dungeness crab; 90,763 pounds of hagfish; 42,058 pounds of groundfish; 90,210 pounds of sablefish and 18,447 in other kinds of seafood.
While the Harbor District has a "fairly good understanding" of the amount of seafood that processors take in, reporting it and paying poundage fees has been on the honor system for them, Petrick said.
"We are working with the (California Department of Fish and Wildlife) so we can verify we're getting poundage fees for everything," he said.
The fish trailer will be a first step toward fostering culinary tourism at the Crescent City Harbor, Petrick said. The goal is to grow Crescent City's small-boat fishing fleet and create a market for them.
"Josh is telling me there are guys with small boats that fish crab," he said. "They'll probably stop fishing crab and fish bottom fish year-round so they can sell year-round to the local public."
Mims said local restaurants are already on board, including Schmidt's House of Jambalaya, SeaQuake Brewing and Port o' Pints. He's also been through a first Crescent City-Del Norte County Chamber of Commerce mixer.
"We're just really excited about the impact we'll be able to make on small-scale fishermen here in town," he said. "They don't have as many revenue sources as a lot of the big boats due to their limitations, and it's really going to be cool to see them prosper from this."
---
SHARE →